Emporia Welcomes 2015 Glass Blown Open Competitors
Emporia Welcomes 2015 Glass Blown Open Competitors
Wednesday, April 29, 2015 - 16:51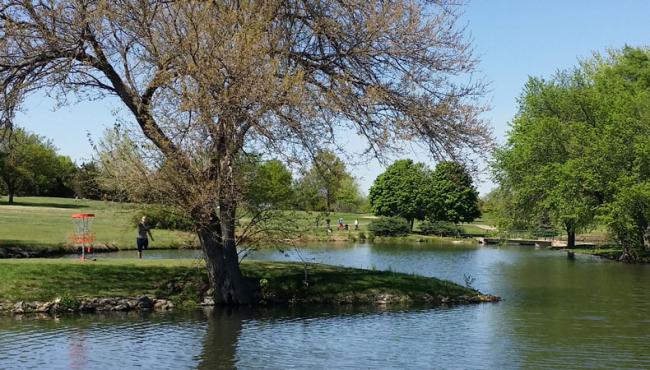 There are few cities in the world, if any, that support the sport of disc golf more than the home of the 2015 Dynamic Discs Glass Blown Open, the second stop on the 2015 PDGA National Tour Elite Series. The event takes place in Emporia, KS, a small Midwest town about an hour and a half south of Kansas City. Not only is this gem of a city home to the Glass Blown Open (GBO), it's also home to Dynamic Discs, both their main retail location and manufacturing facility. The citizens of Emporia go out of their way several times a year to support disc golf, and in that sense the GBO takes the cake. Where else can you see the main street downtown blocked off and shut down for a disc golf players party?
Speaking of players, nearly 900 men and women have made their way to middle-America for this event, making it one of the biggest disc golf tournaments in the history of the sport. 175 competitors are registered for the National Tour side of the event, with another 683 registered for the A-tier side. With only five courses being used, the amount of planning and organizing is hard to imagine. Luckily for the competitors and fans of the sport, Dynamic Discs founder and owner Jeremy Rusco #29631 is running the show as Tournament Director.
Regardless of which side of the event someone is registered for, or which division someone is registered for, only three rounds will be played. The first round starts on Thursday morning at 8:00am with tee times in every division and that pattern continues for the weekend with the only exception being a 7:30am start on Saturday morning. We'll break it all down for you in the paragraphs below, but keep in mind you can also find all of this information and more on the official 2015 Glass Blown Open website and the new GBO app for your smartphone. (Android and iOS)
Live Coverage
The 2015 GBO will have two different live video feeds going online for the fans to watch! The featured card will be live streamed on DynamicDiscs.TV and the chase card will be streamed by SmashBoxxTV on YouTube. But wait…there's more!
Jomez Productions will be here filming the lead card as well with post-production coverage available on the Jomez Productions channel on YouTube. Marty McFly, formerly of McFlySoHigh Video, will be filming the Open Women's lead cards all weekend for the Prodigy Disc YouTube channel. Last but not least, DiscGolfPlanet.TV is here filming as well for an eventual TV episode on the upcoming Emerging Sports network. But wait…there's even more!
We will be providing live scoring for multiple cards in both the Open division and Open Women's division all week long on PDGALIVE.com. As we follow the cards around we'll also be posting updates, pictures, and videos via the @PDGALIVE Twitter feed below the scores on the page.
More information about the live video streams can be found on the latest GBO press release announcement. Follow all the hole-by-hole live scores all weekend on PDGALIVE.com!
Courses
Distance: 9,237 feet
Course Par: 62
Distance: 7,955 feet
Course Par: 62
Distance: 6,207 feet
Course Par: 57
Distance: 8,530 feet
Course Par: 60
Distance: 5,877 feet
Course Par: 55
GBO Putting Championships
One of the many things that makes this event special is the infamous GBO Putting Championships. Every year the cash prize for the winner gets bigger and bigger, and all players are eligible to compete. Paul Ulibarri #27171 took home the gold at last year's GBO, walking away with $1000 cash on top of the $570 he won for finishing in a sixth place tie with Miles Seaborn #29264.
The Putting Championships begins on Wednesday at the Granada Theatre downtown where players already have to go anyway to get check in. The competition is broken into several rounds with the first two rounds being Pool Play. In Pool Play, players are grouped by PDGA rating into groups of five. Each player is given 90 seconds to make as many putts as possible from three different stations.
Only four putters are available at each station for a total of 12 chances to earn a potential maximum of 36 points. The points will be totaled after the first two rounds. Only one player from each pool will make it through to the Bracket Play round on Friday.
Station 1
Distance: 18 feet
Points: 1
Station 2
Distance: 24 feet
Points: 3
Station 3
Distance: 28 feet
Points: 5
Bracket Play is where it starts to get heated. Two stations are set up next to each other and players must compete head-to-head for another 90 second round, once again with four putters at each station. For the bracket round, the distances are increased.
Station 1
Distance: 23 feet
Points: 1
Station 2
Distance: 30 feet
Points: 3
Station 3
Distance: 35 feet
Points: 5
The Putting Championships Finals are a continuation of the Bracket Round style, except this time in front of hundreds of people in the middle of Main Street downtown during the block party AKA the players party. Two stations will once again be run simultaneously with an added fourth station.
Station 1
Distance: 25 feet
Points: 1
Station 2
Distance: 30 feet
Points: 3
Station 3
Distance: 35 feet
Points: 5
Station 4
Distance: 40 feet
Points: 7
Pro Panel Q&A
Starting at 7pm on Wednesday April 29th, DynamicDiscs.TV will be live streaming a Q&A Pro Panel with seven of the biggest names in disc golf: Steve Rico #4666, Paige Pierce #29190, Nate Doss #11794, Simon Lizotte #8332, JohnE McCray #9852, Eric McCabe #11674, and the big man on campus himself, Jeremy Rusco #29631. Tune in at 7:00pm and watch as these men and women field questions from their fans online as well as the GBO competitors that make up the members of the audience, all streamed live from the Granada Theatre on Main Street in downtown Emporia!
There is so much going on in this town this week. It's truly a nonstop schedule of activities from Wednesday morning to Sunday night. There's glow golf courtesy of DG Nomad, free movie night for competitors, the block party, the putting competition, the chance to hot-stamp your own disc at the Dynamic Discs distribution center, bowling night, and so much more. The full schedule of events and activities can be seen on the 2015 GBO Schedule page.
Good luck to all of the competitors and thank you to the huge staff here at the 2015 Dynamic Discs Glass Blown Open for the hundreds of combined hours of blood, sweat, and tears that has lead up to what should be an amazing tournament. Stay tuned for an exciting week of disc golf here in Emporia, Kansas!