Doss Surges Ahead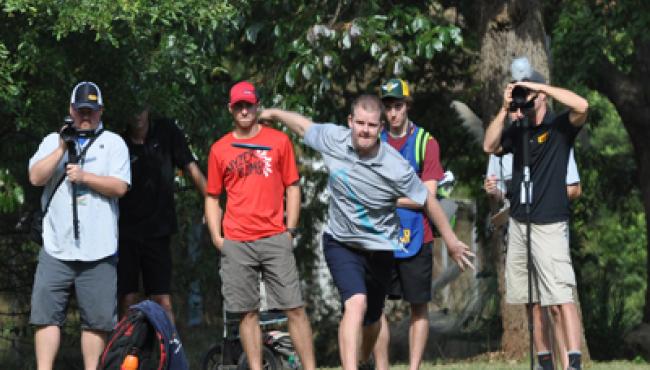 Thursday at the 2013 United States Disc Golf Championships, 2008 US Champ Nate Doss surged ahead on Thursday with a 57 (-10) that put him at (-17) for the Championship, one stroke ahead of Wednesday's leader, Steve Brinster, who cooled off a bit today with a 63 (-4).
Behind Doss and Brinster are: Steve Rico, of Sylmar, Calif. (-15), defending US Champ Will Schusterick of Nashville (-14); and Matt Orum, of Mobile, Ala., Jared Roan of Highlands Ranch, Colo., and David Wiggins Jr., of High Point, N.C. are all at (-13).
Consistency was the story for Doss as he hit fairway after fairway which led to manageable birdie putts and few substantial mistakes.
"There are no complaints from me," said Doss of his round.
A big victory for Doss during the round came on a bogey on the tough hole 13 because that was two strokes less than the score he got on Wednesday.
"The biggest key for me was saving two strokes on 888," said Doss referring to the hole's nickname.
He said he was able to put together several birdies before then, which allowed some cushion for the challenging hole.
Finishing eight strokes higher than Wednesday, Brinster of Warwick, N.Y., said he definitely didn't throw the disc as well as round one, but he was hopeful of the remaining rounds and felt he was still in contention.
Brinster's first hole over par came today and it was a stinging double bogey on the island hole 17.
Despite pressure from Doss and others, he felt that by playing within himself he'd be in good shape.
"I play against the course and not necessarily against the competition," said Brinster.
Schusterick seemed to be playing more like his old self on Thursday and flashed a smile reminiscent of last year after leaving the PDGA scoring trailer following his round. With nine birdies and an eagle, his two bogeys must've seemed like an afterthought.
After two rounds, McBeth has shown flashes of his brilliance but hasn't caught on fire yet. Shooting 62 (-5) twice hasn't taken him out of the tournament, but he'll need to step on the accelerator soon.
McBeth said after the round that he needs to start shooting a complete round.
"It was a great 12 holes then I fell apart in the final 6," said McBeth. "I can't do that if I want to win this tournament."
McBeth said his game plan is sound, he just needs to finish strong.
Cameron Colglazier of Mobile, Ala., found his stroke today, shooting 10 strokes better than round one.
"I felt like I threw the same shots. I just didn't get the bad breaks that I did yesterday," said Colglazier, who finished 5th at the World Championships.
Colglazier is hoping to repeat that performance for Friday and continue to climb his way up the leaderboard.
Like McBeth, many are waiting for Richard Wysocki of Ft. Mill, S.C., to kick it into high gear. However,
Wysocki shot even today and dropped to 24th after three triple bogeys.
3-time US Champ Barry Schultz, of Louisburg, N.C., started out hot, hitting eight birdies before hole 13. But 888 sunk its teeth into Schultz and he came out of it with an 11. He still managed a 64 (-3) and now stands at 8th place.
For Friday, Doss said he's got to keep putting himself in position to get birdies because no one gets very far in this tournament without them.
"Stay aggressive. That's kind of been the word for me this week," said the 3-time World Champ, adding that if he can do that and minimize mistakes he'll have no complaints again.
For updates on all the action, including live scoring and daily recaps, check out usdgc.com and pdga.com.  Event photos can be seen on our pdgatour Flickr page.  Check back in to see who makes the surge towards the finish!
-Todd Harrell