DiscGolfPlanetTV Launches Fourth Broadcast Season at The 2013 Memorial Championships presented by Discraft
DiscGolfPlanetTV Launches Fourth Broadcast Season at The 2013 Memorial Championships presented by Discraft
Wednesday, February 20, 2013 - 12:01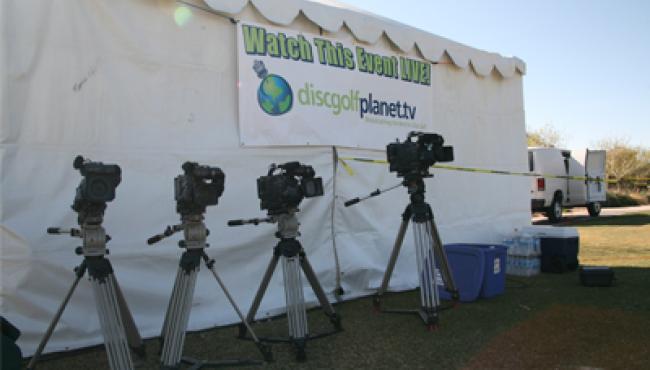 The emerging sport of disc golf continues its ascent via the media and broadcasting efforts of DiscGolfPlanetTV, who will be launching their fourth season in Arizona at The Memorial Championship presented by Discraft.  Long considered the start of the disc golf season, The Memorial will once again serve at the first stop on the 2013 PDGA National Tour Elite Series presented by Vibram. DGPtv will be making their fourth trip to the event to offer live Internet broadcasting to their global audience from 133 nations.  
"We have an extraordinary opportunity with DiscGolfPlanet to show disc golf at the highest levels," explained DGPtv Principal, Dr. John G. Duesler, Jr.  "I'm starting my 26th year as a disc golf promoter and never could have imagined this is the path that I would have taken.  Disc golf has actually been ahead of the technology curve on so many issues, and our livestreaming efforts are now only being considered by a number of other emerging sports.  With the Fountain Hills and Vista del Camino courses as our backdrop, our community of fans should be pleased that disc golf looks so good on the stream and that we are a leader in live Internet broadcasting technology."  
By combining multiple camera coverage with professional graphics, switching, and the incredible talents of "Crazy" John Brooks, David Greenwell, and Rebecca Duffy, DGPtv combines traditional sports broadcasting with new, interactive media elements.  Not only do fans from around the world get to watch the best disc golfers in the world, but they get a chance to communicate with each other and the production team.  
"The viewers definitely influence our coverage," smiled Duesler.  "We have had situations where viewers want to watch certain players or divisions, and we adjust our camera positions, what our commentators say about particular players, or how we describe the approach to a certain hole on the course.  Our fans are very passionate about our sport, and DGPtv's interactive platform allows them to channel that passion directly into the production.  This is something that television is just beginning to implement and understand."  
The other element of DGPtv's mission is to provide a powerful promotional platform for disc golf companies to engage these passionate fans.  There are still limited advertising opportunities available to promote your brand or business throughout the live (and archived) broadcast of The Memorial. Contact DGPtv Principal, John Duesler for more information.  
DiscGolfPlanet.tv's exclusive broadcast of The 2013 Memorial Championships presented by Discraft will begin on Wednesday, February 27th and continue throughout Championship Saturday, March 2nd. To watch the broadcast, you can catch all the action right here on the homepage of pdga.com or visit the Livestream section on DGPtv's Facebook page. Lifetime members of DiscGolfPlanet will be eligible to win prizes throughout the four-day broadcast.