Topps Rookie Card
Disc Golf and 2009 PDGA World Champion, Avery Jenkins, are featured among the 2010 Topps tribute series of the historic Allen & Ginter Sportscard.

In 1875, Allen & Ginter produced the first cards, commonly referred to as "baseball cards", featuring hand painted portraits of elite sports players. Although baseball was the most common sport showcased, Allen & Ginter opened the eyes of the world to other sports as well. They even produced non-athletic cards of Indian Chiefs, Actors/Actresses, and US Presidents. In 2007, Topps decided to bring the historic trading cards back into circulation in the Topps Allen & Ginter Sportscard Series.

Disc golf's 2009 World Champion, Avery Jenkins, was contacted by Topps to be featured in the 2010 revival series. Jenkins was honored to receive this opportunity, not only for his career, but for the future of disc golf. "It's incredible to know that thousands of people will be introduced to disc golf," Jenkins explains. "It's these multiple exposures of our sport to the general public that will get us noticed in the years to come."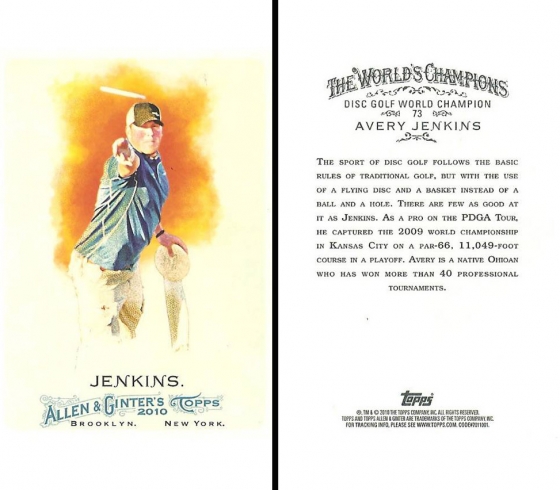 Above: Front and Back of Base/Common card
Jenkins met with a Topps representative at World Disc Sports in San Jose, CA for an autographing session of 200+ mini cards. Once signed, they were sent back to Topps to be inserted into framed cards.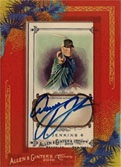 There are several versions of Jenkins' Topps Card:
•    Base/Common Card
•    Mini Allen & Ginter Card  - Base, Black Border and A&G Ad Back, No Number (50), Bazooka Backs (25)
•    Framed Autographed Signature Card in Blue or Red Ink
•    Framed Sports Relic Card
•    Framed Silk Mini Card - #'d out of 10
•    Framed Printing Plate Card - #'d out of 1
•    Framed Wood Mini Card – #'d out of 1

Jenkins has given a few hundred of these cards away to his family, friends and sponsors who have supported his career over the years. While he is fond of all varieties of the cards, his favorite is the Silk Card. Topps took the image used on the mini cards and printed it on silk to make a cloth silk version. All cards print the same image in various ways in multiple Sportscards.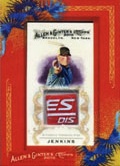 One of the most unique cards is his "relic" card. A relic card contains a piece of personal fabric, such as a jersey, pants, ball, etc., preserved as a token of memorabilia. But in this case, Jenkins' relic cards contain 5/8" squares of plastic! "I sent Topps a stack of 5 red Avery Jenkins Star Destroyer discs as well as my blue Champion Firebird that I used to win the World Championships." When asked how difficult it was to part with the disc used to secure his win, he stated, "It was totally my idea. I didn't want to put the disc away in a box to never be thrown again. I wanted to make the disc a very special piece of sports memorabilia contained within the card; a true piece of disc golf history."


In July, Jenkins immediately purchased three boxes when the cards were first released. He was pumped when they arrived but shattered to discover that his boxes didn't contain a single one of his disc golf rookie cards. He quickly adopted the excitement behind the "thrill of the hunt". He has since purchased several of his cards online and now safely says he possesses each version.
 
Jenkins continuously sees the growth of interest in the disc golf when he checks his mailbox. "I have been sent dozens of letters containing cards to be autographed…the cards come with thoughtful, inspirational handwritten letters. Many write that they have never heard of disc golf before and are very interested in playing and learning more about the sport." Jenkins says some letters are from father/son teams collecting together, some are teachers saying they are distributing the cards to their students who are doing well in school, and others are already avid players wanting to grab a piece of history by owning the first disc golf card ever produced by a major sportscard company.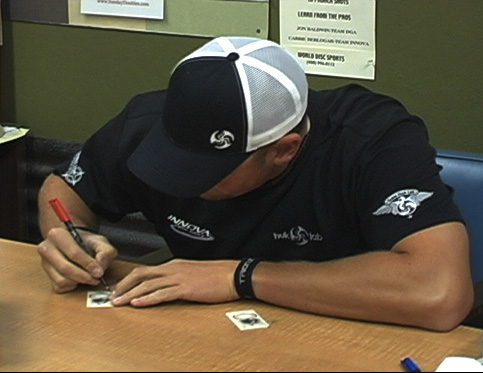 Jenkins autographs one of 200+ mini cards for Topps Allen & Ginter Sportscard Series.

You can purchase these cards at Sportscard and Hobby Stores all over the world. The Autograph and Disc Relic cards have a $40 book value; however, many have sold on eBay for $60+ on various listings.
Good luck in your search for an Avery Jenkins Disc Golf Rookie Card!