Disc Golf Live: Growing our sport, one community at a time.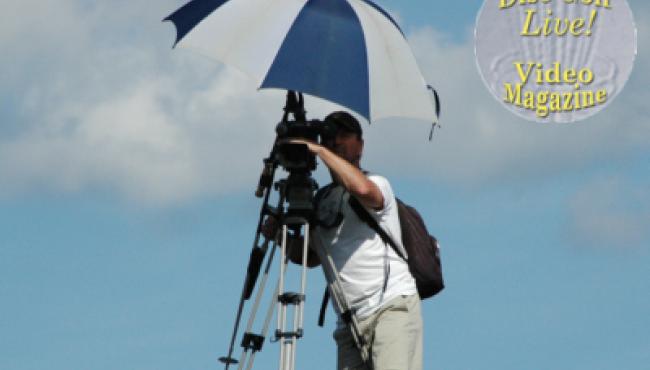 Disc Golf Live Video Magazine is a free PDGA-supported resource available to help promote our sport.
The emergence of disc golf has been from the bottom up: grass-roots development brought about by dedicated golfers and small, local groups. Disc golf gets established in one town, spreads to nearby communities, and before long there is a thriving disc golf scene. One key to such growth is increased public awareness of disc golf. 
Community and Public Access TV stations began popping up across the country about the same time disc golf courses did, and there are now thousands of stations where local residents can produce or submit shows for broadcast. These range from tiny hamlets to big metropolitan areas, but all have one thing in common: they are an invaluable tool for shining a positive light on our sport, and since most are free or low cost to join and use, they're right in our favorite price range.
If you have a community station in town, contact them and see what it takes to bring in a program for broadcast. Our broadcast DVDs and program downloads are provided at no cost. 
Here are a few FAQs about Disc Golf Live and community television:
Do I have a station in my community? 
The best way to know if you have a nearby station is to surf your entire channel line-up. Not all folks have a station, and some regions are better equipped than others. Since community channels (often called PEG = Public, Educational, Governmental) are carried on cable, many rural areas receive nearby stations. 
Will my station accept Disc Golf Live? 
Most will, and those who will not typically have "local only" production requirements. Watch your station for contact information. Those with websites will usually have guidelines for program submission, or you can call the programming director. Otherwise, the major hoop to jump through is local residency. This is where you, the local golfer, steps in. 
Can we cut out the middle step and send shows directly to the station? 
Sometimes, once contact is made on the local end, arrangements can be made to mail DVDs right to the station. Otherwise, it's just a matter of delivering the free DVD we mail you (or the DVD you create via download) to your station every couple of months when we put out a new episode.
I don't have cable, can I still submit a show?
Indeed. Even if you don't get the signal in your house, you can still join a local station and bring DG to TV in your town. Residency may be required, but not a cable subscription. 
How do I get copies of Disc Golf Live? 
Once contact with the station has been established and broadcasts deemed possible, just contact us and we'll mail you DVDs or set you up for free downloads from PEGmedia.org. We'll put you on our mailing list once broadcasts are confirmed and new shows will arrive every two months.
Is there anywhere else to watch Disc Golf Live?
Recent Disc Golf Live episodes are available for viewing on YouTube.
Can I get a copy of my own for home viewing?
We offer a yearly subscription rate of $36 to PDGA members for those interested in supporting our efforts to grow our game. 
What about viewing some disc golf On Demand?
A few cable systems reportedly archive some episodes of Disc Golf Live for On Demand viewers. Otherwise, golfers in select east coast areas can catch the fine work of Disc Golf Monthly on their cable system.
How can I get my video into an episode of Disc Golf Live?
We welcome all sorts of stories at Disc Golf Live, so if you have something planned or in the can, let us know and we can explore options. File sharing is easy through Dropbox, and a variety of formats work for us. If you've got a story to tell, we'll help you share it with the disc golf community. 
Who is behind this?
Disc Golf Live video magazine is produced by Joe Wander. Production and distribution is underwritten by the PDGA and Innova Champion Discs, among others. Contact us for underwriting opportunities.
If you have any questions as you investigate your local TV resources, drop us a note. We can be reached by email using [email protected] or through the DGL YouTube channel. 
— Joe Wander PDGA #10979