Disc Girls Gone Wild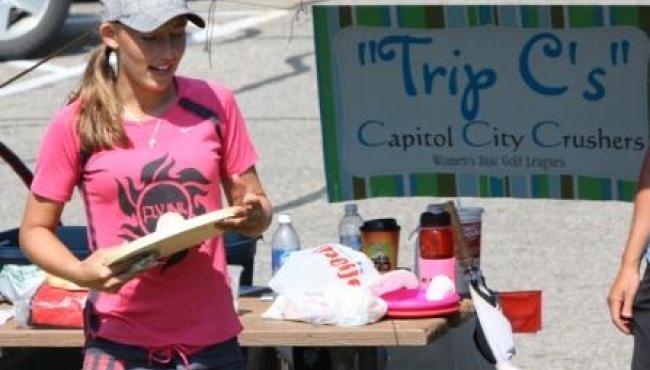 This was the 6th year for the Disc Girls Gone Wild (DGGW) all women's disc golf tournament and the 3rd year it's been played at Sleepy Hollow State Park in Laingsburg, Michigan (just north of Lansing). Sleepy Hollow was chosen as the permanent new home of the DGGW because it provides a beautiful atmosphere, camping onsite and the course is challenging but fair. There is also a beach adjacent to the course which makes for a great opportunity to cool off in-between or after rounds. I'd like to give a special thanks to all of our sponsors and volunteers especially MC Sports (title sponsor) and the Michigan Department of Natural Resources (MDNR) for their continuous support. I'd also like to recognize J-Bird for all his guidance and efforts on behalf of disc golfers across Michigan!
2012 marked the largest DGGW field yet with 70 players; three of them being the hottest touring professional women in the world. Val Jenkins, Paige Pierce and Catrina Allen all competed and were shining ambassadors for the sport. They posed for photos, signed autographs and shared stories with all of the participants. As a side note, not only did Ms. Jenkins compete but also brought along her trusted caddy, (you may have heard of him…Mr. Nate Doss) for the ride. With this much disc golf royalty in the mix with our local pros and amateurs, it was guaranteed to be a stellar event. When the dust settled, Paige Pierce emerged victorious by shooting 7 under par for the weekend, just edging out Val Jenkins and local pro Sue Stephens at 5 under par and 2011 PDGA Female ROY Catrina Allen at 4 under par. Other divisional winners include Jennifer Sawyer, Judy Thompson, Sherry Schmits, and Lauren Curtis. Chantel McGill, Amira Rinker, Caitlynn McGill and Lauren Oakley were all crowned junior champions in their respective divisions.
This was another great year for the DGGW and women's disc golf in Michigan. Now let's see if the boys can top this performance at the CCR Open on August 10 – 12. :)
Written by Trip C's President and CCR Vice President - Erin Oakley, #17643