Collegiate Season Well Underway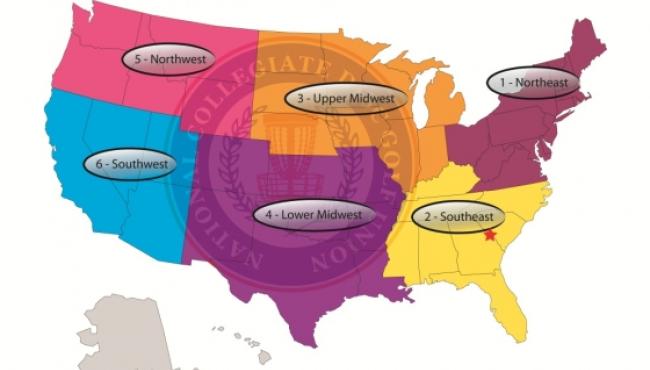 The first two Premier Events, two General Qualifiers, and one Playoffs Qualifier have already been completed. That means six National Collegiate Disc Golf Championship (NCDGC) spots and four National Qualifier Playoffs (NQP) spots have been earned.
At the Northeastern Collegiate Disc Golf Championships, newcomers Massachusetts-Amherst won and Penn State finished third to win their NCDGC spots.
The South Carolina Gamecocks won the SouthEast Collegiate Open for the second year in a row. However, they had already qualified for this year. Another new team, Kennesaw State, finished second to earn their NCDGC bid, while Georgia Tech took home the second NCDGC spot from the SECO Premier Event.
Kansas also repeated as champions at the Iowa Collegiate Disc Golf Championships. They had also already qualified which means the NCDGC bid was awarded to Indian Hills Community College who finished just one stroke behind the Jayhawks. Additionally, Northern Iowa won an NQP spot.
Georgia College and State University and Georgia Southern earned their reserved spots for the National Qualifier Playoffs by finishing first and second, respectively, at the Georgia Collegiate Disc Golf Tournament.
Purdue, the third ranked team in the country and already NCDGC qualified, took home the title for their repeat at the Midwest Collegiate Disc Golf Championships in Lafayette, Indiana. Iowa State won the bid to Nationals by finishing second. Murray State won the NQP spot finishing in third place.
See full list of NCDGC qualified teams.
Upcoming events
There are two more Premier Events this semester. The Great Lakes Collegiate Open is being hosted in Kalamazoo, Michigan on October 27th and 28th. Sign up online here.
The Southwest Region's West Coast College Open will be held in Monterey Bay, CA from November 2nd through the 4th. Contact Tournament Director, Merle Witvoet, at [email protected] for more information or to register.
There is also one more General Qualifier Event. In the Lower Midwest Region, the Texas Collegiate Disc Golf Championships is being hosted in Austin on October 27th and 28th. See Flyer here for registration information.
Head over to the Schedule page to see the full season schedule. 
PDGA Membership News
The PDGA has been a huge help to growing Collegiate Disc Golf since the first NCDGC in 2007. This year they are showing support by offering all active collegiate players a 20% discount on their memberships. This year the NCDGCs will require that all players are current PDGA members to participate in both the Championship and First Flight tournaments. Players can sign up for the PDGA today and get a membership for the rest of 2012 and all of 2013!! To get the discount, email us at [email protected] with your Name, School, and Collegiate Event played for your discount code. Then, use the code at http://www.pdga.com/join. For all of you who are 19 or younger, you can double dip on discounts by signing up for the $30 Student membership and applying the collegiate discount code!!
Many schools have a way to receive funding for required memberships such as this, so you should check with your school if they will provide it for you.
Top 10 NCDGC Ranked Teams
Colorado State
South Alabama
Purdue
California State University-Monterey Bay
Clemson
Alabama-Huntsville
Oregon
South Carolina
North Carolina State
Tennessee Tech