Collegians Tee off
Day one of the 2010 Collegiate Disc Golf National Championships is in the books and Western Illinois University leads Alabama Birmingham by a slim one throw margin with a two round total of -26 after two rounds of alternating shot doubles on the Hippo and Hogback courses at the Hippodrome in North Augusta, South Carolina.
The weather was beautiful today with sunny skies and very little wind, which is not ordinary on the hilltop courses overlooking downtown Augusta, Georgia.
Day two will see the members of the 24 collegiate teams begin the singles competition with a scheduled 11:00 EST tee off. Two rounds of singles will be played on Friday and on Saturday, before the teams play the final round of doubles on Sunday to determine the national champions. An All America team will also be named consisting of the 8 players with the best cumulative scores in the four singles rounds.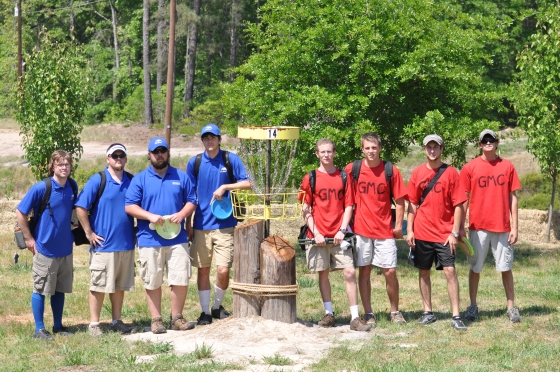 PDGA Pro World Champions Ken Climo, Barry Schultz, Dave Feldberg, and Cam Todd, as well as 2008 Amateur World Champion and 2009 Rookie of the Year Jeremy Koling, were in attendance today to cheer on the teams, sign autographs and host a putting clinic. A bridge on the course was dedicated and named the "Ken Climo" bridge to commemorate Ken's record round of -15 on the Hippodrome Gold Course and his twelfth world championship title he won there in 2006. Barry Schultz, who is nursing a hand injury, will be working with Clash Productions throughout the weekend to bring you video coverage of the event.
The Collegiate Disc Golf National Championship is a truly unique event with a very special feel. The event has nearly doubled in size in each of its first four years and looks to become one of disc golf's premier events. Stay tuned to PDGA.com throughout the weekend for updates, video coverage and photo galleries.
DAY 1 RESULTS
| | | | | | |
| --- | --- | --- | --- | --- | --- |
| Place | School | R1 | R2 | Tot | +/- Par |
| 1 | Western Illinois | 38 | 44 | 82 | -26 |
| 2 | Alabama Birmingham | 42 | 41 | 83 | -25 |
| 3 | Arkansas | 39 | 46 | 85 | -23 |
| 4 | Mississippi State | 43 | 43 | 86 | -22 |
| 5 | Kansas State | 40 | 47 | 87 | -21 |
| 6 | Augusta State | 40 | 49 | 89 | -19 |
| 6 | South Carolina | 47 | 42 | 89 | -19 |
| 8 | Alabama Huntsville | 48 | 42 | 90 | -18 |
| 8 | Clemson | 49 | 41 | 90 | -18 |
| 8 | Oregon | 44 | 46 | 90 | -18 |
| 11 | Tennessee Tech | 50 | 41 | 91 | -17 |
| 12 | Alabama | 45 | 47 | 92 | -16 |
| 12 | Cal State MB | 50 | 42 | 92 | -16 |
| 12 | Indiana of Pennsylvania | 47 | 45 | 92 | -16 |
| 12 | Life University | 45 | 47 | 92 | -16 |
| 16 | Georgia | 43 | 51 | 94 | -14 |
| 17 | Appalachain State | 45 | 50 | 95 | -13 |
| 18 | Georgia College | 51 | 45 | 96 | -12 |
| 18 | Penn State | 50 | 46 | 96 | -12 |
| 20 | Florida | 42 | 55 | 97 | -11 |
| 21 | Indian Hills | 52 | 46 | 98 | -10 |
| 22 | Georgia Military | 52 | 47 | 99 | -9 |
| 23 | Georgia Southern | 54 | 48 | 102 | -6 |
| 24 | Georgia Tech | 52 | 52 | 104 | -4 |
---
LINKS:
VIDEO - Thursday Video Coverage by Clash Productions
National Collegiate Disc Golf Union
MEDIA COVERAGE:
WRDW Television News (with video clip)