Cold Turkey IV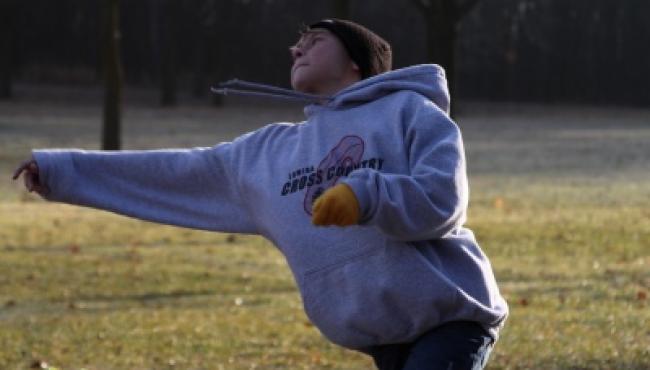 Fourth Annual Cold Turkey Goes Smoothly
By Will Mueller. Photo of Justin Lammers courtesy of Dane Miller
The Fourth Annual Cold Turkey disc golf tournament went off without a hitch and karma was a common theme amongst many winners.
Barry Schultz, Randy Moore Sr. and Dan Pastore all donated prizes to the tournament and in turn all won their respective divisions.  Pastore of ABC Discs was especially generous donating 90 player's packages, each including a mini disc, a micro-fiber towel, hand warmers, and snacks.
"I have run over 100 tournaments, but felt this one was the smoothest to date," said Lifetime Disc Sports owner Terry Miller.  "The players were great and everything was on time.  Plus, how can you beat a 50 degree plus day during the last weekend of November?"
The tournament boasted its third full field out of the last four years and had to turn more than 20 players away.  Miller said it was his earliest sell out of a disc golf event, filling all 90 spots by Wednesday night.
Interestingly, due to beautiful November weather keeping Dretzka's winter course off of the ball golf course longer than usual, nine of the holes used in the tournament were created and installed the day before the November 28th tournament by Miller and Course Pro Mark Peterson.
The new 9 holes were taken out of the ground and rubber tee pads removed immediately following the second round and were back in storage before the awards ceremony which took place at the nearby Orchard Inn.
Lester Sloan aced hole 11 (the second of the new temporary holes) during the second round and split the ace pool with Larry Kempen who aced hole 9 during the first round.       
Miller thanked major helpers Peterson, Dane Miller, Hole 5 Guy, Tom McManus, and Johnny Rumble for their efforts in keeping the event running smoothly.  Results for Cold Turkey IV were posted on the Professional Disc Golf Association's website later that day and are available here.