Carolinians Carry Home National Titles
Carolinians Carry Home National Titles
Monday, August 31, 2015 - 08:40
Carolinians don't mess around when it comes to disc golf. With a field of over 300 players competing in nine different divisions at the 2015 Tim Selinske US Masters Championships, Pro and Am, Carolinians dominated on their home turf. In the seven divisions that had more than one competitor, six of the winner came from either North Carolina or South Carolina. In the division where a non-Carolinian took home the title, Advanced Senior Grandmasters won by Michael Whipple of Utah, Carolinians still represented well, with Charlotte's own Jim Banbury finishing in a close 2nd.
Schultz Wins 5th US Masters Title 
"51 under par in three days wasn't good enough", joked 2nd place finisher Kevin McCoy #9543 as he gave the leaderboard one last look before heading over to tournament central. McCoy had played incredibly well all weekend long, but even incredible golf wasn't going to stop Barry Schultz #6840.
On the national and/or international level, the disc golf world hasn't seen much of Barry Schultz this year. But that doesn't mean he hasn't been competing. As a Charlotte local, there are always tournaments to play thanks to people like 2013 Tournament Director of the Year Chuck Connelly #22000. Schultz has taken advantage, giving himself a great opportunity to not only play competitive disc golf, but to do so on the very courses where the 2015 Tim Selinske US Masters would be taking place.
Whether or not that was all part of some master plan (no pun intended) to take down his fifth US Masters title, we'll never know. What we can tell you is that once Schultz took the lead on Friday during the second round at Nevin Park, there was no looking back. In the three days of competition, Schultz carded 60 birdies and three bogeys in just 90 holes of golf. That means that for every bogey he took, he countered it with 20 birdies.
After he tapped in for par on the 18th hole of Nevin Park in front of the gallery, he looked towards the heavens and yelled, "I miss you Tim", just as he has done years before. Schultz isn't just playing the US Masters for the glory, he is competing to honor his late friend Tim Selinske #2026, for whom the tournament is named.           
Your now 5 time US Masters Champion is Barry Schultz! pic.twitter.com/urduQUJzYX

— PDGA Live Scoring (@pdgalive) August 30, 2015
Grandmasters Title Comes Down to Last Hole
The division with the fiercest competition all weekend was easily the Grandmasters. Over the five rounds played, there were a dozen or so different names that made an appearance on the lead card. For the final round on Sunday morning at Bradford Park, those names were Stan McDaniel #2938, Jerry Goff #2431, Michael Paulette #28645, and Eric Vandenberg #3089.
McDaniel looked unstoppable during the front nine, and as the scores came in on pdgalive.com, it was starting to look like he was going to run away with it. McDaniel went seven under par through the first 11 holes, bogey-free, but it wasn't over yet.
Vandenberg and Goff were tied for 2nd place heading into Hole 12, five back from McDaniel. Leaving his drive short and catching a bad roll on his approach, McDaniel finally carded a bogey. Vandenberg carded a birdie and quickly put himself as the lone holder of 2nd place, now three back from McDaniel.
On Hole 15, with Vandenberg parked for birdie still three off the lead, McDaniel hit a tree on his drive and kicked into the woods on the left. He scrambled, playing a smooth forehand anyhyzer down the fairway but eventually was forced to take another bogey to Vandenberg's birdie. Vandenberg was now one off the lead with just three holes remaining.
McDaniel scrambling on 15. Great shot to even get a look at par. pic.twitter.com/4SSptg1ObV

— PDGA Live Scoring (@pdgalive) August 30, 2015
Let's not forget about Jerry Goff. Keep in mind that just a few holes back, he was tied with Vandenberg for 2nd place, where they were both five throws shy of McDaniel. Heading into the last three holes, he was only two throws away from catching Vandenberg again. And just when we thought this battle couldn't get any more exciting, Goff carded back-to-back solo birdies on Holes 16 and 17.
Heading into the last hole of the weekend, Goff and Vandenberg were now once again tied for 2nd place, just one throw away from catching Stan McDaniel. None of the fellas were able to get their drives all the way to the green on the steep uphill Hole 18, and even if they were able to, the basket sits on a steep and dangerous slope. A missed putt can easily result in a roll-away.
McDaniel was quite fortunate that his drive was just a bit closer to the pin than those of Goff or Vandenberg. This gave him the opportunity to sit back and watch as both of them were forced to run difficult birdie putts in an attempt to catch him. After watching both of them miss, he was able to safely lay up under the basket for par, and tap in for the win.
Laymon Gray #25260, who had been on the lead card for most of the weekend, started the final round on the chase card, four off the lead. Gray shot the hot round of the day, finishing with a 1046-rated 10 under par. It was such a strong round that he ended up finishing tied for 2nd place with Jerry Goff overall.  
Had McDaniel's drive left him in a situation where he had to putt first, things might have been different. Would he have gone for it in an attempt to seal the deal in case one of them made their birdie putt? Or, would he have simply played it safe, knowing he very well may be forced into a playoff? We'll never know but that's perfectly alright. That's one of those things that makes golf…golf.  
King is the Queen of Disc Golf
Elaine King #3090 added another PDGA Major victory to her already impressive resume with a convincing win in the Masters Women's division. King held the lead after each and every round and slowly added to it with each passing day. Heading into the final round at Bradford Park on Saturday morning, King held a lead of six and would play in a threesome with Des Reading #15863 and Charlotte local Debbie Scott #43896.  
Reading and Scott began the round tied in 2nd place. With a birdie on Hole 1 and a par on Hole 2, Scott quickly gained two on Reading, who was managing the course fairly well while battling a leg injury that left her with a slight limp by the end of the round. Debbie Scott is no stranger to the spotlight. When the PDGA Disc Golf World Championships were held in Charlotte in 2012, she finished in 2nd in the Advanced Women's division. Now in 2015, she has moved up to the pro divisions and took home 2nd place again at another PDGA Major.
King marched on, racking up seven birdies, two bogeys, and a double bogey. She would eventually drop her putter into the basket on Hole 11 (their last of the day) to grab the title of 2015 US Masters Women's Champion. Elaine King is truly a legend of women's disc golf, and disc golf in general. Win or lose, she always has a great attitude and has been a great role model for dozens of players coming up in the game. And the best part is, years later, she is STILL winning!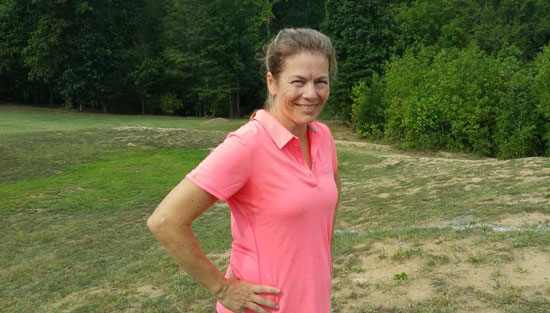 Thank you to all of the staff and volunteers that helped make the 2015 Tim Selinske US Masters Championships such a fantastic weekend. We always love coming to Charlotte. If there are cities out there that as great for the sport of disc golf as Charlotte has been and still is today, they are certainly few and far between.
Videos from the weekend are already available on YouTube thanks to The Disc Golf Guy with more to come later this week. Pictures from the weekend are available for viewing and/or download on the PDGA Flickr page.  
Comments
The article completely missed the 3 way battle in the MM1 division between 3 local Carolinian's....