2010 Carolina Clash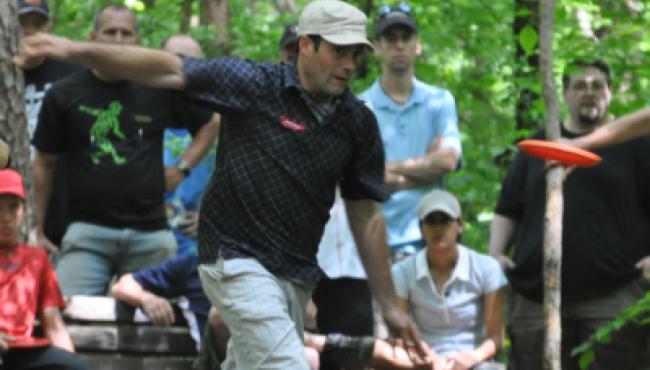 Feldberg Stays Strong, Outlasts Locastro
By Todd Harrell
 
Making it three consecutive days of solid play, Dave Feldberg sealed victory with a 61 (-9) at the venerable Charlotte's Web course on Sunday, ending up with (-30) for the NT Carolina Clash.
 
The win marks his second NT victory of the year and back to back tournament victories in the last two weeks.
Feldberg's task wasn't easy. He had to hold back a storming Nikko Locastro, who started the day at fourth place (-14) for the tournament, but ended up overtaking round one leader Ken Climo and Paul Ulibarri, who were both tied for second after Saturday. Although Locastro scorched the course with his 58 (-12), it wasn't enough to catch the world's number one ranked player.
 
"He played really consistent for the tournament," Locastro said of Feldberg.
 
Climo, who never seemed to recapture the magic from Friday's round, took third with (-24) followed by local Michael Johansen with (-23). Barry Schultz and Paul Ulibarri tied for fifth at (-20) for the tournament.
 
Locastro, who totaled (-26), faulted a less than solid mental game as a factor in failing to catch Feldberg. Plus, he said it was hard to comeback after falling behind at Renaissance Gold. If he had nine more holes he probably could've took him, he said with a smirk. He vowed to come back next year and win it.
 
Feldberg said it wasn't easy to play consistently well for three rounds on Stan McDaniel's brutal courses featuring Charlotte's Web on Sunday.
 
"That course makes you feel like you're in an oven. I just tried to stick with it," said Feldberg, who took the lead midway through the second round and never let it go.
 
After Feldberg took a bogey on hole 1 and Climo scored birdie, his four stroke lead was instantly cut to two. However, Feldberg righted himself on the following hole with a birdie on the 688-foot par 4 and then birdied holes 4 through 7 and later hole 9.
 
Following his par on the first hole, Locastro turned it on. He went on to hit birdies on seven of the next eight holes including hole 9 where he sunk a huge skying 75-foot putt from way down below the basket where the log intersects the fairway.
 
After nine holes, Feldberg had increased his lead to five over Climo, who seemed to have cooled down after his birdie, birdie start. Heading into hole 10, a surging Locastro had already climbed ahead of Climo and Paul Ulibarri and was only five back from the lead after starting the round seven behind Feldberg.
 
Back in October, Locastro came from behind to beat Feldberg in the final round of 2009 USDGC.
 
During his second shot on hole 10 after a nice drive, Feldberg misfired and smacked a tree that took his disc into the left rough. Then his problems compounded when his sidearm third shot hit another tree followed by missing his mark on a difficult par saving putt. The rest of his card scored par on the hole - cutting his lead over Nikko to only four.
 
Feldberg said he was unquestionably upset by that hole, but he tried to get passed it by channeling that energy into the next hole.
 
That must have worked because his drive zoomed through the tight 507-foot par 4 and landed about 15 feet away from the hole. At that, the crowd, packed tight along the fairway's periphery, collectively 'ahhhh'd' and then cheered again when he collected his eagle after sinking his putt from between a couple of trees.
"That was a pump. 507' through the woods," Feldberg later said.
 
With the rest of the card having to settle for birdie, it seemed that Feldberg was starting to close the door. The following two holes appeared to reinforce that when he almost eagled hole 12 and then birdied the 622-foot par 4 while Locastro scored par and Climo and Ulibarri settled for bogeys.
 
After hole 13, Locastro gained a stroke on Feldberg on the par 3 "Gauntlet" (hole 14) with a birdie and then another on the par 5 hole 16 when he collected a birdie while Feldberg had to work hard to par it.
 
Though Locastro had cut the lead to four, time was running out. And, after both Feldberg and Locastro took par on the 582-foot par 4, hole 17, Feldberg appeared to have the Clash wrapped up - barring a meltdown on the final 219-foot hole. But, anything can happen at the Web, as players say.
 
So after Climo, Locastro, and Ulibarri had landed safely on the island green with hay bales protecting the perimeter, it was up to Feldberg to seal the win.
 
After the round, Feldberg said his goal was to come into the treacherous island hole with a five stroke lead, so that if disaster struck he'd have plenty of strokes to work with and still win.
 
Four would have to do, though.
 
All eyes were on his disc as it sailed out of the woods and toward the basket. Right away, though, it could be seen that his didn't have the height that the others had. As the disc descended to the green it slammed into the top of one of the bales guarding the right side. But instead of deflecting it into the OB, the disc toppled into the green sending shards of hay fluttering in the air.
 
Feldberg's clinching shot was met with enormous applause and incredulity.
Before sinking his final putt, a relieved Feldberg acknowledged his good fortune by patting the spot of hay where his disc had hit with his hand - a gesture that was met with much laughter from the gallery.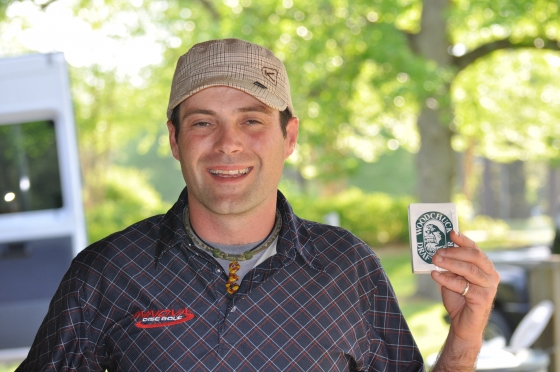 Feldberg, who earned $2,000 for the win, later said the disc golf gods must have been smiling down upon him during that tense moment.
 
In the women's division, Valarie Jenkins overtook round one and two leader Liz Carr with a solid 71 (+1) and ended up with (+7) for the tourney.
She said it was a hard fought victory, but she was able to keep to her plan of smart shots.
"It was tough. We were battling back and forth the whole time," said Jenkins, who collected $700.
 
Carr, who led Jenkins by a stroke after Saturday, ended up (+16) after submitting an 81 (+11) on Sunday.
 
Phil Arthur outgunned Charlotte's Web and Renaissance Gold's architect, Stan McDaniel by a total of six strokes to take home the masters title. Arthur lead all three rounds and scored a 63 (-7) today. McDaniel shot a 68 (-2).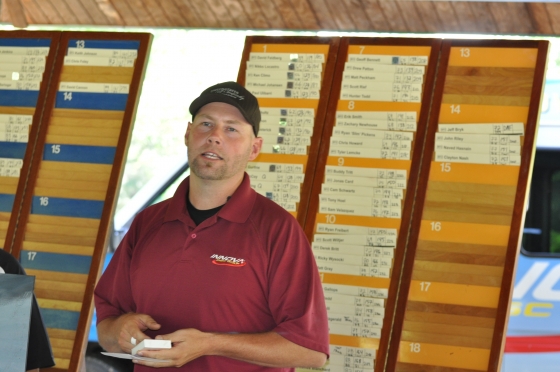 Arthur attributed his victory to sufficient practice time leading up to the tournament.
 
"It's just a matter of putting yourself in position. If you don't practice then it sort of comes and goes," the 2009 World masters champion said.
 
Rounding out the field, Keith Johnson of Georgia won the grandmasters division with a total score of (+27).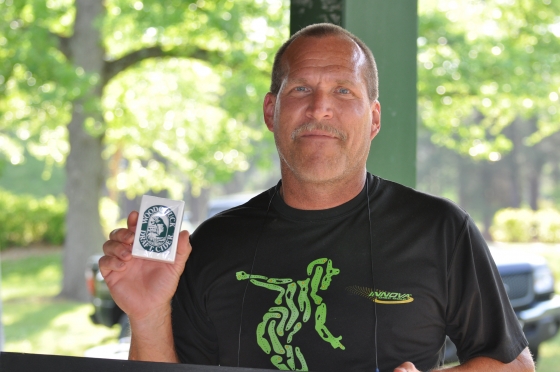 ---
VIDEO - Sunday Video Coverage by Clash Productions
VIDEO - Saturday Video Coverage by Clash Productions
VIDEO - Friday Video Coverage by Clash Productions