Brinster Hanging Tough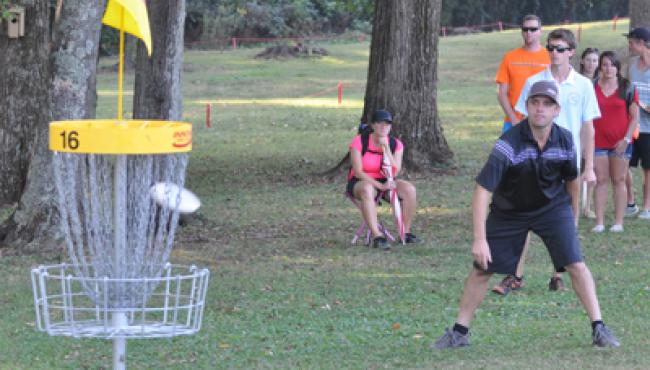 In a battle royal between Steve Brinster and 2008 US Champ Nate Doss that included several lead changes, Brinster managed to regain control of the 2013 USDGC by one stroke over Doss.
With his 57(-10) Brinster, of Warwick, N.Y., brought his total to (-26), while Doss, of Capitola, Calif., is now at (-25) after his 59. Within striking distance is Steve Rico of Sylmar, Calif. (-23) and defending US Champ Will Schusterick, of Nashville (-22).
3-time US Champ Barry Schultz, of Louisburg, N.C., and Matt Orum, of Mobile, Ala., both at (-21) aren't out of it yet either.
Disappointed after round two, Brinster took some time after that round to reflect on his mistakes and realized that based on Winthrop's extreme difficulty, he wasn't performing that poorly. So when Brinster had a cold start Friday he kept himself in check and it eventually turned into a worthy round that included a clutch birdie on the final hole.
"It was more about giving the course a lot of respect and just grinding and finishing better," said Brinster.
Though a perennial contender at the tour's main events, Brinster will be looking for his first major tournament win. One more solid round could do it.
Doss has picked up his USDGC play this year, a contrast from Doss' last two appearances at the Championship when he finished 16th (2012) and 30th (2010) which isn't what you expect of one of the game's greats.
"For me the big difference has been a lot about my mental preparation," said Doss, adding that during his last two Championships his mental game wasn't in tune.
He said he's been working on accepting his play regardless of what happens and he felt Friday's performance was a step in the right direction.
Playing in numerous USDGC's, Rico knows how to put together a round at Winthrop and he did so Friday. He gave the sizable Friday gallery a thrill when he hit a long putt on hole 16.
"I was looking at a 65-foot putt so I just fully committed and made this long jump putt. I just had to go for it to keep up," said Rico, a 2-time Japan Open winner.
Defending US Champ Will Schusterick will have to make up some ground with this high-caliber lead card. To do that he said he'll need to go after it and play his best round of the tournament. Even with danger at every turn Schusterick said it comes down to, "You have to risk it to get the biscuit."
For Paul McBeth, who now stands at 20th after shooting even par, it looks like his Grand Slam quest will have to wait for another year.
Even without McBeth on the lead card, Saturday's final round should still be a memorable one. Brinster and Rico are playing phenomenal golf and three former US Champs are all in the mix.
In other news, Jalle Stoor, of Finland, aced hole 17, which is the first one of tournament.
Tune in tomorrow for the final round.  You can watch all the action live on discgolfplanet.tv or check into usdgc.com or pdga.com for live updates and scoring.  Also be sure to view event photos on the pdgalive Flickr page.  Watch today as we crown our next USDGC Champ!