Blazing Rounds in Blistering Heat
Blazing Rounds in Blistering Heat
The 2014 Australian Disc Golf Championships
Tuesday, November 25, 2014 - 11:20
Story by: Kingsley Flett #46727 & Jason Browne #59132
November 17, 2013 and Simon Feasey #8508 is morose and looking sick. Sitting with a wet towel draped over his head. It's the final afternoon of last year's Australian Disc Golf Championships in Brisbane and he's been forced to withdraw from the final 9; a dose of the flu combining with the extreme heat making it too dangerous for him to continue.
"The Aussies are going to think I'm a wuss" He said, probably confusing heat acclimation with manliness. It was clear that the DNF cut the New Zealander deeply. So it was fitting that when he returned to Australia this year he not only triumphed over the best players the wide brown land could offer, but survived its savage elements; with temperatures reaching 44 degrees Celsius (111 Fahrenheit) over the three day event.
Feasey and 81 other players from Australia and New Zealand met on the Western Shore of Lake Macquarie, near Newcastle, New South Wales for the 8th Aussie championships of the modern era. Just less than two hour's drive north of Sydney, Rathmines Park was once a base for over 100 Catalina Flying boats that ran anti-submarine missions against the Japanese in World War 2. A mix of wooded parkland, tight lines through the bush and abundant water hazards, Australia's newest permanent course is the brainchild of event TD Neil Roberts #46072, who saw the potential of the area two years ago and who worked hard to get the course in the ground. Rathmines was also an ideal gathering place of the Australasian 'tribe' with an abundance of holiday accommodation in the area and even houseboats for hire, which some competitors parked right next to the course.
On day 1 it was Tim Marchbank #8518 who made the early running. He threw a 56 which remained the hot round of the tournament, equalled only by two other players. But in most people's minds the big story of the event was the emergence of lefty Jordan Wheeler #63995, the 21 year old from Perth, in just his 3rd year in the sport, who threw a 1000 rated 59 to be in second place. While many thought his inexperience would eventually show he stayed in the top card all weekend, pushing Feasey all the way. Another young talent on the Aussie scene, Chris Hill, also made an impression, throwing a 61 to make the top card for day 2.
The major moves on day 2, which was mercifully cooler, were made by Feasey and Sean Kapalko #19453 who both threw 59's to move up a place while Hill, Wheeler and Marchbank stayed close. The course was making it hard for anyone to break away while most of the top players conceded to not being in their best form. 'Funny thing about the weekend was that I was lacking in self-confidence and really had to dig deep at a couple of crucial times to come through' Feasey commented later.
The heat-trough that had been hovering inland on Saturday, moved offshore again on Sunday and players were greeted with another scorcher on the final day. Chris Finn #37970 finally made his move in the last round, throwing a 58 that saw him join Feasey, Wheeler, Marchbank and Kapalko for a 5 man final nine. An uncharacteristic 7 on hole 4 and a 5 on 17 saw Chris Hill miss the final, while Kapalko, who should have been equal 1st, made a scorecard error that dropped him to equal 4th. So there was only 2 throws separating the group with Feasey holding a 1 throw lead.
Five holes into the final, Kapalko began vomiting from heat stress and finally gave in to the people telling him to pull out. Marchbank missed a crucial early birdie chance and he and Wheeler, while avoiding mistakes, could not find the birdies they needed to bridge the gap. Finn, also, matched Feasey hole for hole until he blew past the basket with a long putt on 7 and missed his putt-back which gave Feasey a welcome buffer. Starting the last hole of the final with a 2 throw lead, Feasey had to scramble for his par while Finn threw a great tunnel shot to set up a birdie, however it was too little too late and the New Zealander was relieved to win his second Aussie crown with Finn second and Wheeler third.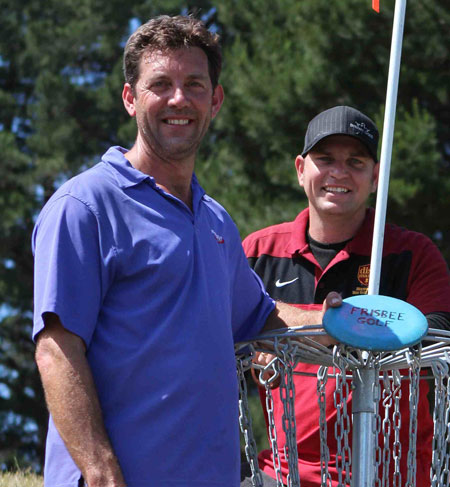 Simon Feasey (left) and Christopher Finn (right).
The other divisions were no less competitive. In the women, Cassie Sweeten # 34655 and Sally Hill #43271 fought neck and neck all weekend and it was only a few unlucky tree strikes in the last few holes that caused Hill to drop away from the 19-week pregnant Sweeten, who won her 4th national title by three throws.
While the drama of the men's final nine was unfolding there was also an epic battle to decide the advanced title. Kaspar Carr-Howard #56058 (pictured above) and Ross Davis had started the day level and threw identical rounds of 65 to go into a sudden death playoff. Carr-Howard chained out left on a birdie putt that would have finished the playoff after 1 hole. It took eight more before Davis left his drive crucially short of a dog-leg, allowing Carr-Howard to approach the basket with a one throw advantage; but he still managed to slide his second shot into the trees and had to pitch out and nail a six metre putt to emerge the winner.
In the age protected divisions, Bruce McNaughton #46135 won in a canter with a score that would have had him sitting comfortably middle of the field in the open division while hall of fame member, New Zealand's Bon Gentil #8505 scored identical to McNaughton to easily take out the grand masters. Both players were only two over par for the tournament. Gentil's son Toby #35773 also won the junior division with a very competitive score. Sarah Loft #61789 won the intermediate women while Conrad Gilbey and Jo Oshea took out the men's and women's recreational divisions respectively.
Not long after the final presentations were made and the competitors had disembarked for hotel rooms, airports and houseboats the sky was split with thick, white bolts of lightning. The thunderstorms that the oppressive heat had been building towards for three days finally broke. Just as in Brisbane in 2013, the dramatic weather was a backdrop to the end of another successful Australian Disc Golf season.
Moving the event to tee-times and holding it over three days was an inspired idea by Neil Roberts. The disc golf scene in Australia has moved from a small band of enthusiasts to a groundswell of serious competitors and the new format makes room for them, as well as the increasing band of overseas disc golfers who are considering a trip down-under for their next disc golf vacation.
2015's Australian Championships will be held on November 20 -22 at Tasmania's Poimena reserve, considered among the best disc golf courses in the world. Keep an eye on the official Australian Disc Golf website for more details.