Australia's Champion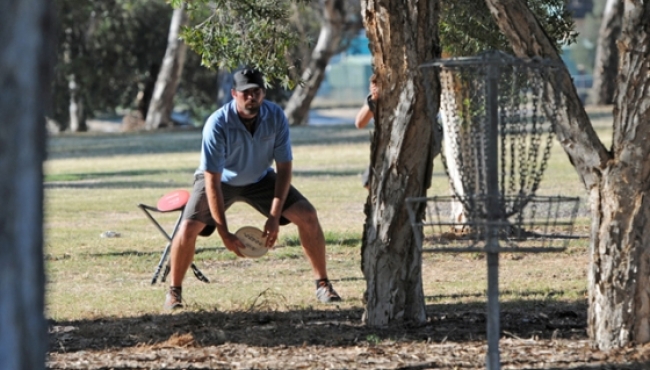 Dave Feldberg masters 'The Doctor' to win the Aussie Title in Perth

Submitted by: Kingsley Flett
It was the ability to handle the wind that was the telling difference in Dave Feldberg's six stroke win over Japan's Manabu Kajiyama in the Australian Disc Golf Championships in Perth, Western Australia over the weekend. The locals call the afternoon sea breeze that springs up on most summer days "The Fremantlle Doctor" because of the welcome relief that it provides from the heat. But for most of the field on both afternoons of the event, the wind was anything but relieving as it lifted discs into the Swan River, smacked drives down at half distance, and generally played havoc with everyone's putting. All of the field scored at least a few throws worse when the wind sprang up, except for Feldberg, who stayed consistent right through to the playoff round, registering a six throw win over Kajiyama, with Nate Doss just 3 throws back.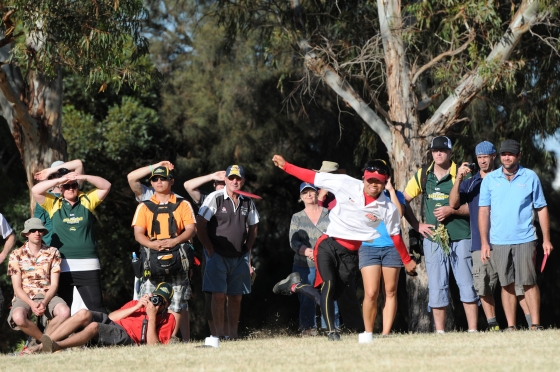 Above: Kajiyama tees off on Hole #9 of the finals
Below: Feldberg jump putts his way closer to the lead
Below: Kajiyama drives with the scenic Swan River in the background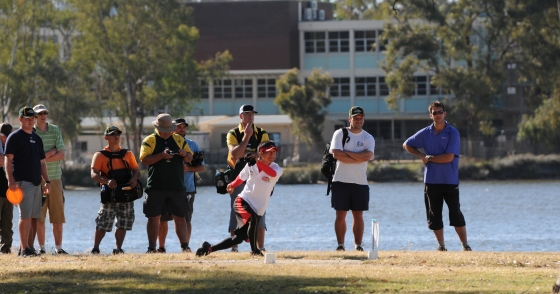 Valarie Jenkins' five throw lead from the first day evaporate going into the women's finals with just one throw over Melody King. However, the tight final was over when King threw her approach into the water on hole 8, giving up two throws and the chance at the title.
The second day's play was on a course built on Herrison Island, in the middle of the Swan River as well as a sacred place to the local indigenous Noongar people. Organisers had the challenge of setting up baskets, tents, banners and the entire infrastructure that accompanies a major tournament without piercing the ground with stakes or pegs. The entire field participated in a ceremony before play which included a welcoming tribal dance.
"You can't tell the story of Perth without telling the story of the Noongar people," said event organiser, Chris Finn. "We saw the opportunity to use the sport to pay our respects and add some cultural significance to the event."
The island's significance as a 'birthing place' was not lost on organisers as we may well have seen the birth of a new era in Australian Disc Golf. For the first time Australia was able to attract a quality international field and the momentum gained for the sport has been palpable.
Above: Kajiyama putts as boaters spectate from the river
The next Australian titles are to be held again next year in October in Tasmania; and if Perth was any guide as to how the event will be, a trip down-under next year is something that all disc golfers looking for an all-encompassing travel, cultural and disc golf experience should consider.
For more information: Australian Disc Golf
__________________________________________________________________________________________________