For over a decade, ZÜCA rolling bags have been used by kids and adults to support their favorite activities, from ice skating to Irish dancing and roller derby. Available in a variety of styles and colors, ZUCA has become a highly sought-after accessory that shows you're serious about your sport or activity.  The disc golf market is proving to be no different. 
Following the popularity of last year's limited edition cart, ZÜCA has released an all-new exclusive insert bag design featuring the artwork of a well-known artist and PDGA Disc Golf World Champion. "Cameron Todd has been using our cart since we released it. His art is thought-provoking and popular within the disc golf community, so it made sense for us to showcase his work with our latest PDGA Limited Edition Disc Golf Cart." says Bruce Kinnee, CEO of ZÜCA. "The sturdy ZÜCA frame is designed to last for a long time, so the ability to swap out the insert bag gives disc golfers the opportunity to refresh their look and express their individuality with new colors and styles over time. Given the demand for Cam Todd's design, this year we are also giving customers the opportunity to buy the new PDGA exclusive insert bag separately," Kinnee adds.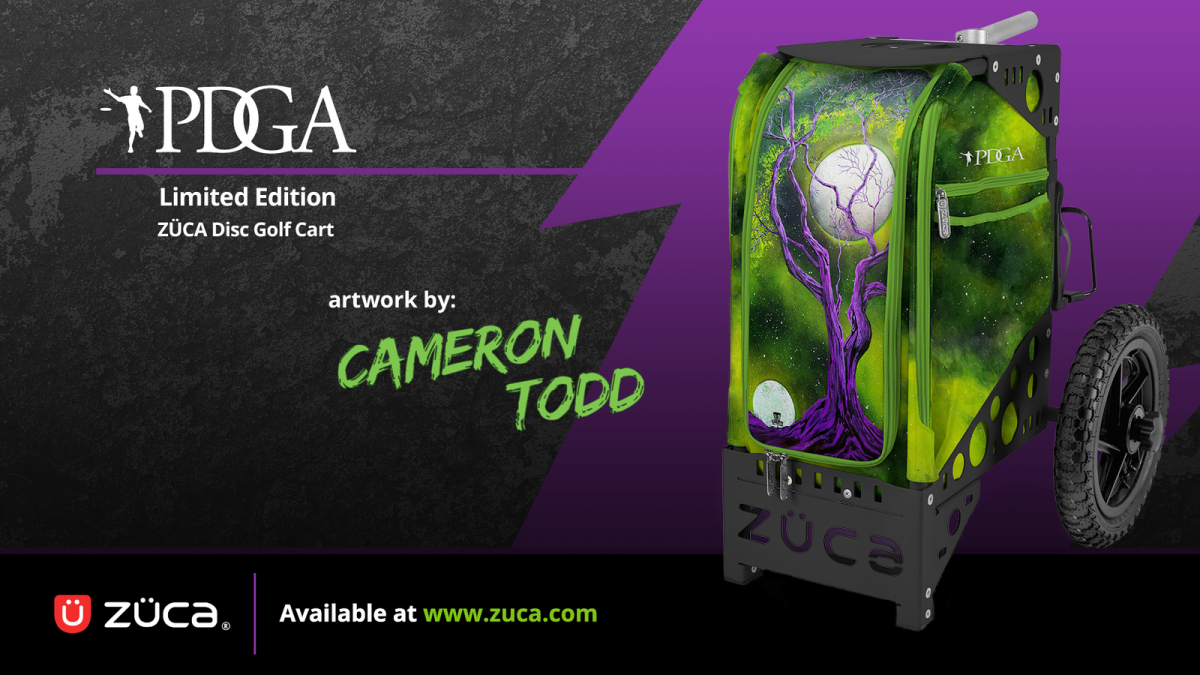 "We are pleased about ZÜCA's extended support this year, going beyond the National Tour to include all of the 2018 PDGA Majors," says Joe Chargulaf, Executive Director of the PDGA. "They've also expanded their donation to the PDGA by including any ZÜCA purchases made using the promo code, not just purchases of PDGA exclusive items."
The new PDGA Exclusive Cameron Todd Edition Disc Golf Cart includes a Putter Pouch and can be purchased at www.zuca.com for $350. Current ZÜCA Disc Golf Cart owners also have the option to swap out their existing insert bag and purchase the new Cameron Todd Edition insert bag for $100. The bag can also be personalized with name and PDGA number embroidery for an additional $15.
25% of sales of these items and any other ZÜCA products using the promo code PDGAZUCAGRANT at www.zuca.com will be donated to the PDGA, to help support the National Tour and outreach efforts to grow the sport.  
Adds Cameron Todd, "I wish I had a ZÜCA cart 20 years ago. I am honored and privileged to have had the opportunity to work with ZÜCA to create a new limited edition cart. This has been a very exciting process and I hope the disc golf community enjoys the results!"
PDGA Announcements
updated

1 day ago

updated

4 days ago

updated

5 days ago

updated

5 days ago

updated

5 days ago