Americans Sweep in Sweden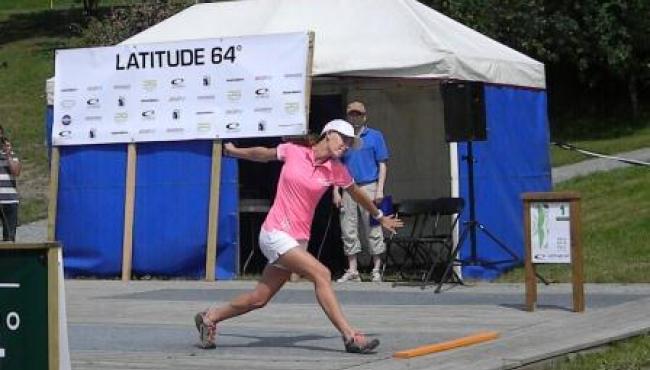 Will Schusterick and Paige Pierce managed their leads and the Järva Park's Major Course today to secure their second PDGA Tour Major event titles at the Stockholm Open. For their performances Will took home a sweet 28,000 Kronor (US$4050) while Paige won $1300, from the event's cool total purse of 242,000 kronor / $35,000.
It was déjà vu as the USA Tour-ists swept the top 5 Men's positions while the Women finished 1-2, just as they did at last year's European Open Major event in Finland. Their performances are indicative of playing disc golf year round for a living. Dave Feldberg shot the final round's low score, an eight down 55, to vault from the second card into 2nd place. But he and the others never got closer than within 3 throws of Will. Cale Leiviska, Nate Doss, and Paul Ulibarri rounded out the red, white, and blue sweep.
With the Tour-ists having already qualified, the top Euro men secured coveted spots in this year's USDGC. Sweden's Anders Swärd (6th) and Markus Källström (9th), Denmark's Karl Johan Nybo (T10th - already qualified), together with the Finnish foursome of Arttu Sikanen (T10th), Leo Piironen (12th), Pasi Koivu and Jalle Stoor (joint 13th) have all begun making their plans for Rock Hill.
Among the ladies, 3 time World Champ Val Jenkins played best on the day, trimming Paige's cushion from 13 to 8 shots, while Sweden's Ragna Bygde edged Angelica Frantz in the battle for 3rd.
It's been a fabulous week – even the weather cooperated with only a few drops of rain after the wettest June in 300 years in Stockholm! On behalf of all the players, the PDGA salutes our hosts, Tournament Director Jonas Löf, Head Official Peter Bygde, Lead Scorekeeper Andreas Winkelbauer and the rest of their most capable and dedicated team for a job well done and an experience not to be forgotten. Tack så mycket för allting!