Dubs Champs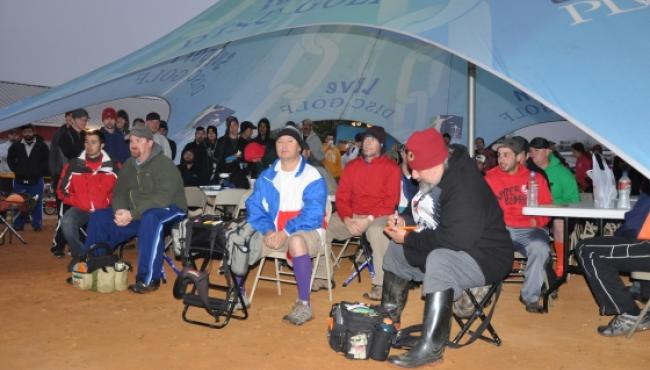 Survival was the name of the game today during the final rounds of the 2013 PDGA Amateur World Doubles Championship, as wind gusts topping 30 mph tested the mettle of the competitors throughout the day. Temperatures hovered in the mid 40's but the wind chill factor made it feel much colder, only adding to the challenge of the Creekside and Lakeside courses at Selah Ranch in Mount Vernon, Texas. Despite the unseasonably cold and windy weather and the havoc wreaked on the vendor village overnight by the winds, the enthusiasm of the competitors, staff and spectators were not dampened and the show went on.
Sundays schedule had to be revised when pool C was unable to complete their round on Saturday due to bad weather and had to return early on Sunday to complete it. By 3:30pm, all divisions had played a round of best shot, best disc, and alternating shot as scheduled over the two days and the field was cut across all divisions for a nine hole final. When the final putts had been dropped, your 2013 PDGA Amateur World Doubles champions were:
Advanced Men – Joey Duckett & Jonathon Rivera
Advanced Women – Samantha Keddington & Samara Schirmsher
Advanced Masters –  Barry Pierce & Steve Hoff
Advanced Grandmasters – Jack Tabor & Kevin Curran
Advanced Senior Grandmasters – Frank Markovich & Frank Mitchell
Advanced Legends – Don Livingston & Ray Symons
Intermediate – Edgar Jalapa & Rene Munoz
The complete standings can be found at PDGA.com.
The event received tremendous support from the local community thanks to the partnership with the Franklin County Chamber of Commerce. The event benefitted Lake County CASA, one of 946 such nationwide programs that serve children in Franklin, Delta, Hopkins, and Titus counties in Texas. The group works to ensure that every child who needs an advocate to speak for his or her best interests before the courts has a caring, trained adult to help them with this difficult period of his or her life.
DiscGolfPlanet.tv was on hand to stream the event live to the world via the internet and the archives of the tournament are now available for your viewing pleasure at PDGA.com and DiscGolfPlanet.tv. Many thanks go to all of the tournament staff and local volunteers who gave their all to make the event a success. Special thanks go to John and Dee Houck of Circular Productions for organizing the event, as well as the gracious hosts at Selah Ranch, Dave and Candy Hickerson and last but not least, the Franklin County Chamber of Commerce.
If you are a serious disc golfer and have not yet been to Selah Ranch, it needs to be on your must-play list. There is a reason that the Lakeside and Creekside courses are two of the top rated in the world. The hospitality of the Selah Ranch staff and the entire Mount Vernon community will only add to your experience and make your visit one to remember for a lifetime. Disc Golf is here!