Am Worlds Champ Publishes Disc Golf's First Children's Book
Am Worlds Champ Publishes Disc Golf's First Children's Book
Wednesday, November 22, 2017 - 11:15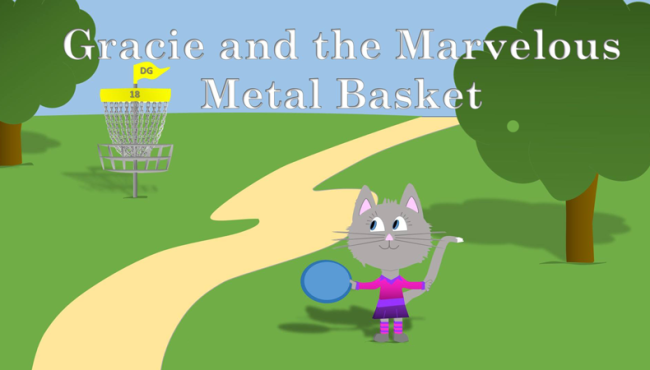 When it comes to growing the sport of disc golf, 2013 Advanced Masters Women World Champion Michelle Jones #50483 went a little off-course – by writing and illustrating disc golf's first children's book.
In Gracie and the Marvelous Metal Basket (2017, Amazon digital and paperback), Gracie and her woodland friends find a mysterious metal basket in the park and learn the wonders of disc golf. It's a discovery story that many disc golfers can relate to, except in Gracie's world, the squirrels talk back.
"When I started writing the book, I was looking for a fun way to grow the sport," says Michelle. She modeled the main character after her granddaughter Jennifer Grace (whose mother is Jones' stepdaughter, Courtney), and used playful rhyme:
A marvelous structure of metal and chain. But what could it be? She was racking her brain.
"I've always loved Dr. Seuss and have always found the sing-song way of writing to be very fun to read," says Michelle. "When my daughter Emily was a child, I used to write little rhyming clues and create fun scavenger hunts for her and her friends to find her birthday presents or Easter baskets and whatnot."
In Gracie and the Marvelous Metal Basket, Michelle also adds disc golf humor that adult players will appreciate, such as: 
"It can't be a grill," Gracie said with concern. "This basket is far too pretty to burn."
Despite her enthusiasm for starting disc golfers young, Michelle admits she was later to the game than her granddaughter will be.
"I had played once or twice when I was in college, but my husband Clay and I really started playing when we found a disc golf course in our neighborhood when we lived in Ohio in 2002," she says. "We then continued to play when we moved back to Georgia in 2005. We played for almost 10 years without even keeping score. It was more about the fun than the competition."
In 2013, serious competition made an appearance in Michelle's game during the PDGA Amateur Disc Golf World Championships, when she won the Women's Advanced Masters division. She's since become an Innova Ambassador, and she and Clay run tournaments and volunteer for many programs and events aimed at showing disc golf to children and their families, including making disc golf an event in the Macon, Georgia Optimist Club's Junior Olympics. Michelle's currently the Events Coordinator for the Gainesville Chain Hawks in Florida, where she and Clay are building a private 18-hole course on their 30-acre compound.
Michelle hopes to write more books in the future with characters inspired by each of her grandchildren. She credits Clay's "nudges and encouragement" for making her dream of Gracie and the Marvelous Metal Basket a reality. Like in her disc golf career, persistence, teamwork, and love helped Michelle obtain her literary goal.
"I started writing the book in 2014, but there was probably at least a year in that stretch where I didn't even look at it as we made our move to Florida," she says. "I was so close to finishing it, but I guess I had some jitters about it and how it would be received. I decided to just move forward and see." 
Gracie and the Marvelous Metal Basket is available for purchase now via Amazon, digital or paperback.