After Close Calls, Lizotte Finally Masters Memorial
After Close Calls, Lizotte Finally Masters Memorial
McMahon, Sexton battle to second and third at DGPT opener
Sunday, March 4, 2018 - 01:33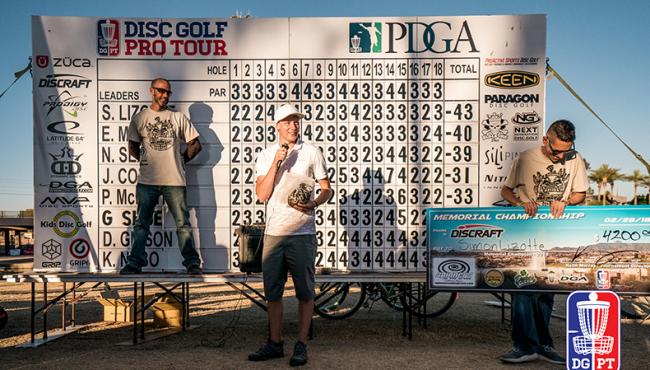 Simon Lizotte was scared entering the 2018 season. Not for himself, mind you, but for his competition.
"I said to my coaches, too, that if I would really try then everyone else would have no chance," Lizotte said.
Whether the notoriously lighthearted German star was serious or not, the disc golf world should be on notice after his performance in Arizona this week. After finishing in third place in 2015 and 2016 before a runner-up showing last year, Lizotte finally broke through at the Memorial Championship and won the first Disc Golf Pro Tour event of the season with a steady final round at Vista del Camino Park.
Lizotte's 9-under par 51 Saturday took his four-day total to a 43-under par 189 and held off his close friend and training partner Eagle McMahon, who notched his own career-high Memorial finish with a 40-under par second-place showing. Nate Sexton's 11-under par 49 matched the day's hot round and kept him in third place overall with a 39-under par 193, while Ricky Wysocki (-34) and Paul McBeth (-33) rounded out the top five.
The victory was Lizotte's first at an A-Tier or better since last March's Open at Temple and his first on a premier stage since the 2016 Konopiště Open. After the close calls of the last few Memorials – he lost by one stroke in 2017, four in 2016, and three in 2015 – the magnitude of this year's accomplishment hadn't quite set in.
"I'm not sure if I've absolutely, 100 percent realized yet what happened, so it feels really good," Lizotte said. "I'm happy that Eagle and I took one and two. Everything is working exactly how we planned it to. It's a really good feeling."
Indeed, McMahon said after last week's Las Vegas Challenge that if he wasn't able to log back-to-back wins that he'd like for Lizotte to deliver. Naturally, then, he was happy for his teammate.
"It's only fair that he won this week and I won last week," McMahon said. "There were a couple opportunities that I had to capitalize, but honestly today for me felt so low energy – I barely slept last night…I didn't really have a good feeling, so to even have a chance, to me, was really good for me…To go first and second at two of the biggest tournaments of the year, that's really good, in my opinion."
Though Lizotte ultimately triumphed over his younger counterpart, McMahon was tough to shake from the get-go. Lizotte entered the day with a two-shot lead, then extended that to three after connecting from circle's edge for birdie on hole 3. He quickly gave that one back, though, by firing his drive on the 381-foot 4th out of bounds. McMahon then tied the affair with consecutive birdies on holes 5 and 6 before missing a 35-footer low on hole 7's elevated basket to yield the lead back to Lizotte, who hit from just inside circle 1 for birdie. 
Lizotte never looked back, though McMahon and Sexton continued to push. Whether they kept up with massive rollers or clutch putts, Lizotte was only able to pull away in increments. He added an insurance stroke over McMahon when the Colorado pro missed a 25-footer high and to the left side of the chainset on hole 12 and held that same margin for three more holes. 
"This was completely a mental battle with myself, and Eagle, of course," Lizotte said. "Nate Sexton was only two or three behind me at some point – he was shredding. I was thinking so much about stuff. I'm not really that used to winning in the States yet, so I'm trying to walk along the course and actually focus on playing."
Lizotte then got another break to tilt in his direction – he said they had been all week – when his backhand drive to the top of the hillside on the 372-foot 16th slid on the dead Scottsdale grass but stayed in bounds. McMahon's forehand tee shot, on the other hand, had too much speed and skipped into the street. Lizotte laid up for a par and McMahon saved his after the penalty, but Lizotte arguably dodged a bullet.
"Eagle was super unfortunate to go OB on that shot – his disc skipped like 40 feet uphill," Lizotte said. "I was lucky to stay in bounds, so things were going my way...It wasn't over yet. The next hole is such a gimme, but of course, under those circumstances, you've still got to do it."
That "gimme" was the 243-foot 17th, which played as the course's easiest at 0.77 strokes below par.
"I parked that one and all the weight fell off the shoulders, which was a really great feeling," Lizotte said.
With McMahon needing to ace hole 18 to force a playoff, he changed his game plan for the first time all week and ran the basket. He ended up landing in the water and Lizotte, who said his own tee shot was "almost a disaster" as he battled the mental hurdles of sealing the deal, kept it between the lines and pitched up for a $4,200 first-place payday.
"I've had a couple wins here and there, but it's definitely something super special for me, and I just remember myself at times today just shaking my head and trying to get back into my mindset of playing and not thinking about winning too soon," Lizotte said. "That's a rookie mistake."
But since he emerged the victor, doesn't that mean he actually didn't make that kind of easy error?
"I've been there so many times and I've failed enough," Lizotte said. "So [now] I can stop failing."
The last of a season-opening stretch in which many competitors played eight tournament rounds in 10 days, Saturday saw some serious climbs up the leaderboard. Seppo Paju launched a 10-under par 50 that found him jumping up 14 spots and into sixth place, where he tied James Conrad, Grady Shue, Anthony Barela, and Noah Meintsma; both Barela and Meintsma moved up 11 spots to seize their positions. Dutch Napier made an 18-spot leap into a 26th place tie, while Philo Brathwaite salvaged his tournament with a final round 8-under par that moved him up 21 spots and into a tie for 46th.
While McMahon was able to successfully avoid the emotional hangover after his first career National Tour victory the prior week, he was ready for the coming reprieve in his schedule.
"The amount of mental fortitude that it takes is just like – ugh, I need a break now," McMahon said. "It went zero to 100 real fast. I felt like today is all I could handle. If I had to go play another tournament round tomorrow I'd just want to go lay in bed all day."
Lizotte said he'd likely avoid the physical hangover that can come from celebrating a big win, which he admitted was a change from the Simon of years past. He attributed that shift – as well as a refocused mental game – to the tutelage of Andreas and Irene Gertsch, with whom he and McMahon trained in Switzerland this offseason. The duo helped him get in shape physically but also aimed to help him take advantage of his talent in a way he failed to do earlier in his career.
"They say, 'You need a goal in life to be successful,' and that was one of my main struggle points, was that I didn't always have a goal," Lizotte said. "I was like, 'Yeah, I'm fine if I play well…' I haven't [ever] set a goal for myself, so we were working on that a lot and we were working with some other personal problems I had, which I took care of in those five weeks [of training]. I'm all around just a lot happier now than I was last year."
Lizotte did not want to share what those goals were just yet. But if this week is any indication of what he can achieve with a renewed focus, maybe the competition should be scared, after all.