adidas Outdoor Joins the Fundraising Efforts for the St. Jude Disc Golf Charity Invitational
adidas Outdoor Joins the Fundraising Efforts for the St. Jude Disc Golf Charity Invitational
Wednesday, May 25, 2016 - 20:11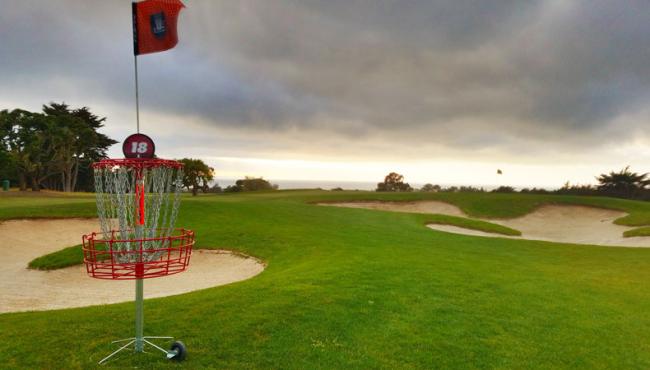 Good news! We are thrilled to announce that adidas Outdoor has chosen the St. Jude Disc Golf Charity Invitational as the first pro disc golf event they will sponsor. They are providing generous contributions to the players package, silent auction, and tournament prizes.
It is an important milestone in the development of professional disc golf to partner with a company of this stature. In choosing this event, adidas Outdoor highlighted both the exceptional quality of the event and its core mission – to support the life-saving work of St. Jude Children's Research Hospital  -- as key factors in their decision.
Just like adidas Outdoor, every disc golfer who supports this fundraising effort is also accomplishing two things:  helping kids and families facing life-threatening illnesses, and building the future of disc golf.
Chris Brophy #13274 has been working with the adidas Outdoor team for some time now, and he recently had the pleasure of taking 39 of their associates out for a round of disc golf, most of which had never played before.
"Some of them had played before, yeah. One guy even brought his own discs, and he was fired up," said Brophy. "We set up a temp course on the Westchester Golf Course in Marina Del Ray. They had never had disc golf there before, but we had worked with one of their sister courses in the past, owned by the same parent company.  Long story short, they all had a blast."
"These guys flew in from all over," continued Brophy. "One of them came in from Germany, a rep for Adidas Global. He loved it, and last I heard, when he went back [to Germany] he started looking more into the sport over there." 
Spreading the Joy of Disc Golf
There's more to the St. Jude Disc Golf Charity Invitational than just the competition and the fundraising. This year, a new element has been added. In the weeks leading up to this weekend's event, a dozen or so different middle and high schools have had some of the best disc golfers in the world stop by to teach the students about disc golf.
One such instance occurred on Tuesday when Val Jenkins #17495, Avery Jenkins #7495, and Nate Doss #11794 had the chance to give lessons to the kids of Seaside High School, just a few miles away from the Bayonet Golf Course where the St. Jude Disc Golf Charity Invitational takes place this weekend.
Thanks to hard work from local disc golfers and representatives from the St. Jude event, DiscGolfPark will be designing and installing a nine-hole disc golf course on the school's campus, with all of the tee pads, baskets, tee signs, and labor costs supplied by DiscGolfPark at no cost to the school. You can read more about this amazing project on the Monterey County Herald's website.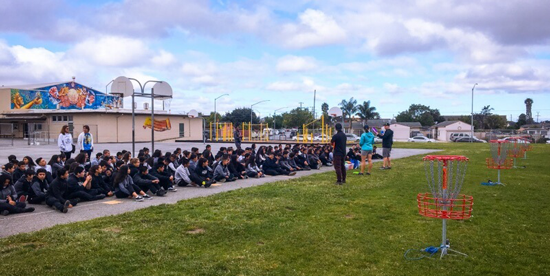 Fundraise Now - It's Not Too Late!
The St. Jude Disc Golf Charity Invitational starts this weekend, but the fundraising continues through he end of June. Whether you are raising oney as an individual or as part of a team, there is still plenty of time to rack up the donations for this amazing cause. 
Leading the way right now is touring pro Nate Sexton #18824. Sexton has single-handedly raised $8500 for St. Jude, and is a key member of the leading fundraising team as well, SexyBeast Tour - Team Innova. So, how did he do it?
"I started working on this last December. It's been pretty much a nonstop effort since," said Sexton at the Bayonet course this afternoon as he practiced putting on baskets that were waiting to be carted out to their temporary home for the weekend.
"I've auctioned or raffled off a Discatcher 28 (Innova disc golf target), three Grip EQ bags, a Hyzerbomb bag, and 50-60 discs; these were all my personal items." 
Not every disc golfer has the ability to auction or raffle off those kinds of items, but that doesn't matter, because they don't have to. Every. Donation. Counts. It can be $5 or it can be $500 dollars. It's all the same, and it all goes to the same great cause.
PDGA Pledges to Match the Next $10,000 of Donations
With just over a month to go in this year's fundraising effort for the St. Jude Disc Golf Charity Invitational, the PDGA has pledged to match 100% of all donations made for the next $10,000 of funds raised by any individual or any team. As of right now, May 25th, 2016, at 11:15pm PDT, the grand total raised thus far is $151,380. If the disc golf community raises an additional $10,000 in the next month, we'll match it. No questions asked.  
If you want to start raising money for St. Jude Children's Research Hospital, please go to stjude.org/discgolf and get started right now. If you simply want to donate without having to worry about an associated individual or team fundraiser, there's a quick and easy way to do that as well. Donations of $5 or more can be made by Paypal or Credit Card at pdga.com/give.
Follow @PDGA and @StJudeDiscGolf on Twitter, as well as the PDGA and the St. Jude Disc Golf Charity Invitational on Facebook for updates, pics, and videos all weekend long!