Only the Finals Remain at 2019 Junior Worlds
Only the Finals Remain at 2019 Junior Worlds
Saturday, July 13, 2019 - 12:22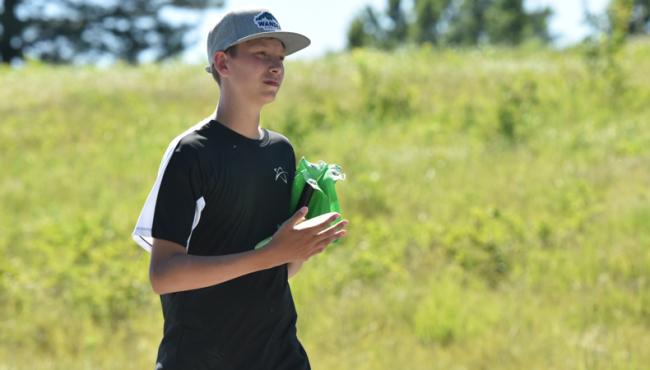 With the last of the preliminary rounds coming to an end on Saturday morning and no semifinal rounds to worry about, the record-setting field of 210 at the 2019 PDGA Junior Disc Golf World Championships has now been reduced to just 30. Six of the nine divisions here in Emporia will have one last loop in a final nine foursome while the smallest three divisions will compete in twosomes. The opening rounds left some divisions with tightly contested battles, but as the days passed, many of the division leaders pulled significantly away from the rest of the field.
The widening of the gaps between first and second began on Friday in the largest divisions, where Zach Arlinghaus went from a three-stroke lead to a lead of 13 by the end of the morning round on Jones East. Not much would change at the end of the day, as their afternoon round on Jones West left the rest of the field still well out of range.  
Arlinghaus refused to let off the gas during his morning round on Saturday, shooting yet another hot round to head into the finals with a lead of 16 or more over Harper Thompson, Kevin Keifer, and Elijah Bickel. "He made it look pretty easy out there," said Bickel, referring to Arlinghaus's 12-under par 44. "They both tore it up. Harper [Thompson] got off to a bad start and then birdied something like 11 holes in a row." Indeed he did. Thompson went on a tear after starting the round with two bogeys through the first four holes, carding 12 birdies and one par over the next 13 holes.
Meanwhile, in the Junior 15 & Under division, the highest-rated player in the entire tournament, 986-rated Gannon Buhr, having just turned 14 years old in May, has been obliterating his competitors. With each and every day that's passed, he's pulled further and further away from the field. After another lights out 1010-rated round on Saturday morning, he'll be heading into the finals with nothing to worry about having amassed a lead of 24.
The Junior Girls 18 & Under division has, for the most part, been a battle between the top two players, Melody Castruita and Kat Mertsch. Mertsch has kept herself within range of Castruita, the wire-to-wire leader thus far, but had yet to make a push strong enough to capture the spot for herself. However, her morning round on Saturday at Peter Pan transformed what could have been a walk in the park for Castruita to a much closer battle, now with a lead of only six heading into the finals.
There will be many more stories to tell and many more battles to come on Saturday afternoon. Stay tuned for more coverage and follow the live scores on pdgalive.com.
2019 PDGA Junior Disc Golf World Championships