Bucking The Trend
Bucking The Trend
Pierce vies for fifth World Championship, but will it happen in an even year?
Wednesday, September 5, 2018 - 00:01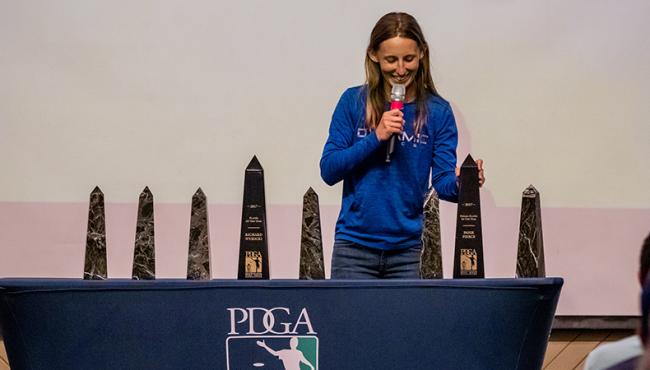 JEFFERSONVILLE, Vt. – When it comes to PDGA World Championship titles, Paige Pierce has operated in the reverse fashion of the San Francisco Giants. Unlike the Major League Baseball champs who won the World Series in 2010, 2012, and 2014 – giving fans hope that the even-year magic would somehow catapult them through hard times in 2016 and 2018 -- Pierce has only won her championships in odd years. So as she enters play at this week's PDGA Professional Disc Golf World Championships at Smugglers' Notch Resort in Jeffersonville, Vermont, with her eyes on a fifth career crown, she already has one factor – the year – stacked against her.
"Obviously it's a thing – it's real – but I don't think it's like a curse or anything like that," Pierce said after Tuesday night's opening ceremonies. "I think it would just be nice to win it and – yeah, it's definitely crossed my mind."
She's less worried about what the calendar says, though, than about the markers of her recent play. Pierce enters this week's five-round tournament having logged consecutive finishes outside the top 3 at an event for the first time since 2011. She did add a victory at the Nantucket Disc Golf Open last weekend, but her Elite Series finishes have been marred by relative inconsistency of late, a development she blamed on tinkering with her game as the tour entered the late-season woods.
"I'm throwing some of the best shots I've ever thrown, but also some not good ones sprinkled in there," Pierce admitted. "…I've been working on different elements of my game to all around get better, and so it's been kind of like experimenting during tournament rounds. I think my play's kind of taken a little dip for a minute, but I feel consistent. I think it's gotta get back to the point where I'm throwing the shot at hand and consistently executing it, and all the experimenting I've been doing – I'm gonna put that on pause this week.
"This is not the time to mess around."
Indeed, Pierce knows that if she leaves any margin for error, an increasingly competitive Open Women's field will seize upon it. Of the 49-player grouping – a number that marks a new Pro Worlds record for the FPO division – Pierce specifically mentioned a trio of young players who have been committed to the road this season and, as a result, have started to push toward the top.
"I'm 27, and we're having the Rebecca Coxes, the Paige Bjerkaases, the Kona Panises, and the competition is getting better and better and these younger girls are coming up," Pierce said. "So I just wanna win as many titles as I can before I'm past my prime. I know I'm not – I think I'm in my prime right now. So hopefully I can break this silly trend and add another one."
There won't just be the newcomers trying to thwart her chances. Longtime rival Catrina Allen – who ousted Pierce in a playoff at the Beaver State Fling this year – has two career victories at Smuggs. Sarah Hokom, who held the lead at the Green Mountain Championship in 2017 before Pierce rallied for a chase card comeback win – is firing on all cylinders after her triumph at the MVP Open. Pierce said the ideal she has been striving for is where Hokom excels.
"She is, I would say, one of the most consistent golfers in our division," Pierce said. "She knows her bag better than anyone in our division, by a long shot…She's been working on her backhand so it's looking good, and I think she's feeling good."
It isn't just players here in the Green Mountain State who were on Pierce's mind, though. In her quest to remain even-keeled this week, the four-time PDGA World Champion said she would look for inspiration from the demeanor of fellow four-time Valarie Jenkins.
If I can keep my mental game kind of level, like Val does – just kind of channel my inner Val, I think I could absolutely walk away with my fifth world title," Pierce said.
And if she accomplishes that goal, she'll join rarified company: Only Elaine King and Juliana Korver sport five Open Women's world titles, and Pierce recalled a time when she visited Korver's home and marveled at the hardware she had on her shelves – or, rather, the lack of it. Of her 223 career victories, the Disc Golf Hall of Famer only keeps her five world championship trophies in public view.
"She's won so many tournaments in her day, and those are the ones she displays," Pierce said. "It's a really cool thing to even have the opportunity to do that this weekend.
"I think it would be really special to me if I could make it happen."
2018 Pro World Championships