Bjerkaas Scuffles, Recovers To Take Lead Into Pro Worlds Final
Bjerkaas Scuffles, Recovers To Take Lead Into Pro Worlds Final
Pierce set to give chase after jump to second place
Sunday, September 9, 2018 - 02:18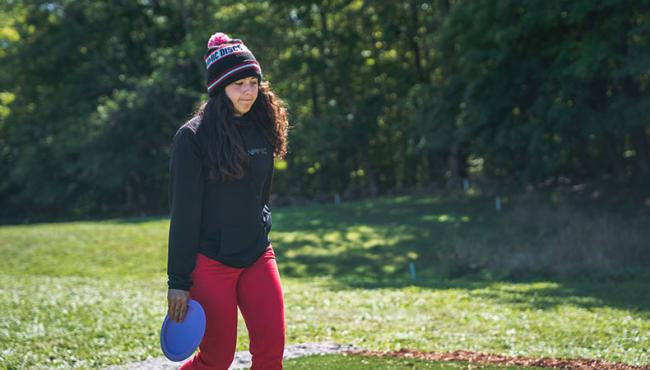 JEFFERSONVILLE, Vt. – Paige Bjerkaas' day didn't exactly go as planned.
As temperatures plummeted here at Smugglers' Notch Disc Golf Center for the Open Women's lead card's 9:30 a.m. tee time Saturday, the 21-year-old Kansan's game matched the conditions. Simply put, it was cold.
Double bogey. Par. Triple bogey. A five-stroke lead, evaporated in a mere three holes at Fox Run Meadows.
But a long backup on hole 4 allowed her the respite she needed from not only the course, but her own mind. With a fresh spirit, she got her round – and her tournament, really – back on track to finish with a 5-over par 68 that, while dotted with difficulties, still had her with a five-shot lead heading into Sunday's final at the PDGA Professional Disc Golf World Championships.
Still, nothing is set to be easy: Bjerkaas' 6-over par 254 total is a handful better than Paige Pierce's 11-over par 259, but intimidation looms heavily as the four-time PDGA World Champion fired off the hot round with a 1010-rated 2-under par to catapult herself into second place after a rocky tournament. Sarah Hokom bested Bjerkaas early before her round came apart on the track's daunting seventh hole, with the misfortune dropping her into third place with a 14-over par 262, while Rebecca Cox battled through a shoulder injury but slipped to fourth place at 16-over par.
Bjerkaas said the early hiccups on the course were due to a mixture of both nerves and bad luck. First, the pressure of the lead card saw her sailing out-of-bounds on the 575-foot opening hole before missing from 20 feet to save bogey, then – after again going OB off the tee – her upshot on the 285-foot 3rd caught an edge and rolled beyond the stakes.
The breather on 4 – one of many during a nearly five-hour round – came just at the right time.
"I think sitting there and really thinking, 'There's a lot of golf left, there's a lot of things out of my control' – those holes, can't do anything about them now," Bjerkaas said. "So just take it one hole at a time."
She was able to settle into more of a groove on Fox Run's basin stretch, a run of open holes where she kept it between the lines, with her par on hole 7 proving to be a turning point. She and Hokom were still tied until the latter threw out-of-bounds three times in a row to take a quadruple-bogey 9. The insurance strokes were a positive for Bjerkaas, but she still didn't feel good about her performance.
"It's just crazy how many strokes are left out there," Bjerkaas said. "Not only for me – you saw what happened to Hokom. Everybody, like exploded today, at least for a few holes."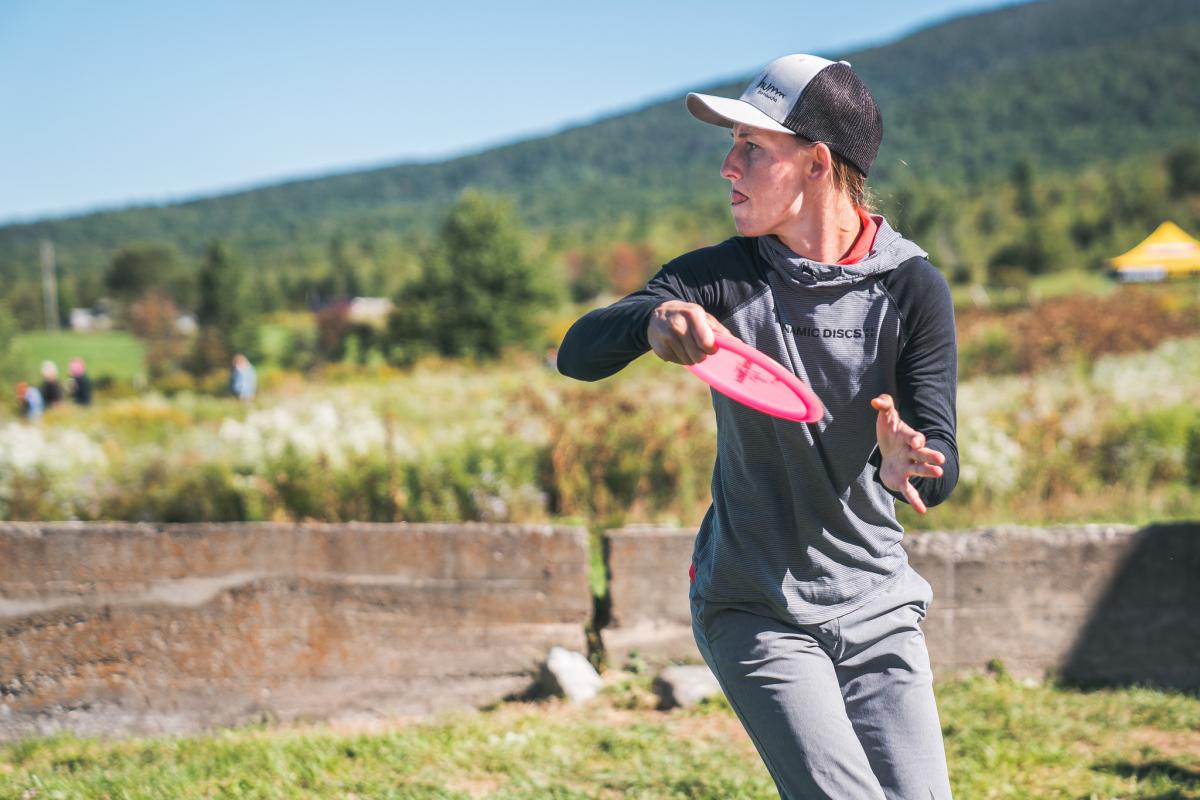 The same could even be said for Pierce who, despite the strong showing, still carded five OB strokes and missed four putts from inside circle 1. She clawed those back by carding four birdies on and connecting on two of three from beyond the arc on the last eight holes.
"I was just trying to get birdies, honestly," Pierce said. "I was very, very motivated to get birdies. I was missing putts for birdies, and taking pars are OK, but they're not winning you a world title."
Cox started her round the same way Bjerkaas did, with an errant tee shot leading to a bogey. Though she was able to cobble together three early birdies, her power game was compromised and it led to four OBs in the basin.
"I had some full power drives that I teared up after because it hurt really bad," Cox said. "It's in the back of your mind like, 'Oh man, if I throw this and do the shot I want to do it's gonna hurt a lot,' so then I do something really dumb."
Now, Pierce's quest for a fifth championship comes down to one round against not only Fox Run Meadows, but an opponent in Bjerkaas who is relatively untested in the spotlight. And that just might play in Pierce's favor.
"I think a lot of people handle pressure different ways," Pierce said. "Paige hasn't necessarily felt a whole lot of that yet. She's had a lot of strong finishes lately, so she's starting to experience more and more and more of that, but this is the highest stage we play on. And so I think, to have already done it four times, I have a slight advantage in that aspect of the mental game coming down the stretch. I'm just gonna try to keep pushing and see what happens. All I can do is shoot my best and try to stay in bounds, and kind of go from there."
Though Bjerkaas was still lamenting the shots that got away, she was able to find the silver lining as she stood on the precipice of her first career world championship.
"Paige played great and she shot 2-under," Bjerkaas said. "My goal is even. So if I can shoot even tomorrow and she shoots 2-under, I still win."
The Open Women's final starts at 8:50 a.m. ET and will be live streamed on SmashboxxTV.
2018 Pro World Championships