2018 A-Tier Schedule, Tour Standards, and Sanctioning Form Published
2018 A-Tier Schedule, Tour Standards, and Sanctioning Form Published
Start Planing Your 2018 Disc Golf Season Now
Wednesday, November 1, 2017 - 13:44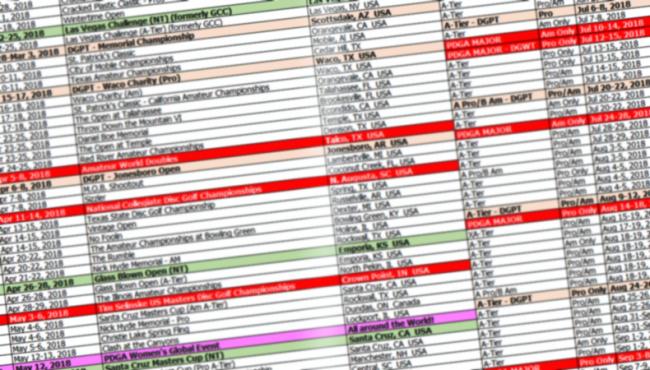 The schedule for the 2018 PDGA Majors, National Tour, Disc Golf Pro Tour, and PDGA A-Tiers is now available along with the 2018 PDGA Tour Standards that will go into effect on January 1, 2018. PDGA State Coordinators and Provincial Coordinators may now start accepting requests for approval of dates for 2018 B-Tier and C-Tier events as well.
But wait, there's more! The 2018 PDGA Event Sanctioning Form is now available online. Tournament Directors for pre-approved 2018 A-Tiers and 2018 PDGA State/Provincial Coordinator-approved B & C-Tiers may now submit their sanctioning agreement information.
TD Reminders:
The 2018 PDGA Tour schedule consists of 11 PDGA Majors, six National Tour events, nine Disc Golf Pro Tour events (with a tenth DGPT Finale event TBD), three DGWT events (two of which are also PDGA Majors), and 109 A-tiers including four in Canada as well as the European Championships in Croatia. The Czech Republic will host a PDGA Major for the first time in 2018; The Konopiste Open on July 12-15, 2018.
The National Tour will start at the end of February with the Las Vegas Challenge (formerly known as the GCC) in Las Vegas, Nevada, and will conclude with the Hall of Fame Classic at the International Disc Golf Center in Appling, Georgia in mid-October along with the 2018 Disc Golf Hall of Fame induction ceremony. Registration is already available for the Las Vegas Challenge via The Disc Golf Scene. 
Additionally, as of this morning, the PDGA Mid-Event Suspension and Cancellation document has been published. These guidelines are intended to help all Tournament Directors manage their events in a consistent manner should dangerous conditions occur that cause either mid-event suspensions or cancellations. 
Quick Links