629 Players, 20 Divisions, 8 Courses
629 Players, 20 Divisions, 8 Courses
2017 Am & Jr Worlds Set to Begin in Quad Cities
Monday, July 17, 2017 - 19:00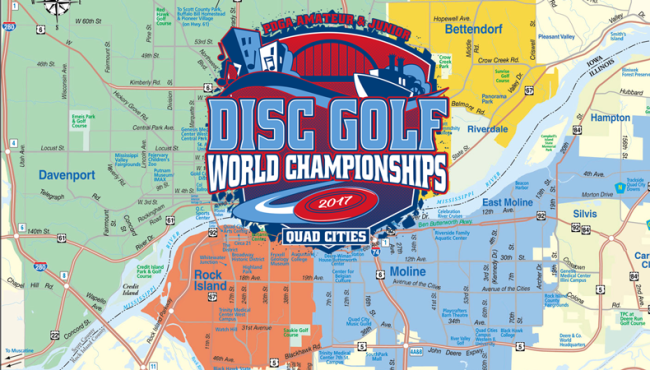 With 600+ men, women, boys, and girls on site hailing from 46 states, two Canadian provinces, and a total of seven countries, Quad Cities has officially been taken over by the 2017 PDGA Amateur & Junior Disc Golf World Championships competitors, staff, volunteers, and vendors. With the Players Meeting set to begin in just a few hours and the ancillary events in the books, all parties involved are ready to kick off what is always an exciting, exhausting, and sometimes chaotic week of disc golf!
As you may or may not know, Quad Cities is not a city, rather four counties that combine to form the Quad Cities Metropolitan Area. At its core, Iowa's Davenport and Bettendorf make up the northwest with Illinois' Moline and Rock Island to the southeast and the mighty Mississippi serving as the dividing line on a small section where it flows mostly east to west instead of north to south.
Some would suggest that Quad Cities is best known as the home of John Deere while others of a certain age might only be reminded of the 1990s one-hit wonders, Quad City DJ's (even though they're from Florida). Quad Cities, however, also serves as home to a booming and growing disc golf industry, now 40+ courses strong within a 50-mile radius.
Putting on an event as large and complex as Am Worlds requires this sort of disc golf-obsessed host. After all, a host can only be as successful as its staff. Fortunately for the 600+ competitors that have made the trek to the Midwest, the team here in Quad Cities includes dozens of event staff members and volunteers, multiple local disc golf clubs and shops, not to mention representatives from the Quad Cities Convention & Visitors Bureau that have helped with everything from bringing in sponsors to printing off scorecards.
Courses
Getting a course ready for competition is a daunting responsibility. Getting eight of them ready – that's just plain crazy. That's just one of many difficult items on the checklist when preparing for the 2017 Am Worlds. This week we'll see nine amateur and 11 junior divisions split between four courses in Illinois and four more in Iowa, with Davenport's West Lake Park serving as the location for the Finals on Saturday morning and afternoon.
Descriptions, maps, scorecards, course-specific rules, and more can be found at the 2017 Am Worlds Courses page.
Course Schedule
At first glance, the 2017 Am Worlds Course Schedule looks like a tangled mess of spreadsheet madness. In its defense, it kind of is. It has to be, by default. The event contains 20 different divisions and a field of competitors that range from kids as young as five years old all the way up to seniors in their mid-70s. It is no simple task and therefore there is no simple solution. The good news, however, is that the great minds behind this event have it under control.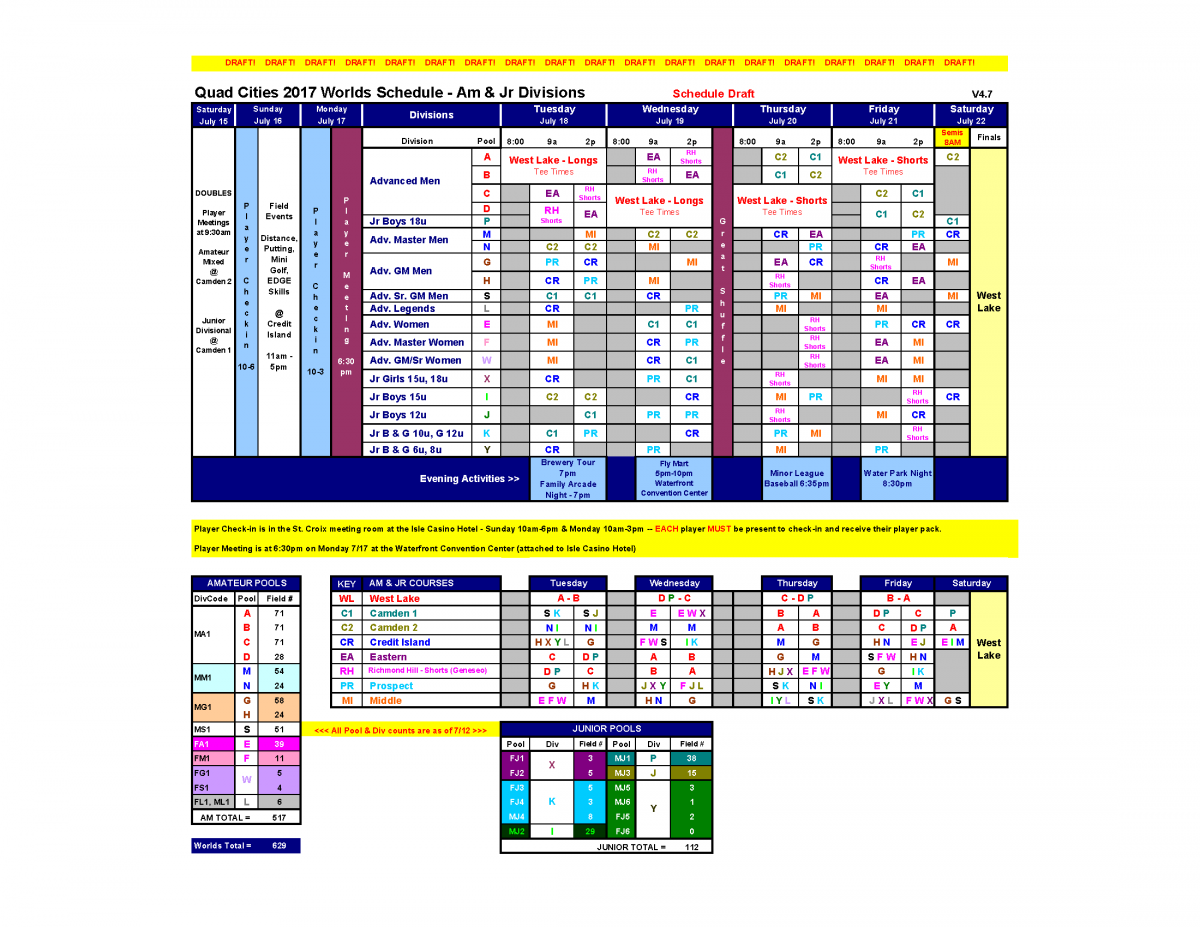 Those that have served as Tournament Director for PDGA events in the past would have no problem explaining just how physically and mentally exhausting running them can be. Which is true, but there is perhaps no task more tiring than putting on Am Worlds. That said, our hats are off to 2017 Am Worlds Tournament Director Chase Roberts #20460 and his staff for taking on such a large field of players and getting eight different courses primed and ready for five days of championship disc golf.
Thank you as well to the many great sponsors of this event (pictured below), the Isle Casino Hotel Bettendorf, and the Quad Cities Convention & Visitors Bureau once again for everything they've done to ensure a fantastic week of disc golf here at the 2017 PDGA Amateur & Junior Disc Golf World Championships.
Let's get this show on the road!
2017 Am & Jr World Championships