2013 Presidents Cup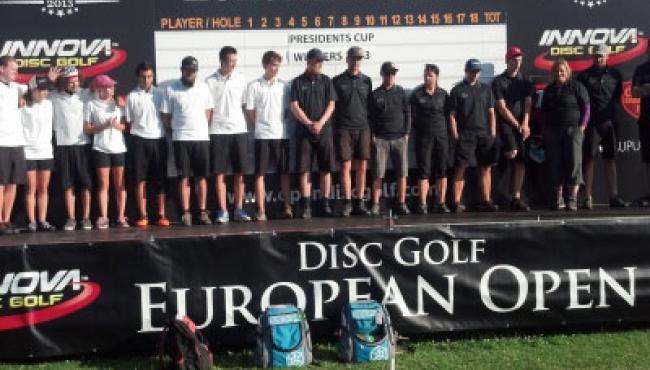 The 6th Presidents Cup competition between team USA and team Europe teed off today at the Nokia Sports Center DiscGolfPark  in Nokia Finland. Playing in front of the home crowd, Team Europe was seeking to take home the Presidents Cup for the first time in disc golf's version of the Ryder Cup while team USA would seek to retain the Presidents Cup trophy for another two years.
At a press conference earlier today at the Rantasippi Eden Hotel in Nokia, Team Europe captain Marco Lehousse encouraged his team members to enjoy the experience and have fun, while visiting team USA captain Avery Jenkins expressed confidence in his players abilities. PDGA Executive Director, Brian Graham wished the teams good luck and reminded them that while the event was a high level competition for continental honor and Atlantic bragging rights, we should not forget that it is also a unique opportunity for them to demonstrate to the world the international flavor and unity that exists in the sport of disc golf. 
The competition teed off later in the day on the ultra challenging "Beast" course under very windy conditions. The first 9 holes would be played using the stroke play format. Each team consisted of six men and two women players, with two team Europe and two team USA players in each group. The four groups would play a modified 9-hole layout consisting of holes 1, 2, 8, 9, 10, 11, 16, 17 and 18 that came in at 1501 meters (4,925 feet) and par 32. A total of 7 points were available for each group with the lowest score in each group earning 4 points, the second lowest earning 2 points, the third lowest earning 1 point, and the fourth lowest earning no points. A total of 28 team points were available in stroke play and team USA jumped out to an almost insurmountable lead with 17 points versus 11 for team Europe.
Following a short break, the pairings were set by team captains Avery Jenkins and Marco Lehousse for the second 9 holes of match play on the same course layout with one European and one American playing head to head for 3 points each. A tie in match play would result in each competitor earning 1 ½ points for their team. A total of 24 points would be up for grabs in match play for an event total of 52 points, meaning a team would need to earn at least 26 1/2 points to take home the Presidents Cup. Going into the second 9 holes of match play, team USA would need only to win 3 of the eight matches, and tie 1 match (9 ½ points) to retain the Cup, while  team Europe would need to win 5 of the 8 matches and tie 1 (15 ½ points) to claim it. 
Catrina Ulibarri looked to put team USA in control when she defeated Henna Määttä 5 and 3 to give the Americans 20 points. When Natalie Holloköi and Paige Pierce finished their match all square, team USA lead 21 ½ points to 12 ½ points and looked comfortable. Things started to unravel for the Americans at that point however when both David Feldberg and Nikko Locastro lost their matches convincingly to Tobias Ostling and Emil Dahlgren respectively 3 and 2. The Europeans now had 18 ½ points while team USA was stalled at 21 ½ points. That points deficit didn't change when Nate Doss defeated Arttu Sikanen 2 and 0, and Karl Johan Nybo defeated Ricky Wysocki 3 and 2 to earn 3 more points for both teams. With only 2 matches remaining to decide the competition, team USA had 24 ½ points to 21 ½ points for team Europe.
Murmurs could be heard in the crowd of spectators when word came that Henrik Johansen had just defeated Will Schusterick 2 and 1 on the next to the last hole to put team Europe into a tie with Team USA at 24 ½ points with only 1 match left to be decided. The atmosphere was electric as current world champion Paul McBeth of team USA and current European Champion Simon Lizotte of team Europe, perhaps the two best disc golfers on each side of the Atlantic, came to the challenging and dangerous par 4 last hole all square. McBeth threw a beautiful hyzer drive clear of the dangerous OB running down both sides of the entire length of the fairway to put him in good position for his uphill approach. Simon Lizotte attempted to match McBeth's drive but he fell out of bounds coming up just short of the fairway. After taking the penalty, Lizotte had no choice but to try to throw it up the hill and in from about 70 meters (230 feet) and he didn't disappoint the crowd with a laser shot that sailed just high of the basket. It appeared the desperation shot would easily find its way out of bounds behind the basket but the disc struck an OB stake and landed on the line in bounds. His next shot would be impossible though as he had no clear shot at the basket due to thick bushy trees that obstructed his line. Knowing Lizotte's situation, McBeth threw his second shot very safely trying only to stay in bounds which he easily did. Knowing that Lizotte was laying 3 in an impossible position, team USA advised McBeth to lay up safely under the basket. Lizotte was not through yet as he amazed the crowd by hitting metal with an arcing hyzer putt around the trees. McBeth followed by easily dropping his putt into the basket to earn 3 points and the Presidents Cup for team USA.
The Europeans had made a furious and amazing comeback but came up just one match short of claiming their first ever Presidents Cup. The competition ended with team USA at 27 ½ points to 24 ½ points for team Europe, easily making it the most exciting Presidents Cup ever. The respect team USA had for the Europeans almost unbelievable comeback was evident when they took the stage for the trophy presentation and passed bottles of their celebratory champagne over to team Europe to honor their comrades. A true show of unity for the sport in showing all in attendance how great disc golf is around the world.
Here are the complete results: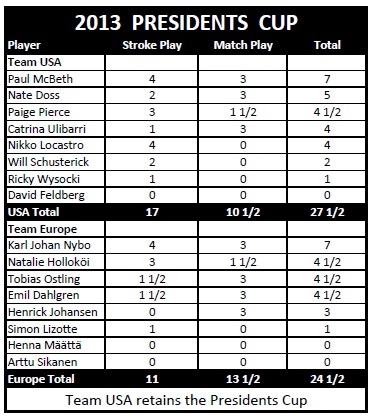 Tomorrow the European Open – a PDGA Europe Major – begins. Dave Feldberg and Valarie Jenkins will be looking to defend their 2011 EO titles, while Europe's top players and a record 23 other Americans will be looking to unseat them. A total 168 players from 12 countries will be vying for the chance to be crowned Champions, and with a purse of more than Euros 31,395 (US$ 40,814) up for grabs, the competition is guaranteed to be fierce. For live scoring and more information please visit www.opendiscgolf.com . You will also find daily stories, photos, live scoring, full round scores, and the preliminary player round ratings at www.pdga.com.