Vibram Open Preview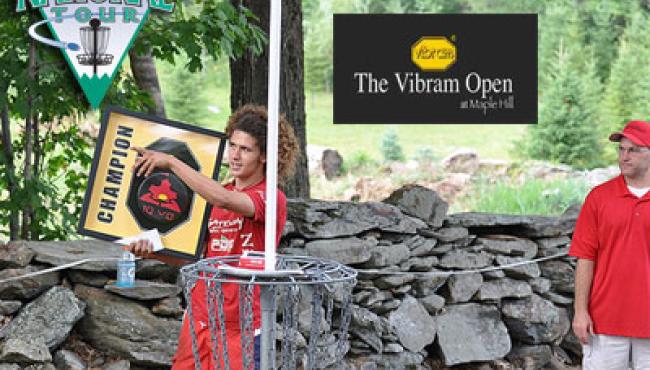 It All Comes Down to This

As the old saying goes, "Time flies when you're having fun," which may explain the puzzling look, as the disc golf community looks up and wonders, "Where has this year's PDGA National Tour gone?"

And while we shake our heads reflecting on the disc golf season, we can set our sights clearly on where it is going…especially with this weekend's Vibram Open in Leicester, Massachusetts.

The finale of the PDGA Drive for the Championship points series presented by Vibram will culminate on the challenging Maple Hill course with a "Who's Who" of disc golf in the field.  If there was a theme that has emerged from this year's PDGA National Tour, and from the entire season, it is that parity has arrived to the upper echelons of the sport.  In the eight National Tour events completed so far, the Men's Open Division has seen six different winners.  Only Paul McBeth and Nikko Locastro have won two events each.  This has made for a dramatic Drive for the Championship Points race, where reigning Vibram Champion Locastro holds a narrow lead over Nate Doss (by 6 points) and David Feldberg (by 7 points) going into this weekend.  That makes the 100 points that are up for grabs at Vibram this weekend even more valuable. 

On the Women's Open side, Valarie Jenkins has earned the highest point total possible so far with her four NT wins, but this does automatically guarantee Jenkins the points series title.  Just like with the Men's Open division, the Vibram Open points are added onto the points our touring players have already earned, meaning that both Hokom and Pierce still have a shot winning the Drive for the Championship title.  And while Jenkins has won the most NT titles this year, reigning PDGA World Champion Paige Pierce and rising star Sarah Hokom have split the titles at the other four NT events, indicating that the long-awaited increase in talent in the women's field has certainly arrived.  Indeed, if you compare the performance of Jenkins, Hokom, and Pierce throughout this year's National Tour, Hokom's average finishing position (2.25 place) would be just behind Jenkins' (2.0 place) and ahead of Pierce (3.0 place).  So will it be Jenkins holding on to her year-long lead, or will upstart Hokom or World Champion Pierce sprint past the finish line in first place at Vibram? 

With such incredible drama throughout this year's PDGA National Tour, it all comes down to this... after a long and demanding National Tour, who will be able to dig deepest, avoid the hazards on the Maple Hill course, and overcome the rich talent pool of competitors who will gather at this weekend's Vibram Open. 

To find out, you can follow all the action on pdga.com, as well watch the Live Internet Broadcasting on DiscGolfPlanet.tv throughout the weekend.