2010 Disc Golf Cruise Set To Sail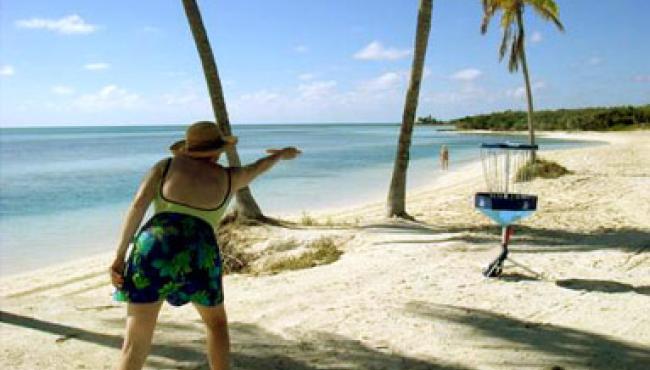 Sun King Disc Sports in conjunction with Innova Disc Golf and Sun King Travel is proud to announce the 2011 Disc Golf Cruise (www.DiscGolfCruise.com) which is sailing to the Bahamas on a 5-day trip with ports of call in Nassau and Half Moon Cay, a private island in the Caribbean.  The 2011 Disc Golf Cruise will board the Carnival Fascination in Jacksonville, FL with the sailing dates of January 22nd-27th, 2011.  The 2011 trip mark the 5th installment of this unique Disc Golf experience, with the 4th sailing launching with 100 participants on January 17th 2010.
The Disc Golf Cruise will once again be hosted by Jay & Des Reading and Shawn Sinclair & Juliana Korver along with the Disc Golf Cruise creators, Mike & Cindy Barnett from Sun King Enterprises, Inc.  Besides the sun, fun and food, features include a fantastic player's package, putting clinics, a mini golf contest and of course a Disc Golf tournament on Half Moon Cay, a beautiful tropical island with a white sandy beach, a fantastic list of shore excursions and home to the ocean side watering hole aptly titled "I Wish I Could Stay Here Forever Bar".
With help from Innova Disc Golf and the PDGA, the Disc Golf Cruise is determined to "leave a trail" by trying to secure a permanent course(s) in the Bahamas.  An aggressive plan is in the works with more details to come, including a way for cruise-goers, PDGA members and disc golfers everywhere to assist in this fantastic future endeavor.
If you haven't gone yet, or just want a reason for a return trip, here is your chance to go on the Disc Golf Cruise an extremely affordable price!  Basic interior cabins are $300.81 per person and oceanview rooms are $340.81 per person.  Pricing for balcony cabins will be available in late January 2010 after the Carnival Fascination dry dock revitalization work is completed.  All that is needed to reserve your cabin is an affordable $50 per person deposit.  Don't delay as inventory is currently limited to only (60) cabins.  For more information or to reserve your cabin, please contact Cindy Barnett at Sun King Travel.  Phone - 352.442.5307, E-Mail – [email protected]