2010 PC Preview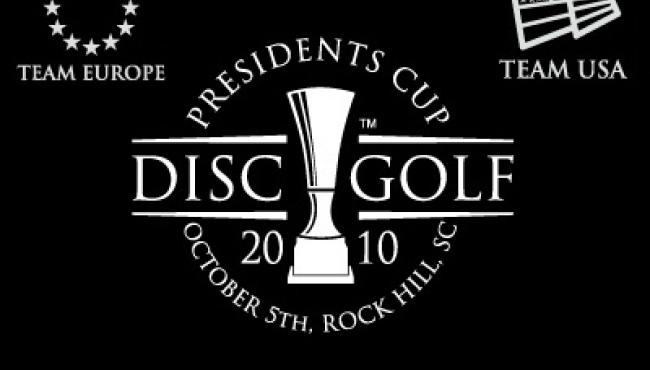 2010 Presidents Cup Preview
by Todd Harrell
Taking place on the eve of the USDGC, the 2010 Presidents Cup will feature team match and stroke play as well as some early excitement to the primed and primped Winthrop University Gold Course. "It's the best North Americans vs. the best Europeans," said PDGA Executive Director Brian Graham, who's just as excited as anyone for the Oct 5th event.
After last week's 'draft day', team USA captain David Greenwell finalized an already rock-solid American squad with his choice of 2010 world champion Eric McCabe. Team Juggernaut also includes: Ken Climo, Dave Feldberg, Nikko Locastro, Nate Doss, Josh Anthon, Des Reading, and Valarie Jenkins. In case you're wondering that's five prior world champions and last year's USDGC winner. Not bad at all for the team that has yet to lose a contest to the Europeans. Greenwell says he's ready to lead his team to a fourth consecutive victory. "These people can play and I've got all of the confidence in the world in them," said the disc golf hall-of-famer, who has been tinkering with possible Cup match-ups.
With Team Europe's top two stars not attending, the Europeans will be facing an even more extreme David vs. Goliath match-up than usual. 2010 European Champion Jesper Lundmark and 2005 EC champion Markus Kallstrom, who both qualified for the USDGC, were standing first and second for Presidents Cup qualifying points, but bowed out after the European Championship. But there is hope yet for the Europeans. Karl-Johan Nybo, who placed 3rd at the European Championships and 7th at the Memorial Championship, is a contender in any setting. He leads a sturdy European roster featuring Emil Dalhgren, Juho Rantalaiho, Espen Mökkelgjerd, Johannes Högberg, 2010 Scandanavian Women's Champion Birgitta Lagerholm, and 2010 European Women's Champion Camilla Jernberg. And, to give team Europe an extra boost, Captain Hans Tegeback selected back-to-back Finnish champion Jesse Heinonen.
Presidents Cup Director Jussi Meresmaa has described Europe's team as "young and fresh." And, they'll definitely need all of that energy to take on America's best, practically a modern day dream team. However, both he and Graham believe there's enough talent there to give them a fighting chance. "I think they'll do well," said Graham. Although the Europeans received a bit of a thumping last year when the Americans beat them 27.5 to 4.5, the 2007 match-up came down to the very end when Carrie Berlogar's lengthy putt gave team USA a 28 to 24 victory.
Graham is no stranger to the event. He's been to the last two Cups in Tampere, Finland at the Epila Course, which runs prior to the European Championship. He believes the spectators and players that attend the Cup this year will be surprised at how compelling the team format makes the event, who's theme this year is "Honor Above All." "Most of the disc golf events are singles. You don't have that team pride," Graham said. Outfitted in team jerseys, the squads will compete in stroke play for nine holes, where the top scorers earn points for their team followed by nine holes of match play. There, each player will face off against a counterpart in a race to see who wins more holes and subsequently more team points. In the end, the points are tallied up from each contest to see which continent prevails.
And what's more important than continental pride at stake? Well, maybe disc golf unity. That's also in full display during the Presidents Cup, according to Graham. "In one sense it's about national pride. In another it is more about unity and coming together from both sides of the ocean," Graham said. That was evident last year, Graham said, when the victorious team USA, splashing in champagne, took to the podium and then invited the Europeans to join in the celebration.
After being held in in Europe since the Presidents Cup's 2006 inception, the PDGA and Meresmaa decided to bring the Cup to the U.S. in a similar fashion to professional golf's Ryder Cup, which rotates from Europe to the U.S. PDGA and Presidents Cup officials chose Winthrop and the date prior to the USDGC largely because the Cup does not pay out. So with bragging rights the only thing on the line, Graham said they couldn't expect touring players from around the world to show up for just one day of a play. It had to be at either the World Championships or Winthrop. However, the Worlds is so hectic there wasn't room for it, so the USDGC with its elite field taking on a breathtaking course, "was kind of a no brainer," Graham said.
However, the change in setting has proved difficult for the Europeans to field a team this year. Along with Kallstrom and Lundmark's absence, qualified players Simon Lizotte and Oscar Stenfelt also could not make the trip. Meresmaa said both Lundmark and Kallstrom had work and family conflicts that prevented them from coming while Lizotte and Stenfelt, both under 18, are still attending school. Graham said he can't fault them for not coming. It's very expensive to travel to America and vice-versa. He said the PDGA is working on solutions to make travel easier for events like this.
Graham and Meresmaa plan for the Presidents Cup to grow in popularity down the road and continue to be a showcase to the world that disc golf has truly become an international sport. After all, the PDGA has members in 38 different countries and has sanctioned tournaments in more than 20 countries.
Greenwell is fully behind the Cup and the effort put forth by Meresmaa and assistant director Janne Kotka. "This is really a true sportsmanship type of thing. But it is showcasing the best in the world. I'm just really happy to be a part of this," Greenwell said.