2009 PDGA EuroTour Schedule Announced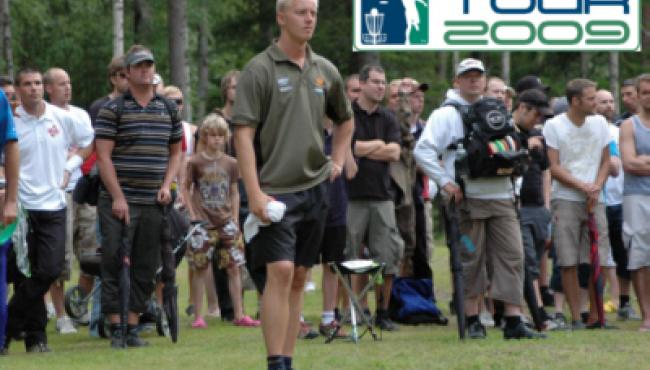 The Professional Disc Golf Association (PDGA) and PDGA Europe are proud to announce the schedule of the 2009 EuroTour. The fourth PDGA EuroTour will spotlight eight leading events in seven different countries, beginning in March in the Netherlands, and culminating with the crowning of the EuroTour champions in Switzerland in October.
An estimated 100 other national series and local level events will be sanctioned across Europe in 2009, affording players the benefits of PDGA ratings and the ability to compare themselves to the best players in their country and around the world.
The highlight of the 2009 Euro season promises to be the European Open. This PDGA Major event will once again be held August 27-30 in Tampere Finland. It will be preceeded on August 26 by the Presidents Cup, which is a bi-annual team competition pitting Europe's top men and women players against the top men and women players from the United States.
For additional information on the EuroTour visit http://www.pdga-europe.com/
2009 is shaping up to be yet another record breaking year for the sport of Disc Golf in Europe. Make your travel plans now for the disc golfing cultural experience of a lifetime.
2009 EuroTour Schedule
| | | | | |
| --- | --- | --- | --- | --- |
| Date | Tier | Event | Location |   |
| Mar 28-29 | ET | Dutch Open | Rijswijk, Den Haag | Netherlands |
| Apr 18-19 | ET | Copenhagen Open | Copenhagen | Denmark |
| May 23-24 | ET | Swiss Open | Geneva | Switzerland |
| Jun 27-28 | ET | Stockholm Open | Stockholm | Sweden |
| Jul 11-12 | ET | British Open | Leamington Spa | UK |
| Aug 22-23 | ET | Tali Open | Helsinki | Finland |
| Aug 26 | PC | Presidents Cup - Europe vs USA | Tampere | Finland |
| Aug 27-30 | EO | European Open | Tampere | Finland |
| Sep 12-13 | ET | International Open of Jablines | Paris | France |
| Oct 10-11 | ET | Bern Open | Bern | Switzerland |