The World's Most Exciting Worlds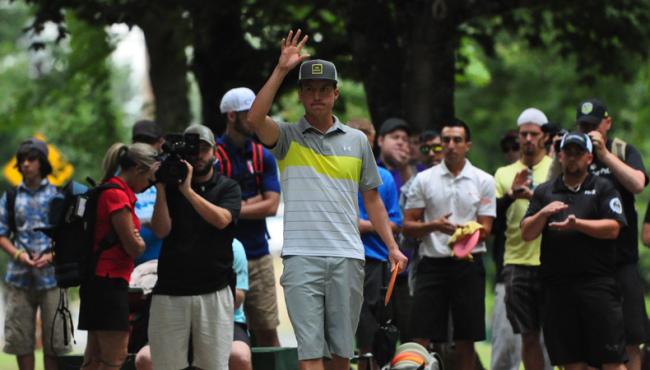 After a week of disc golf the 2014 PDGA Professional Disc Golf World Championships presented by Keen has come to an end for a majority of the competitors. Although we're always sad to see them go, words can barely explain how excited we are for the events that will take place today. It's the last day of the world championships and it's shaping up to be one of the closest and most exhilarating fights to the finish in the history of the sort.
The semifinals and finals that will take place this afternoon can be summed up in one word; drama. Never before have we had such a talented field of competitors, and never before have they been this unbelievably close across multiple divisions on the last day of the world championships. For starters, Paul McBeth #27523 is on the verge of doing what only one disc golfer has ever done before. After winning the world championships in 2012 and again in 2013, he has the chance today to three-peat, a feat that's only been done by the one and only Ken "The Champ" Climo #4297. McBeth has been in the hunt all week, but he'll have to play the best disc golf of his life to make the jump to first place from where he starts this morning, two strokes off the current leader Paul Ulibarri #27171.
Nate Doss #11794 is in the running for history as well, as a win today for him would mean his fourth Pro Worlds title since his first in 2009. And that's just the beginning of the Pro Worlds drama here in Portland. Climo, already with 13 Pro Worlds titles, starts the day on top of the Masters division with 3X World Champion Barry Schultz #6840 right on his heels. This story repeats itself in almost every single division, as there are men and women in the running for the title that all have placed or won world championships in the past.
The Open Women's division is dramatic as well, but in a slightly different way. The only woman on the lead card with a previous Pro Worlds title is 2X Women's World Champion Paige Pierce #29190. Pierce struggled on the green yesterday at Milo McIver West and lost some ground to the current leader, Catrina Allen #44184, but she's still in the mix and on the lead card, eight strokes off the lead. Allen has been a rising star in the world of disc golf for the last 3 years and she's proving to the world this week that she has what it takes to be a world champion. Another rising star sits in second place three strokes back from Allen, Sweden's own Ragna Bydge #8559. Ragna has every tool needed to win the world championship today, as there's no aspect of her game that would be pointed to as a weakness.
Joining the women on the lead card this morning at Pier Park is one of the most entertaining women in the sport today. Ohn Scoggins #48976, or if you prefer to use her full name, Phikounthong Phommavong Scoggins, isn't new to the spotlight but she is new to it on an international stage of this magnitude. Hailing from Vietnam, she's now a California resident and she's become a real threat in the Open Women's division. She is hands down, without a doubt, one of the best if not the best putter in women's disc golf today. Her nose-up, high speed, flutter putt is like nothing you've ever seen and we assure you that you'll see it slamming into the chains several times today during the women's semifinal round.
Ken Climo and Barry Schultz have been trading strokes all week long in the Masters division, and they will continue to do so today at Blue Lake. Climo has been able to maintain his position as the leader but Schultz has never let him run away with it, keeping it within one or two strokes each day. After two rounds at McCormick Park yesterday, an ace on hole 10 by The Champ forced a two stroke swing in the scores and a cushion that he would hold on to going into the semifinal round this morning at Blue Lake. They'll be joined by Patrick Brown #25713 and Jay "Yeti" Reading #15864, both of which have been fighting for the third place spot all week, a few strokes off the leaders.
Part of the reason we have such an exciting upcoming battle this morning is because of the incredible round of disc golf we were fortunate enough to witness yesterday in the Open division at Blue Lake. Paul Ulibarri has been in or near the lead all week and after shooting an incredible 13 under par yesterday afternoon, his name remains at the top of the leaderboard. He was joined yesterday by Ricky Wysocki #38008, Nate Doss, and Paul McBeth, all of which also played out of their minds. Doss matched Ulibarri's 13 under par, also bogey free, and McBeth was right behind them at 12 under par. These guys absolutely shred the beast that is Blue Lake and that's why you'll see the same four names on the lead card to start the semifinals this morning.
There are extremely close races in nearly every division. Masters Women, Grandmasters, Senior Grandmasters Women, and Senior Legends all have first and second place competitors separated by less than five strokes. There's simply no room for errors on the courses today for anyone who wants to take home the gold. One missed putt, one out of bounds penalty, one bad kick off a tree, any mistake out there today can make or break the dream of being a disc golf world champion.
The Finals
Blue Lake is the perfect park for the 2014 PDGA Professional Disc Golf World Championships presented by Keen, as it is not only a gorgeous course but it's also spacious enough to make room what we expect to be the largest gallery disc golf has ever seen. Every division will have 2-4 competitors playing a final round, all of which will take place on a nine hole layout at Blue Lake, pictured below. The first division to compete the finals will be the Senior Legends and they'll tee off at 1:00pm PDT. The remaining divisions will follow starting in 10-30 minute increments with the last group being the Open division tentatively scheduled for 3:30pm.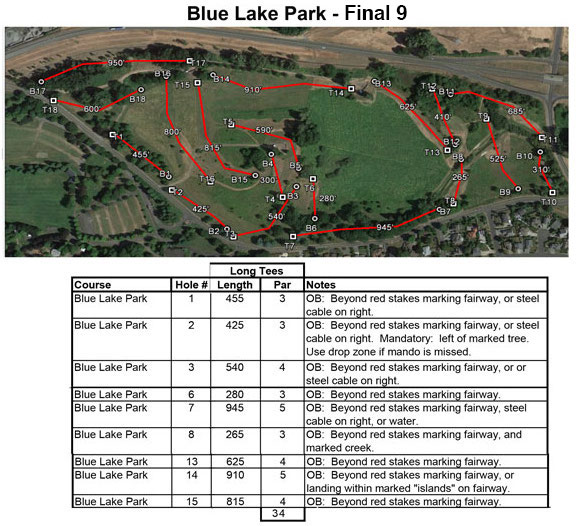 Live coverage of the semifinals and finals at Blue Lake will be streamed live by DiscGolfPlanet all day starting with coverage of the semifinals at 9:00am PDT. Live scoring will be up and running as usual on pdgalive.com with pictures and videos coming in via @PDGALive on Twitter. Stories, videos, course maps, results, and more are all available at www.pdgawrolds.com.
What the world will witness today will be the most watched, most hyped, and most exciting day of disc golf in the history of the sport. The weather and course conditions are ideal, the gallery will be enormous, and the intensity in the air will be palpable. It's the last day of the 2014 PDGA Professional Disc Golf World Championships presented by Keen. This is what we've all been waiting for. This is disc golf at it's finest!