Who are YOU Rooting For?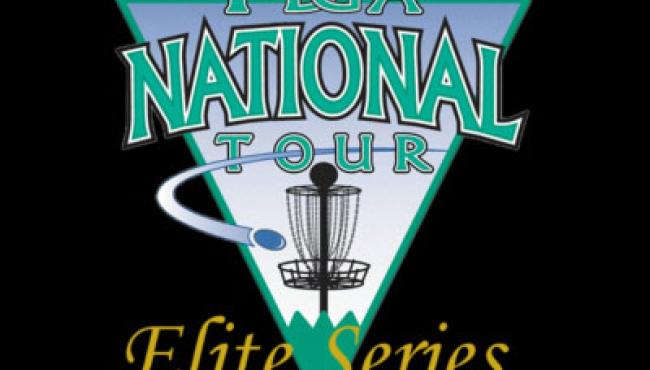 The 2013 National Tour Elite Series points race is very close with two players in both FPO and MPO only two points apart with some followers potentially within striking distance.   Each player brings their best five finishes with them to Maple Hill Farm in Leicester, Massachusetts where they will then add the points that they earn in the final NT and series crowning event - the Vibram Open.
In FPO, the recently crowned 2013 World Champion, Paige Pierce, holds the top spot.  Although her only National Tour win so far this year was at the very first NT - The Memorial - Paige has had thee second place finishes and a third place finish (of two that she had) making up her best-five finishes total of 476 points.
Reigning 2012 Vibram Open and NT Elite Series Champion Catrina Allen is only two points behind with a total of 474 points.  Although Catrina missed an NT this year, her wins at the "Steady" Ed Masters Cup and the Kansas City Wide Open, along with a second place at Texas States, third place at DGLO, and fourth place at The Memorial have kept her near the top as she hopes to repeat as series champ.
Sarah Hokom, who won the Vibram in 2011, currently holds third place in the standings at 464 points, ten points behind Catrina.  Although Sarah also won two NTs – Texas States and DGLO – her other three best finishes were slightly less with a third at The Memorial, fourth at the Masters Cup, and fifth at the Hall of Fame and Beaver State Fling.  At 12 points behind Paige and 10 behind Catrina, Sarah would need them both to do very poorly to have a chance at the crown.  If Sarah were to win and get the 100 point prize she would need both Paige to place worse than fourth and Catrina to place worse than third to take the title.
Despite not playing in two of the seven initial National Tour events, Des Reading played well enough in the five events she did attend to currently hold fourth place in the standings at 442.5 points, but with only the Vibram Open left to play, and Des would likely need the top three to drop out in order to win the NT crown.  However, as the four-time, and only, Marshall Street Disc Golf Championship FPO Champion (predecessor to the Vibram), Des knows how to win on this demanding course and she could easily play the spoiler.
As of this writing Sarah Hokom is not yet registered for the Vibram.  If Sarah doesn't play, the FPO side of things becomes really interesting as Paige's slim margin of only 2 points over Catrina opens up a myriad of possibilities.
If either Paige or Catrina outright wins the Vibram, they are the NT Series Champion
If Paige finishes in any place ahead of, or in a tie with Catrina, then Paige winds the crown
If Catrina finishes in the top 5 at least one place ahead of Paige, Catrina wins the crown
If both ladies should finish below fifth place, and Catrina is at least two places ahead of Paige, then Catrina wins the crown
If both finish below fifth place and Catrina is only a single place ahead of Paige, then they tie on series points, but Paige wins the crown on the first tie-breaker criteria of total points across ALL NTs
In the MPO division it is also tight at the top and potentially another two-horse race if both Paul McBeth and Ricky Wysocki finish well.
Recent repeat World Champion Paul McBeth is currently the MPO NT series points leader with 475 points based on his wins at the Masters Cup and Kansas City Wide Open, second place finishes at the Memorial and Texas States, and a fifth place at DGLO.   
Ricky Wysocki is only 2 points behind Paul with 473 points earned with three NT wins – Texas States, Hall of Fame Classic, and DGLO – as well as a tie for third at the BSF and a tie for fifth at the Memorial.
Nikko Locastro is in third place in the series another 20 points behind Ricky with 453 points based on placing second at the Hall of Fame Classic, third at both Texas States and the KCWO, and fourth place at the Memorial and Masters Cup.  In order to win the NT crown Nikko would need to notch his first NT win of the season with Paul and Ricky placing worse than eighth and seventh respectively.  Having won the Vibram Open in 2010, Nikko is the only player in the top eight series leaders to have previously won either the Vibram Open or its predecessor the MSDGC .
Will Schusterick is fourth in the standings only 1.5 points behind Nikko with 451.5.  Will ran a bit hot and cool on the NT series this year bracketing the season with wins at the first and seventh NT events - the Memorial and the Beaver State Fling – but he was a bit more lukewarm in the middle of the season with a tie for third at the DGLO, fifth at the KCWO, and a tie for eighth at Texas States.
Dave Feldberg and Garrett Gurthie are a distant fifth and sixth in the point series standings and likely won't figure in the series title, although they both have the potential to do well in the Vibram Open. 
So, if Paul and Ricky should both do poorly, Nikko and Will could have a shot at the NT crown, but if Paul and Ricky do well, that 2 points that Paul holds could be the deciding factor. Just like with Paige and Catrina, if either Paul or Ricky wins the Vibram, they also win the NT crown.  And even if Nikko should win the Vibram like he did in 2010, as long as Paul or Ricky finish in the top six places they can't be caught and the one who places the highest will win the crown.  If circumstances should have them both finish below sixth place they could potentially tie for the lead (as long as Nikko or Will don't win) and in that case, Ricky would win the crown as he has more total points across all NT events. 
So, who is your favorite to win the Vibram Open? Are you rooting for Paige, Catrina, Sarah, Des, or someone else in the FPO division?  And who are you rooting for in the MPO division?  Is it Paul, Ricky, Will, or maybe Nikko to win his second, or perhaps someone one else from the deep MPO field?  How about Nate Doss to win his second Vibram title (2011)?  Or perhaps Cale Leiviska to repeat and win his third title (Vibram-2012, MSDGC-2007)?
Or perhaps the Vibram Open will be the stage for another player to break out!  How about a great technical player like Dana Vicich, Nate Krahn, Josh Childs, Devin Frederick, or Mitch Sonderfan - just to name a few?  Or perhaps experience will win the day – Jay Reading, Joe Mela, and Brian Schweberger are all past high placers and potential winners on the technically demanding Gold Course at Maple Hill.  
No matter who does well early, who surges from behind, or who may jump out in front and stay there, the 2013 Vibram Open will be a great tournament with great competition.   Steve Dodge and his extended family always put on a great show and with all this great talent assembled on this great course, the spectators will definitely be the winners.
If you are lucky enough to be able to attend the Vibram Open in Leicester, MA on August 22-25 you are in for a disc golf treat. If you can't make it there in person, you are still lucky as all the action will be brought to you at www.pdga.com and www.discgolfplanet.tv, so tune in and enjoy!