Cup goes weird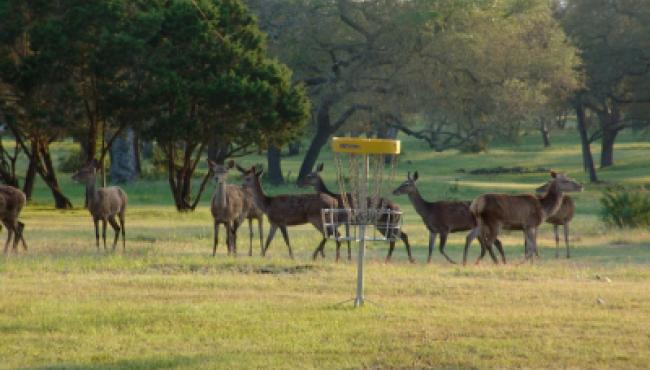 The Player's Cup Goes Weird!

In the midst of NCAA March Madness, Vibram Disc Golf is proud to present the 2nd annual Player's Cup match play event. From October 21st to 23rd. 64 of the world's best disc golfers will converge on Austin, Texas and compete in a six round, match play championship.

This is the Player's Cup, The World Match Play Championship. Every shot counts.
---
Disc golf is growing fast and it is time to celebrate, to thank the players that are pushing the envelope, and to entertain the world of disc golf with the most exciting disc golf event on the planet.

Last place gets $225?
That's a fact, Jack! This event is truly a celebration. Every player in the event is a champion in his or her own right, and every player deserves to get paid. Qualifying to participate is the first challenge players must overcome, and once you've done that, it's all gravy. So qualify, come on down to Austin, and get your just rewards. If you lose every one of your matches, you will still go home with a $225 payout.

With a total payout over $35,000 and over $10,000 on the line on Final Four Sunday, this is going to be one event you do not want to miss - even if all you can do is fill out your bracket and watch the live broadcast.

View the complete payout table: www.wdgmpc.com/payout.html

Can I play?
There are four ways to get into the Player's Cup.

1. Cash at the 2010 Player's Cup (32 spots reserved)

2. Be one of the top 16 players not already in. (16 spots reserved)

3. Win a spot at at the qualifiers (the National Tour events are being used as PC Qualifiers) - You must register to compete for the spots here: www.wdgmpc.com/how-to-get-in.html

4. Get in off the wait list. On September 4th, 2011, any spots that are not claimed will go to the wait list. The wait list will be sorted by PDGA Rating as of 9/5/11.

Current reserved spots: www.pdga.com/tournament_results/66177

Reserve your spot or register for the wait list here: www.wdgmpc.com/how-to-get-in.html

Qualifier Rules - www.wdgmpc.com/regionals.html

You must register to compete for the qualifier spots through the Player's Cup website.

You must register to compete for the qualifier spots before you tee off at the qualifier event.

The tournament director of the qualifier event is not vested into the Player's Cup and may not be able to assist with the registration to compete for these spots.

Player's Cup goes weird
For the first time ever, the Player's Cup will be moving out of Florida. Mike Barnett and Steve Dodge created the 2010 Player's Cup Match Play event. The event was an overall success and proved that a large scale match play event could gain the attention of the disc golf community. After much soul searching, it was decided that the event should move to a more central location, so we enlisted the help of Texas native Vinnie Miller to help find a Texas venue for the 2011 event.

In early February, Steve Dodge and Vinnie Miller visited several sites to determine which would work best for this year's event. Two courses were the clear favorites after the site visits (Twin Parks Country Club in Austin and the Spring Valley Golf Club in Houston). After discussion with both courses, it was decided that Twin Parks would be our best venue for 2011 and 2012. After 2012, we will need to make a decision as to whether or not the event should rotate around the country or if it has perhaps found a permanent location in the spectacular Texas Hill Country that is SouthWest Austin

Twin Parks Course website: twinparkscountryclub.com

Course page at Player's Cup site: www.wdgmpc.com/finals.html
---
Stay tuned for more updates. If you are interested in sponsorship opportunities, or would like to volunteer to be on staff, please email Steven Dodge at [email protected]