|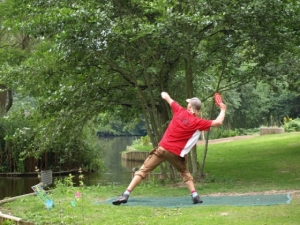 Oscar Stenfelt of Uppsala Sweden posted the low score of the day with a 56 (-10) in round 2 of the European Disc Golf Championships in Colchester United Kingdom to move from seventh into second place in the Open division at -16 for the tournament. First round leader, Simon Lizotte of Bremen Germany continued his stellar play and carded a 58 (-8) to maintain the four throw lead he brought into the day at -20. Considered by many to be two of Europe's up and coming young stars, Lizotte and Stenfelt are expected to battle hard over the next two days for the title of European Champion but a number of experienced veterans are on their heels and will do their best to keep them within striking distance.
In the Open Women's division, Ragna Bygde managed the wind well and played consistently to post an impressive 68 (+2) on the day to move to +7 for the tournament and jump into the lead by a single throw over fellow Swede and first round leader Angelica Frantz, who turned in a round of 70 (+4). Camilla Jernberg matched Bygde's score of 68 (+2) to remain in third place just three throw off the lead. Look for these Swedish ladies to continue to battle hard over the final 36 holes with the title of European Champion at stake.
The Masters division is all knotted up at the top with Swedes Robert Buzasy, Jonas Grunden, and Mats Strömgren all shooting hot rounds on the day to catch Switzerlands, Stephan Müller for the lead at -4 after two rounds. Strömgren had the low round at 61 (-5), Grunden and Buzasy posted 63's (-3), while first round leader Müller struggled somewhat with a 67 (+1). Three others are just one throw off the leaders and will look to make a move during Friday's third round.
Britain's, Derek Robins posted a round of 65 (-1) on the day to extend his lead in the Grandmasters division. Robins, a member of the Disc Golf Hall of Fame, sits at -1 for the tournament and holds a six throw lead over Marko Timonen of Finland at +5. A win by Robins would surely help alleviate the post Olympic blues being experienced by host country Great Britain.
Markku Tohni of Finland matched his first round score of 77 (+11) to maintain a two throw lead in the Senior Grandmasters division at +22 for the tournament over Benjamin Schneider of Switzerland who also posted a 77 (+11) and sits at +24.
Kaj Larsson of Sweden extended his lead in the Junior Boys under 19 division to three throws after posting a strong 63 (-3) on the day to put him at -9 after 36 holes. Germany's Sven Rippel threw the low round of the day in the division with a very strong 60 (-6) to jump from fifth into second place.
Following two days of mixed divisions, as is traditional at the European Championship, the format will revert to divisional groupings by score with tee times for rounds three and four. Sweden currently leads the Nations Cup team standings with Scandinavian neighbor Finland looking to be the only country within striking distance. The weather was much improved after yesterday's light rain at the Essex University course but a steady and occasional gusty wind kept things very challenging for the 197 competitors playing the 2578 meter, par 66 championship course layout.
Be sure to check back here tomorrow for more coverage of the European Disc Golf Championship from Essex University in Colchester United Kingdom.