|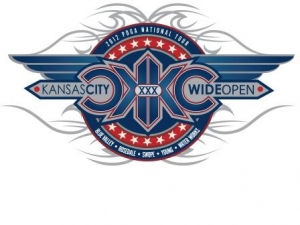 As your 2012 disc golf tour comes to life, the Kansas City Flying Disc Club, in association with Disc Golf World and Dynamic Discs, invites you to join us for our celebration of the 30th Annual Kansas City Wide Open disc golf tournament. That's right, it's been 30 years of fun and Frisbee in the City of Fountains! The first weekend in June is our spot and we have been working diligently to put together an amazing program of activities for all of our disc golfing guests. As most of you know, there is a rich and vibrant disc golf history here in KC, and we hope that many of you who are part of that history will return to play and to share some memories.
This year's celebration will be the biggest yet as we welcome players for this PDGA National Tour, A-Tier, and B-Tier extravaganza! You'll have a chance to enjoy the sights, sounds, and tastes of Kansas City at the Saturday Evening Soiree featuring the wild and wacky "XXX Games," LIVE music, a meet-and-greet with former champions, and a world record attempt. But don't forget what awaits ALL of you who come to our wonderful city—some of the nation's most-heralded disc golf courses and a Kansas City disc golf community and staff who is honored to host once more and eager to make your trip here memorable. Don't miss this historical celebration of one of America's most acclaimed disc golf tournaments!
About the Events
We've organized this tournament differently from previous years in that we're running three PDGA-sanctioned events concurrently. Because the purpose of the National Tour is to feature the top players in the Men's and Women's Open divisions, the NT will include only those divisions. The A-Tier will consist of all the age-based pro divisions and all advanced divisions. Both of these events will play the same five 18-hole courses over three days. The B-Tier is a two-day, three-round event for the intermediate, recreational, novice, and older junior divisions. The new and developing players in these divisions will get to play three of the same courses that the pros and advanced play.
The Courses
Kansas City has become a hugely popular disc golf destination because we have many great courses. We decided that playing as many different courses as possible would be a great way to celebrate our 30th anniversary. So, all the players in the NT and A-Tier will be playing the classic courses of Rosedale, Water Works, this year's version of Swope Gold, a modified (shorter) but still challenging Blue Valley track, and something brand new; the wooded and technical Wilbur Young layout in Blue Springs. B-Tier players will play Young, Blue Valley, and either Swope or Water Works. All the courses are 18 holes and all rounds will be with shotgun starts. After the fifth round, the NT field will be cut to the top four men and top three women who will play a showcase final at Swope on Sunday afternoon.
Tentative Course Schedule
(Tee times to be announced)
| | Fri | Fri | Sat | Sat | Sun |
| --- | --- | --- | --- | --- | --- |
| Round | 1 | 2 | 3 | 4 | 5 |
| NT & A-TIER | | | | | |
| Pool A | Y | B | R | W | S |
| Pool B | B | Y | S | R | W |
| Pool C | S | W | Y | B | R |
| B-Tier | | | 1 | 2 | 3 |
| Pool D | | | B | S | Y |
| Pool E | | | W | Y | B |
Targeted Pools: A — Open Men and Open Women; B — Age Protected pros; C — Advanced divisions; D — Intermediate divisions;
E — Recreational, Novice, and Junior divisions.
Courses: B — Blue Valley; R — Rosedale; S — Swope; W — Water Works; Y — Wilbur Young
Lodging
Best Western Kansas City Inn: 501 Southwestern Blvd, Kansas City KS 66103 Phone: 913.677.3060
Chase Suite Hotel: 300 West 110th Street, Overland Park, KS 66211 Phone: 888.433.9765
Camping in Swope Park: Camping becomes available on May 24. Just three minutes from the course, this isolated area of the park will feature room to pitch tents, camping, a few primitive cabins, outdoor showers, and porta-potties. There is a swimming pool, mountain bike trails, and a Boy Scout troop will be selling breakfast and sack lunches. Security will be provided May 31-June 3. Cost is $10 per night. For further information and/or to reserve your spot, contact Dan Cashen at 913.638.6399 or dcashen@tmsmech.com.
And Finally
We hope that you'll choose the 30th Annual Kansas City Wide Open. In addition to a lot of great golf and several off-the-course opportunities to enjoy Kansas City and other disc golfers, we will have player packages for all divisions and generous payouts. You can sign up online at Pdgasignup.com and Dynamic Discs, or mail in your registration form and payment, or you can also pay in person at Disc Golf World, 509 E 18th St. Kansas City MO 64108 or by calling 816.471.3472 or via PayPal at paypal@kcfdc.org.
For more information, including sponsorship opportunities, contact Event Director Crazy John Brooks at 913.220.0951, crazy@crazyjohnbrooks.com or Competition Director Rick Rothstein at 816.471.3472 or rick@discgolfworld.com. For updates: please visit http://www.kcfdc.org.