|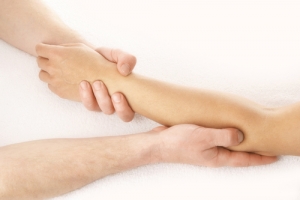 Participate in this survey to help PDGA intern and physical therapy student help disc golfers prevent injuries.
Over the past few years, I have become captivated with the sport of disc golf. It's an activity I can't seem to get enough of and I play every chance I get. Through playing disc golf I have experienced some minor injuries that have affected my play, and I have also heard of various injuries that other players have sustained throughout their own experiences. My interest in athletics and human movement lead me to the pathway of becoming a physical therapist. Physical therapists often evaluate and treat athletes for a variety of reasons including injuries that may have occurred during play of a specific sport.
As a physical therapy student, I have chosen to merge disc golf and physical therapy for my professional practicum, a project that each student accomplishes prior to graduation. As disc golf currently has no published research on injuries sustained during play, I chose to focus my project around injury and disc golf. Having knowledge of injuries that are sustained during disc golf play will aide both physical therapists who might treat an injured disc golfer and the PDGA and disc golf community by providing information that will be a foundation for injury prevention programs and more.
We are conducting a research study via survey to investigate injuries sustained by athletes in the sport of disc golf. The purpose is to determine the prevalence of injury and the types of injuries that that occur during disc golf play. We are interested in responses to the survey from all players, whether they have sustained an injury in disc golf or not.
You have been asked to participate because of your affiliation with the PDGA, or because of your participation in the sport of disc golf. We would appreciate your completion of the survey that is available via the link below. The survey is anonymous and will not identify individuals who answer the questions in any way. We hope that you answer the questions honestly and to the best of your ability.
The survey should take approximately 10 minutes to complete. We would appreciate that you complete the survey by August 1st, 2012.
Thank you in advance for your participation in this important study for the sport of disc golf. Your answers will contribute greatly to the foundation for preventive medicine and future research in disc golf. If you would like a summary of our findings, please send an e-mail to the address below and we will be happy to forward our findings to you when the study is completed.
https://www.surveymonkey.com/s/discgolf
Sincerely,
Michael Runstrom, SPT
Department of Physical Therapy
Rosalind Franklin University of Medicine and Science
North Chicago, Illinois