Pretty in Pink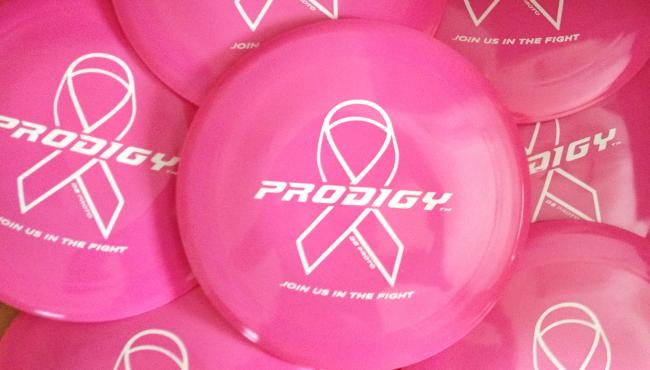 The month of October is Breast Cancer Awareness Month in the United States, and to honor this, Prodigy Disc and the PDGA partnered up in 2013 in a fundraising effort to help fight this dreaded disease that affects the lives of so many. 
In 2013, there were approximately 232,000 new cases of breast cancer and almost 40,000 deaths. The chance of a woman having breast cancer in her life is about one in eight.  Breast cancer is treatable when detected early.  The best method of detection is through self-exams. Awareness through education and promotions is the key to more women learning how and why to do self-exams.  
The PDGA pledged two dollars for every woman who played in a PDGA sanctioned event during the entire month of October.  Prodigy Disc, through the sale of a special edition pink disc, matched the PDGA's pledge dollar for dollar.  
In the month of October, the PDGA sanctioned a total of 115 events.  In those events, 625 female entries were received.  The three events that boasted the most female participants were the Magnolia Open in Appling, GA at the IDGC (55), the Hope Open in Corvallis, OR (22), and the Feline Knockout in Oslo, Norway (19).   
At $2 per entry, this means that both the PDGA and Prodigy will donate $1,250.00 each for a total donation of $2,500.00 as a result of this initiative.  The chosen cancer charity that will receive the generous donation is the Young Survival Coalition.  The YSC is the premier global organization dedicated to the critical issues unique to young women who are diagnosed with breast cancer.  YSC offers resources, connections and outreach so these women feel supported, empowered and hopeful.  
Women's disc golf memberships have increased 35 percent over the last five years, from 867 active women PDGA members in 2007 to the current 1330 members today.  Even though women make up eight percent of the total active PDGA members, they are still a significant voice in the disc golf community.  More women are playing in tournaments, running tournaments, and starting women-only clubs than ever before.  Now the PDGA and Prodigy Disc have joined thousands of women in the fight against breast cancer. 
For information on women in disc golf, check out our Disc Golf For Women page.