Players Cup - Day 2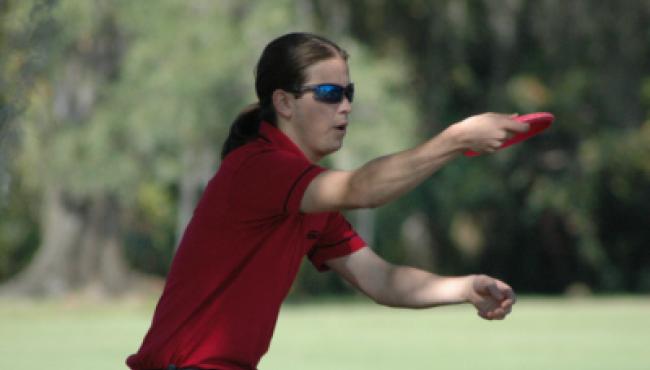 Gregg Barsby grabs the lead going into the final round of the Players Cup with many of the world's best players nipping at his heels.
---
Round two of the Players Cup featured colder weather and very gusty winds, which made for tough scoring conditions and a new leader group for Sunday's final round. Gregg Barsby tamed the wind the best and shot a very impressive 59 (-6) to take a one throw lead over John E. McCray, who carded a 62 (-4). Barsby's round was rated at 1059 and bested the next best score of the day by three throws. Eric McCabe's 63 (-3) was good enough to keep him on the lead card and Nikko Locastro carded a 62 (-4) to round out the lead group for the finals. Many of the best players in the world are within striking distance just a few strokes back including Geoff Bennett, Robert McIntee, Ken Climo, Brian Johnson, Markus Kallstrom, Avery Jenkins, David Feldberg, Barry Schultz and Nate Doss. It is anybody's tournament at this point with all of these elite competitors still in contention and capable of claiming the title. With the abundant amount of OB and gusty winds, it looks like course management and controlled play will be the determining factor.
In the Women's division, Val Jenkins carded a 73 (+7) to extended her healthy round one lead to fourteen throws going into the finals. Courtney Peavy had the hottest round of the day by far for the ladies with a 67 (+1) to jump into second place and claim her spot on the lead card. Angela Tschiggfrie and Liz Lopez will round out the lead card but with Val's huge lead, it looks like the only race will be for second place with just a few strokes separating Peavey, Tschiggfrie and Lopez.
Log on to PDGA.com tomorrow at 12:30pm EST tomorrow for live scoring for the top two groups in the Men's Open division. It's shaping up to be a great finish to the Players Cup and the 2008 National Tour Points Series.
---
PDGA Media Coverage
Live scoring for the final round of the 2008 Players Cup from the Plantation Golf Resort in Crystal River, Florida begins at 12:30pm EST, Sun. Nov. 23rd: http://www.pdga.com/tournament/live.php?TournID=7281
Scoring:
http://pdga.com/tournament-results?TournID=7281
Preview Video:
http://www.youtube.com/watch?v=HTES1Xg9bvw&eurl=http://pdga.com/
Photo Galleries: 
http:[email protected]/collections/72157609604514003/
Players Cup website: http://www.playerscup.org/
---