Players Cup - Day 1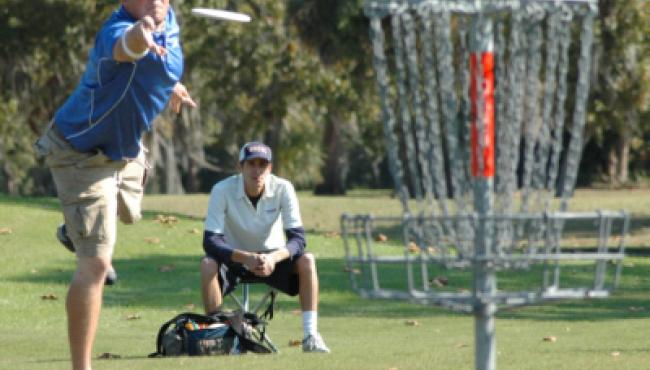 Avery and Valarie Jenkins turn round 1 of the Players Cup into a family affair as the brother sister duo jump out to huge leads in Crystal River, FL.
---
The final PDGA Major of the year teed off today as 87 competitors converged on the Plantation Inn and Golf Resort in Crystal River, Florida for the 2008 Players Cup. Hosted by Sun King Discs and presented by Discraft, this event is now in its fourth year and it is easy to see why it has become a very popular late season Major. Tournament director, Mike Barnett, and his hard working staff kicked off the 3-day weekend by treating the players to a warm welcome and a very nice player's dinner last night at the Plantation Inn prior to the players meeting. The amenities that players enjoy on and off the course are first class and it is truly one of the finest facilities to host a disc golf tournament.

The format for this years event will have the competitors play one round each day for three days on the Par 66 Red Hawk Championship Course. Red Hawk co-exists with the nine-hole Lagoons ball golf course, which is adjacent to the resort's 18-hole course. It features lush manicured fairways on rolling terrain with plenty of natural OB. Alligators and other wildlife native to central Florida are abundant as they swim in the many water hazards that flow through the course.

Beautiful breezy weather greeted the competitors this morning as they arrived at the course for round one. In the Open Men's division, 2006 Players Cup champion, Avery Jenkins came out of the gates fast with a blistering round of 55 (-11) to jump out in front of Eric McCabe, who shot a 58 (-8). John E. McCray (-7) and Nate Doss (-6) will round out the lead card for Saturday's second round with eight other players within striking distance at -5. Avery's 1075 round puts him tied with Ken for the fourth best rating for courses over 66 SSA.

In the Women's division, Val Jenkins completely dominated the Women's field by shooting a very hot -2 to jump out to an early eleven stroke lead over Carrie Burl Berlogar who came in with a +9. Valarie's 1018 rated round was bested by only 18 Open Men and blows away the women's record with Juliana Korver's 1003's, both shot at Winthrop in 2001, now a distant second. The two time Women's world champion looks to be in complete control of the tournament and the National Tour points series title that will be awarded at the conclusion of the event. Liz Lopez and Angela Tschiggfrie both carded +10 to join Val and Burl in the lead group.
Round 2 tees off on Saturday morning with staggered tee times. The weather is expected to be cool and very breezy again in the morning but it is expected to turn into another nice day as temperatures warm into the low 70's in the afternoon.
---
PDGA Media Coverage

Preview Video:
http://www.youtube.com/watch?v=HTES1Xg9bvw&eurl=http://pdga.com/

Photo Galleries: 
http:[email protected]/collections/72157609604514003/

Scoring:
http://pdga.com/tournament-results?TournID=7281

Players Cup website: http://www.playerscup.org/
---