Player of the Decade
The following data and statistics have been provided to help determine who should be the Player of the Decade. 
Cash & Big Wins
The following table shows the total amount of cash won by our men candidates over the decade in all events they played. The remainder of the table focuses only on their event performance in A-tiers, NTs and Majors. Feldberg, Schweberger, Jenkins and Schultz were road warriors over this time period in comparison with Climo and the others. However, when you look at their winning percentage in those events, Climo with more major wins, is right there with Schultz, clearly ahead of everyone else. Lundmark trails with a fine record even with his overseas location resulting in a more limited schedule. 
The Women candidate table has the same information as the Men with total cash won over the decade in all events. Reading, Korver and Berlogar were the most traveled over the decade with Jenkins catching up quickly even though playing fewer years at the top level than the others. Korver has a slight edge in winning percentage over Reading who has more Major wins of the two. Jenkins has the most Major wins of all in shorter time span. Lagerholm was always a force when she played but her overseas location reduced the number of big events she could conveniently play over the decade.    

Ratings Performance
The following graphs show the yearend ratings for Players of the Decade candidates. Ken Climo and Juliana Korver had the best overall yearend ratings averages over the full decade and they are shown with red lines. The brown line at the bottom of each graph shows the minimum rating necessary for players to get into the top 50 rated men and women players at the end of each year. You can see it's getting tougher as the sport grows with more players earning ratings over 1010 for men and over 900 for women. In fact, the improvement over the past decade in the quality of play of top women is clearly evident.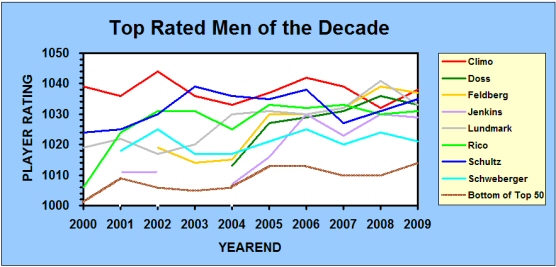 On both the men's and women's graphs, you can see the mix of players where some have been top rated for the decade and some have shot to the top quickly. Rico, Doss and both Jenkins ascended quickly. Rico lead 2001 Worlds for several rounds when he had his big jump and the other three won World titles. Note that Schultz topped the ratings in the two years he won Worlds in 2003 & 2004.