|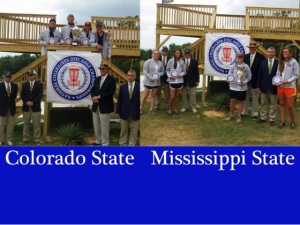 Mississippi State University wins women's collegiate national title and Colorado State wins men's national title.
Over 60 teams traveled to North Augusta, SC to make a run at a National Championship. The competition started on Thursday with Rivalry Day where the teams were paired against their rival schools playing a heated Team Doubles format. Friday and Saturday were singles competition. The competitors played individually, but they had to keep the team in mind as they lined up every shot. A careless shot that added strokes may not just have affected an individual score, but could have also affected the whole team.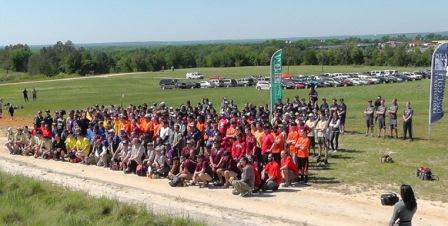 After Saturday, each school's top 3 rounds per course were added to the team scores and the top 20 finalists were set to play another round of Team Doubles Sunday morning. The top three teams were still close enough to take a shot at the title. The other teams weren't just playing for fun, though. They were all striving to grab one of the coveted top 16 spots. Each year the top 16 finishers automatically qualify for next year's National Championship.
As the rounds ended the two championship teams were awarded their trophy on the Hole 20 green. Congratulations to Mississippi State University for winning the first ever Women's National Championship and to Colorado State University for winning the Men's National Championship.
The National Collegiate Disc Golf Union also recognizes an individual National Championship to the best finishing player for the singles competition. The medalists were Colorado State's Jarrod Roan and the University of South Carolina's Sara Lamberson.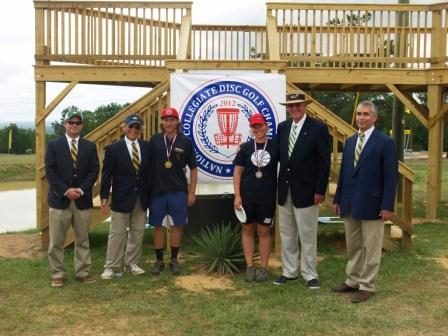 The First Team All-American honors were given to the top 10 men and top 3 women.
Men's First Team All-Americans:
1 Jarrod Roan Colorado State 49210
2 Cameron Colglazier South Alabama 47407
3 Christopher Becker Oregon 42894
4 Austin Montgomery Colorado State 33548
4 Chase Jernigan North Carolina State 30402
6 Brandon White California State University-Monterey Bay 42699
7 Jason Lynn Augusta State 46394
8 Andrew Cromer Augusta State 34102
8 Adam Morrow South Alabama 30646
8 Zack Johnson Murray State 50312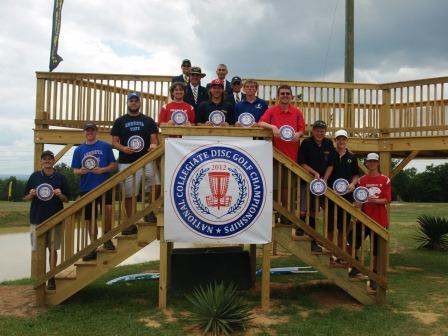 Women's First Team All-Americans:
1 Sara Lamberson University of South Carolina 41012
2 Krystin Nowicki Mississippi State University
2 Kelly Muth Humboldt State University 44594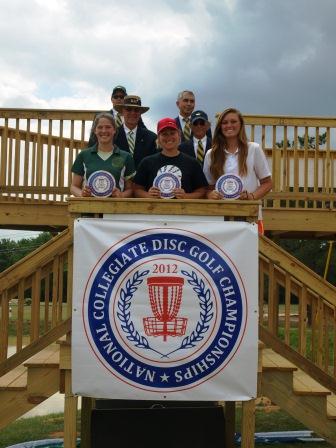 Men's Second Team All-Americans:
11 Connor Thompson Clemson 25495
11 Michael Hoffman Tennessee Tech 46997
13 Patrick May Augusta State 19337
14 Ian Kitrick California-Santa Cruz 46679
14 Nicholas Easterbrook Humboldt State 48553
16 Adam Hernandez East Tennessee State 43892
16 Robert Davis Arkansas 45326
18 Jared Neal Alabama-Huntsville 39949
18 Joses Merat Liberty University
20 Matt Love East Tennessee State 42290
The NCDGU would also like to recognize the 17 schools that qualified for next year's National Championship.
1 Colorado State University
2 University of South Alabama
3 Augusta State University
4 North Carolina State University
5 University of Oregon
6 Tennessee Tech
7 California State University-Monterey Bay
8 Clemson University
9 University of Alabama-Huntsville
10 East Tennessee State University
10 Purdue University
12 University of Georgia
13 University of South Carolina
14 University of Alabama
14 Kansas University
16 Murray State University
First Flight Champion: Mississippi State University
Check out more pictures from the NCDGC on Flickr