Memorial Underway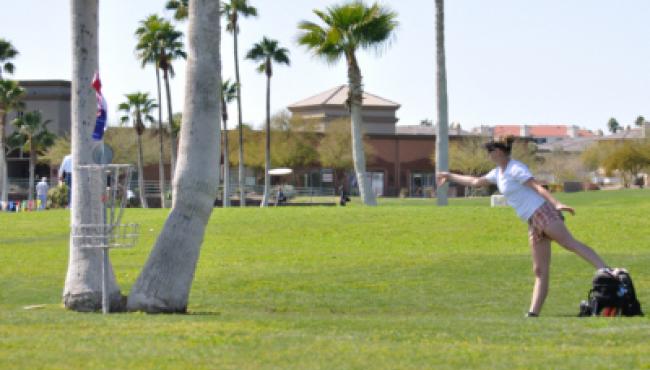 The 2010 National Tour got off to a quick start today in Fountain Hills, Arizona at The Memorial Championship, presented by Discraft.
One hundred and eighty five professional players began teeing off this morning under beautiful sunny skies at 7:30am with the senior grandmaster division and ending with a special showcase group of a handful of the top Open pro players on the PDGA tour, who teed off at 1:45pm. The foursome, which consisted of Nikko Locastro, Ken Climo, Avery Jenkins and Paul Ulibarri, had a sizable gallery following and all eighteen holes of their play was broadcast live via a live IPTV internet broadcast at DiscGolfPlanet.tv. Nikko Locastro had the best day amongst the showcase group with a -9 but the hot rounds of the day came from former world and U.S. Champion Barry Schultz, Paul McBeth and Devan Owens who all shot lights out -11 to share the first round lead. Joining them in Thursday's second round lead group at Vista Del Camino in Scottsdale will be Locastro. Cale Leiviska and Eric McCabe also carded -9 and will play on the second card with Gregg Barsby and Josh Anthon.
In the Women's Open division, Brittany Breed, an 893 rated player from Oceanside California, jumped out to a surprising first round lead by carding a +4 on the day. She will be joined on the lead card by Liz Carr, Melody King, and Monica Millstead, who are all tied one throw back at +5. It will be interesting to see if this new crop of contenders can hold their own going to the more technical Vista course for round two. Three time world champion Val Jenkins stunned tournament organizers and her competitors when she had to withdraw from the event prior to her first round tee time due to a knee injury sustained during practice on Tuesday.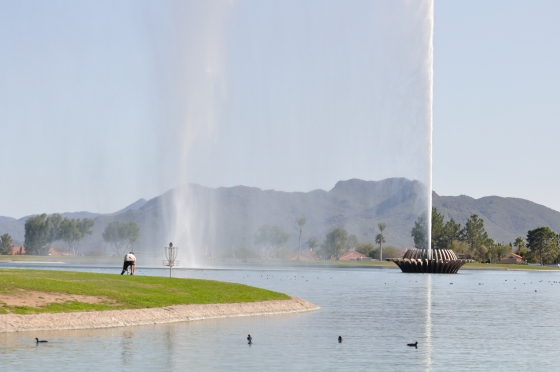 Dan Ginnelly shot a lights out -10 0n his home course to share the lead in the Masters division with Alabama's Tim Keith.  Robert Ryan and Dean Tannock are three throws back at -7. Bobby Giago and Jim "No Spin" Myers lead the Grandmasters division at -3 and Dr. Rick Voakes turned in a -3 to lead Snapper Pierson by four strokes in the Senior Grandmaster division.
The pro divisions will play the more technical Vista Del Camino course on Thursday for round two. The amateur SuperTour event will also tee off on Thursday at Fountain Hills. Stay tuned to PDGA.com for complete coverage and online scoring of the pro lead group from Scottsdale.
---
Photo Galleries: http://www.flickr.com/photos/pdga/collections/72157623420716957/
Pro Scoreboard: http://www.pdga.com/tournament-results?TournID=9642
Am Scoreboard: http://www.pdga.com/event?TournID=9697
Memorial Championship website: http://memorialchampionship.com/