|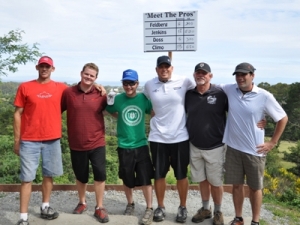 The traditional kick off to the Steady Ed Masters Cup National Tour Event in Santa Cruz, CA took place on Wednesday afternoon May 19 at DeLaveaga Disc Golf Course with Meet the Pros. This 29 hole skins match was organized by Hall of Famer Tom Schot of World Disc Sports and featured a star studded foursome of current and former World Champions David Feldberg, Avery Jenkins, Nate Doss, and Ken Climo. Skins were worth $50 per hole with three of the holes worth $100 each and each player was given two $50 skins to start with.
Ken Climo endured a grueling 22 hour trip to the west coast from Florida due to layovers, mechanical problems, delayed flights and a missed flight, arriving just hours before the match with only his golf bag and no golf shoes. He didn't let this minor obstacle slow him down though, borrowing a pair of Keens from Nate Doss and grabbing the first 2 skins of the day on hole 2. Ken also grabbed the largest single cache of the day when he won 8 skins worth $400 by parking hole 19. Ken finished the day with 13 skins worth $650.
Local favorite Nate Doss played great golf, but timing is everything in a skins game and the timing just wasn't there as holes carried several times when it looked like he was about to cash. Nate did finish the match with 6 skins worth $300. His highlight of the day came on hole 23 when he smashed chains from his knees from around 60 feet, commenting loudly to Avery Jenkins who had just bounced off chains from 80 feet that, "you gotta hit the pole"!
Dave Feldberg couldn't get things going all day and got worked several times with roll aways after great shots. Dave kept his head and kept plugging away and it finally paid off on the long blind uphill hole number 26. Nate Doss had just laid his disc within three feet of the basket with a great drive in front of the appreciative crowd and it looked like he would surely take the hole, which is nearly unreachable due to the elevation. Feldberg steps up and unleashes a shot up and over the hill and the crowd on the hill goes wild as the disc met chains and fell into the basket for one of the most remarkable aces ever. In fact it was the first ace ever on the hole and probably the last, and Feldberg commented that it was by far the best ace of his career. Feldberg ended the match with 6 skins worth $300 but also a pocket full of $5 bills as the players and crowd gladly paid for the honor of witnessing the hole in one.
Avery Jenkins was the big winner of the day pocketing 15 skins worth $750. His smooth steady play had him in contention on nearly every hole putting him in perfect position to grab skins or carry the hole when the others faltered. He won only four holes outright but they were the right four holes. He grabbed 4 skins on hole 6, five skins on hole 9, one skin on hole 12, and three skins on hole 27, which left him on "top of the world".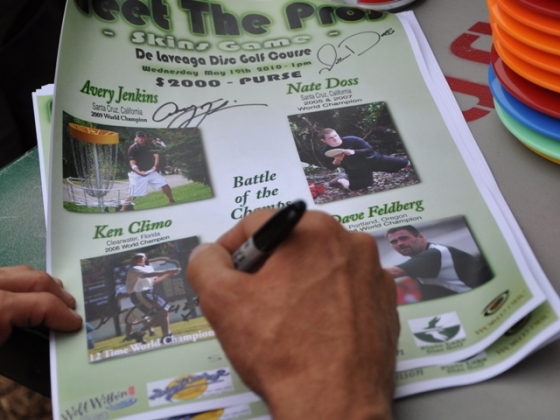 Meet the Pros is a great way to start the week off. A very large crowd built throughout the match and many stayed after for the PDGA National Tour Players Clinic. The Steady Ed Memorial Masters Cup starts on Friday. Stay tuned to PDGA.com for stories, photos, scoring and video.
---
$2,000 SKINS GAME RESULTS
Avery Jenkins - 15 skins - $750
Ken Climo - 13 skins - $650
Nate Doss - 6 skins - $300
David Feldberg - 6 skins - $300
---