Losing the Labels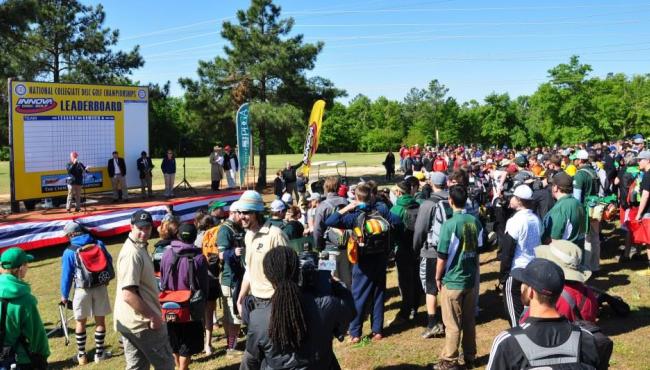 The start of the 2014 - 2015 Collegiate Disc Golf Season is fast approaching. Our schedule is packed with more events than ever and we are happy to announce that we will have 25 Qualifier Events for this year's National Collegiate Disc Golf Championships. Due to another superb year of growth, we had to adjust how we compose the qualifier schedule. We have had influx of applications for events and the system we had just wasn't flexible enough to garner the growth.
We are losing the labels! We have previously called events Premier, Select, and then we were going to change to Platinum, Gold, etc. That framework gave specific amounts of spots to the events and was just too rigid. Our goal is to grow collegiate disc golf and eventually have over 1,000 teams playing in our qualifier season. To do that, we need to make sure that we spread the qualifying spots as efficiently as possible.
Now, instead of the label determining the number of spots that each event is awarded, we've moved to a more mathematical approach. A certain number of spots were calculated for each region based on the number of active teams in the region. Then, we made adjustments to add a few more spots to the less active regions to help stoke team development. Each event is awarded spots based on several factors including, but not limited to event history, demand for spots in areas within each region, and the number of other events in the region or area. This process will allow college disc golf to continue to foster growth for new events while supporting the existing ones. We are continuing to lay down the tracks fast enough to make way for the locomotive that is College Disc Golf.
Everybody is looking forward to the start of the 2014 - 2015 Collegiate disc golf season and we hope your team is ready to play in some great events!
Below are two schedules, one by region and the other chronological. The number in parentheses is the number of NCDGC berths to be awarded at that event.
Schedule by region:
Region 1 - Northeast
Western Pennsylvania Collegiate Open (1) - Latrobe, PA: Fall 2014 Dates TBD
Pure Flight Qualifier (2) - Massachusetts: Fall 2014 Dates TBD
Liberty Flamethrower Classic (2) - Lynchburg, VA: February 28th - March 1st
Region 2 - Southeast
Southeastern Collegiate Open (3) - Appling, GA: September 27th - 28th
Georgia Collegiate Disc Golf Open (1) - Swainsboro, GA : October 4th
Charlotte 49 Hole Showdown (2) - Charlotte, NC : November 8th - 9th
South Florida Collegiate Open (3) - Clearwater, FL: December 19th - 20th
South in Yo Mouth Jaguar Classic (1) Mobile, AL: January 24th
Alabama Slammer (2) - Tuscaloosa, AL: February 21st - 22nd
Georgia Tech Invitational (1) - Atlanta, GA: February 28th
Tigertown Throwdown (1) - Clemson, SC: March 7th
Region 3 - Upper Midwest
Ohio State Collegiate Disc Golf Championship (2) - Cincinnati, OH: September 14th
Great Lakes Collegiate Open (3) - Kalamazoo, MI: September 20th - 21st
Upper Midwest Collegiate Disc Golf Championship (2) - Reedsville, WI: September 27th - 28th
Heartland Collegiate Disc Golf Championship (2) - Ottumwa, IA: October 3rd - 5th
Midwest Collegiate Disc Golf Championship (2) - West Lafayette, IN: October 18th - 19th
Burlington Collegiate Scholarship Championship (2) - Burlington, IA: February 28th - March 1st
Region 4 - Lower Midwest
Texas Collegiate Championship (2) - Dripping Springs, TX: October 11th - 12th
Midsouth Collegiate Open (2) - Jonesboro, AR: November 21st - 23rd
University of Texas - Austin Collegiate Open (1) - Austin, TX: Spring 2015 Dates TBD
Dynamic Discs Collegiate Championship (2) - Emporia, KS: Spring 2015 Dates TBD
Gateway Collegiate Classic (2) - St. Louis, MO: March 14th - 15th
Region 5 - Northwest
Northwest Collegiate Invitational (3) - Estacada, OR: February 28th - March 1st
Region 6 - Southwest
West Coast Collegiate Open (3) - Monterey Bay, CA: November 8th- 9th
California Clash (2) - Chico, CA: March 14th
Chronological schedule:
Fall 2014 Semester
Fall 2014 Dates TBD - Western Pennsylvania Collegiate Open (1)
Fall 2014 Dates TBD - Pure Flight Qualifier (2)
September 14th - Ohio State Collegiate Disc Golf Championship (2)
September 20th - 21st - Great Lakes Collegiate Open (3)
September 27th - 28th - Upper Midwest Collegiate Disc Golf Championship (2)
September 27th - 28th - Southeastern Collegiate Open (3)
October 3rd - 5th - Heartland Collegiate Disc Golf Championship (2)
October 4th - Georgia Collegiate Disc Golf Open (1)
October 11th - 12th - Texas Collegiate Championship (2)
October 18th - 19th - Midwest Collegiate Disc Golf Championship (2)
November 8th- 9th - West Coast Collegiate Open (3)
November 8th - 9th - Charlotte 49 Hole Showdown (2)
November 21st - 23rd - Midsouth Collegiate Open (2)
December 19th - 20th - South Florida Collegiate Open (3)
Spring 2015 Semester
Spring 2015 Dates TBD - University of Texas - Austin Collegiate Open (1)
Spring 2015 Dates TBD - Dynamic Discs Collegiate Championship (2)
January 24th - South in Yo Mouth Jaguar Classic (1)
February 21st - 22nd - Alabama Slammer (2)
February 28th - Georgia Tech Invitational (1)
February 28th - March 1st - Northwest Collegiate Invitational (3)
February 28th - March 1st - Liberty Flamethrower Classic (2)
February 28th - March 1st - Burlington Collegiate Scholarship Championship (2)
March 7th - Tigertown Throwdown (1)
March 14th - California Clash (2)
March 14th- 15th - Gateway Collegiate Classic (2)