Locastro Leads USDGC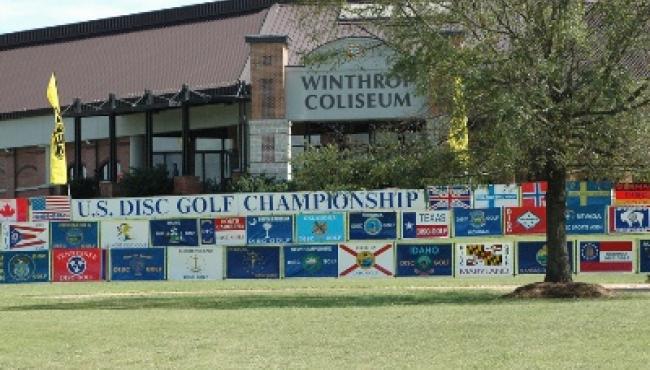 Nikko Locastro leads USDGC .... by Todd Harrell
After round two's (-6) Nikko Locastro sits at (-13) for The Championship, one stroke ahead of Will Schusterick, who's still hanging tough after posting a (-5) on Thursday. Locastro said after the round that he wants to win the tournament and repeat as USDGC champion more than anything else he's done in disc golf. And, he won't let stroke & distance get in his way. "The harder the course is, the better I can play," Locastro said.
Three-time USDGC winner Barry Schultz, Paul Ulibarri, and Paul McBeth made a push of their own and are now totaling (-9). McBeth of Cailfornia shot squeaky clean with a (-8) while Schultz and Ulibarri turned in a (-6). 2005 winner David Feldberg and Cale Leiviska aren't far back at (-7) for the tournament. One back from the leaders on Wednesday, Karl Johan Nybo of Denmark dropped back to 16th after a 71 (+3) on Thursday.
At (-14) after hole 11, it seemed that Locastro was putting it into overdrive. But on the very next hole, after a sweet drive he had serious trouble keeping his approach in bounds and had to settle for a tough-to-swallow 10. After one of the most unbelievable shots of the day, Schusterick saved birdie and the six stroke swing that resulted put him in the lead by two. People who saw Schusterick's shot were nothing short of amazed. After his approach went OB, Schusterick said he brought out his Xcaliber not thinking too much about it, and before he knew it the 400+ ft. spike hzyer slammed into the chains. The shocked Schusterick ran all the way to the basket to clear the disc. Afterward, he said it was an extremely fortunate break. "That shot was probably going to go out of bounds," he said with a smile.
After the round, Locastro chided himself for not playing that hole safer. Locastro, though, is often at times an all-or-nothing player by nature. The very next hole, Locastro put himself back together and nearly eagled '888′. He went on to birdie holes 14, 15, and 17, retaking the lead in the process. "I'm feeling like a much stronger player mentally this year," he said after the round. Besides hole 12′s miscue, Locastro also double bogeyed hole 5. Nearly everything else though was golden for the defending champ, with another eagle on hole 10, and eleven total birdies. His goal is to shoot in the 50′s for the remaining two rounds. "I really trust my frisbees right now," he said.
Schusterick's only slip-ups came on a double bogey on hole 2 and a bogey on hole 11, where he said he went out of bounds by a foot. He said if he had focused for about 20 more seconds, that probably wouldn't have happened. Even with the mistakes, Schusterick's smile was still appearing pretty regularly. He said it's important to still have fun and not get caught up in any one shot. More confidence and better shot concentration is what he needs tomorrow, he said.
McBeth said the difference between Wednesday's 67 (-1) and today's great round pretty much came down to one hole. "It's funny to look at it that way," he said. He took an 11 on hole 12 during the first round, but on Thursday he shaved seven strokes off with a birdie on the 901-foot par 5 hole.
McBeth birdied nine in a row after hole 3. "Pretty much today I was taking what the course was giving me," said McBeth, whose best finish has been 11th. Consistency is what he's looking for in the next rounds, he said. "Just don't force any shots. Because when you force them that's when you get into trouble," McBeth said.
The hot round of the day belonged to Philo Brathwaite of Los Angeles, who blistered the course with a 59 (-9). After getting left at the back of the pack from round one's (+14), Brathwaite is only one more good day away from contention. "Yeah man. I put one together. I kept it safe for a change," Brathwaite said, adding that he had nine less penalties than Wednesday. "Hopefully I can do the same thing the rest of the week," he said. Brathwaite took a red-eye flight from Los Angeles to get to South Carolina in time after a Ventura, CA tournament last weekend. He said he's trying not to think too much about OB. "It's the same game, same course, just different rules," Brathwaite said.
3-time World Champion Valarie Jenkins shot two strokes better than Wednesday's 77. She said dealing with the tougher OB rules is a noticeable change on her style. "It's a lot more mental," said Jenkins, who got to play on the same card with her boyfriend, 2008 USDGC champion Nate Doss, for the first time. She said some of these long bombers are having a hard time adjusting to the fairway golf mandated by the stroke & distance penalties. Jenkins said she's used a lot more Roc shots from her bag this week.
Friday, players will be striving for one more respectable round. The third round is often called 'Moving Day' and with stroke & distance penalties lurking out there, it's anybody's guess who makes the cut to move onto final Saturday.
Ace Alert: Joseph Madrid made a hole in one on hole 3, and Dana Vicich aced Hole 1.