Innovation Grant
PDGA Innovation Grant Success Story
Justin Menickelli, Ph.D.
On April 15, 2011, we hosted a disc golf workshop nestled in the beautiful Blue Ridge Mountains near Asheville, North Carolina with funding from an innovation grant from the Professional Disc Golf Association. Thirty physical education teachers from across North Carolina participated in an afternoon of fun, fitness, and education.  Our objective was to educate physical education teachers on the health, physical fitness and environmental stewardship opportunities that disc golf provides.  We exposed the teachers that participated and ultimately the thousands of young people they teach to the exciting sport of disc golf.
The location of the workshop was stunning.  The YMCA Blue Ridge Assembly is situated on 1200 acres of woodland beautified by mountain streams, wildflowers, ridges, valleys and spectacular views.  The James Nichols designed disc golf course on the campus was ideal for the teachers to practice their skills and proved to be an exciting challenge for all that participated.
Disc golf is an immensely popular and growing sport in North Carolina but we discovered that only a few of the teachers had experience playing.  Their lack of familiarity with the sport only seemed to amplify their enthusiasm and good natured competitiveness.  Dr. Chris "CTP" Tuten amazed the group with his impressive putting skills and renowned mid-range anhyzers.  The participants kept him busy with questions about throwing basics, rules and equipment.  Joyful laughter and the picturesque setting set the tone for a remarkable afternoon.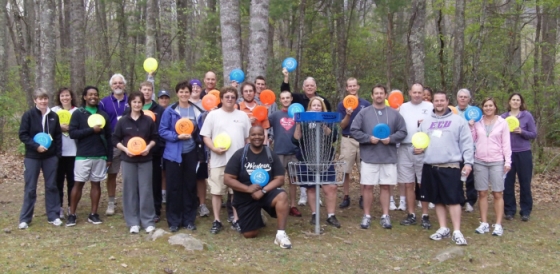 The feedback provided by the teachers was more than gratifying.  We lost count of the number of people that said "this was the best workshop I have attended" and asked "will you guys come back next year?"  At the end of the day, we received as many hugs as we did handshakes- a good sign that folks truly loved the experience.
Knowing that physical education teachers are always looking for innovative activities to teach their students, we knew disc golf was going to be a hit.  This workshop was a unique opportunity to provide physical educators the fundamentals needed to teach the great sport of disc golf in an ideal setting.  We believe that the more teachers learn about the great sport of disc golf, the more they will love it.  Also, we believe that growing the sport begins with teaching young people about the excitement and challenge that the lifetime sport of disc golf provides.
We must extend a special thanks to all the helpful folks at the PDGA and to David Shope from Innova/EDGE.