|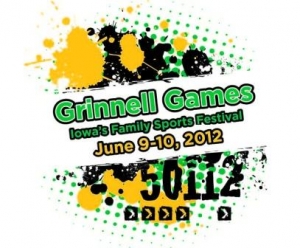 We are all used to cities throwing festivals dedicated to things like Strawberries, Pork or maybe the occasional ode to Crawfish or Wiener Dogs. How about a city-wide festival dedicated just to sports? The little city of Grinnell right in the heart of Iowa has done just that with the Grinnell Games. Grinnell, IA has a population of just over 10,000 and is the home of the first college west of the Mississippi (Grinnell College). The Grinnell Games was first started in 2010 as a way to feature organized sports in a festival atmosphere with accompanying competitions and demonstrations of activities folks may or may not have participated in. The 2012 edition almost doubled in attendance and saw 900 participants from 13 states take part in the Grinnell Games. Featured events included a 5k road race, half-marathon, golf, The Amazing Chase, BMX, skateboarding, a bike criterium and yes, a disc golf tournament, clinic and public demonstration.
Disc golf has been part of the festival since the beginning due to some local enthusiasts and a great local 18 hole disc golf course in Miller Park that surrounds Lake Nyanza. The Grinnell Chamber of Commerce encourages the sports organizers to attract a celebrity athlete to help promote their activity. The Amazing Chase brought in New York Giant Super Bowl Champion, Tyler Sash. The bike criterium brought in the likes of 11 time National Champion and Team USA Olympic Cyclist, Jeff Bradley. Disc golf scored by bringing in 3 time Women's World Champion and 4 time World Putting Champion, Des and Jay Reading, both native Iowans. This year's disc golf portion consisted of a PDGA B-Tier tournament organized by the Chamber and Pro Flight Discs with the addition of an instructional clinic hosted by Innova Champion Discs with Des and Jay Reading.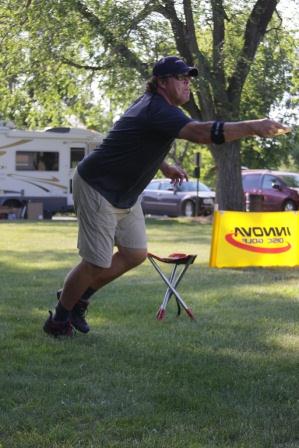 The tournament had 65 participants and boiled down to a playoff between Chris Sprague and Jay "Yeti" Reading. With both Reading and Sprague locking in deuces on their finishing hole to end in a tie, the tournament director sent the players right back out to the same short, but tricky pin placed hole for the playoff. Both players seemed to pull off identical tee shots from the ones taken moments earlier, but after Reading casually slammed in his thirty footer, Sprague found himself about two feet from where he had thrown before with a less comforting stance. A missed putt would give Jay Reading the Grinnell Games victory in the Open Division. Other winners included Scott Innis in Pro Masters, Aaron Chadwick in Advanced, Evan Coberly in Intermediate and Kerri Haught in Amateur Women.
Post tournament, disc golf was brought downtown on the square for the nightfall bike criterium. To the side of the main music stage was a disc golf demo area sponsored by the Educational Disc Golf Experience that saw many youngsters throw their very first golf disc. The Grinnell College Baseball team was gracious enough to lend out their speed guns for a very popular contest that saw the nights fastest disc throw get awarded a free pair of shoes from KEEN Footwear.
The 2012 Grinnell Games was not your ordinary city festival. It was, however, a huge success and an idea that is likely to catch on as cities look for outside the box ideas for bringing in folks to their area.
For more information visit: www.grinnellgames.com.