|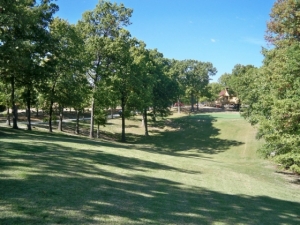 There's a first time for everything! It's going to be a weekend of "firsts" on October 20th as The Journey Post presents the first Treehouz Open. Nineteen sparkling new Innova baskets are now situated on a spot of picture-perfect land that was once a nine-hole golf course just south of Branson, Missouri. Many locals have driven by this land for years and daydreamed of the possibilities. A couple months ago one of our guys, Dougie Broom, dropped in and took a chance. As a result of that meeting, we all now have a chance to play what is sure to be one of the best courses the Midwest region has to offer. Robert Francis Kennedy said, "There are those who look at things the way they are, and ask why... I dream of things that never were, and ask why not?" Kudos to Dougie for being a "why not" guy! Disc golf owes you a few pats on the back…at minimum.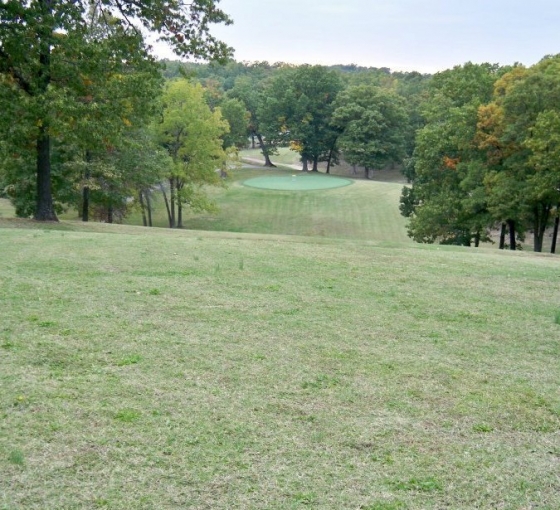 Looking down the fairway of Hole 2
The Treehouz disc golf course is a private course situated on The Branson Cedars Resort property operated by our new friend Barry who has been a closet disc golf fan for years and didn't even know it! The Inaugural Treehouz Open is a two-day event. There will be a B-Tier PDGA sanctioned event on Saturday October 20th and the following day we will have a number of events including a long-drive competition, putting challenge, and a clinic/coaching/nine-hole round for those who may be new to the sport paired with local pro and advanced players. Lunch is being provided and there will be a VIP section set-aside for the players' party Saturday night for all tournament participants at Ernie Biggs Piano Bar.
Registration will be limited to only 90 players and there is plenty of buzz in the region… (Don't be offended Roc-only peoples by my use of the word buzz!) It would have been amazing to be a part of the very first pole-hole round/tournament "Steady" and the California crew threw down a few decades ago. New courses do not open every weekend. Ball golf courses don't get turned in to exclusive DG courses every day either. You will be challenged with length, elevation changes, open fairways with OB penalties for errant huks, tight wooded lines, risk vs. reward opportunities, and from early registration it's looking like some pretty stiff competition.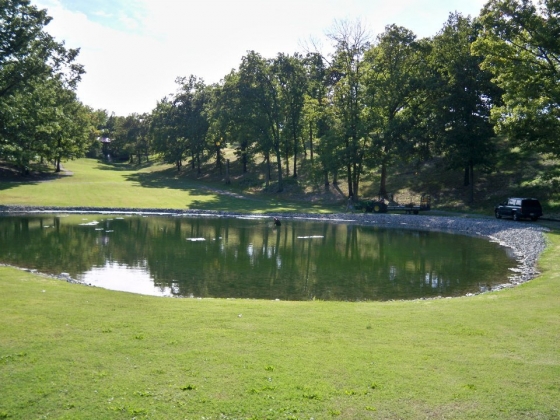 Hole 4 with the fountain turned off
You can register through The Journey Post or by calling Journey Post owner and Treehouz Open TD Jaysin Smith @ (417)-559-5906. The link can also be found on the PDGA events page. Branson Cedars Resort, the Disc Golf Monkey, Gateway disc sports, Millennium discs, Fade Bags, UB Disc Golf, Disc Mania, Mothers Brewery, Cedar Creek Coffee, Heads-Up Poker, and Farmers Insurance Agent Neysa Shute are among those sponsoring the event. The players pack is solid. Open has $500 added cash and we have discounts available for accommodations.
We hope you will make the trek to southwest Missouri to be a part of the birth of the Treehouz. Our sport is growing and sometimes dreams come true. We can't wait to hear feedback after the event and we are looking forward to next year already. Come get some! Advance the sport! See you at the Treehouz!!!!
Check out a video of folks enjoying this brand new course.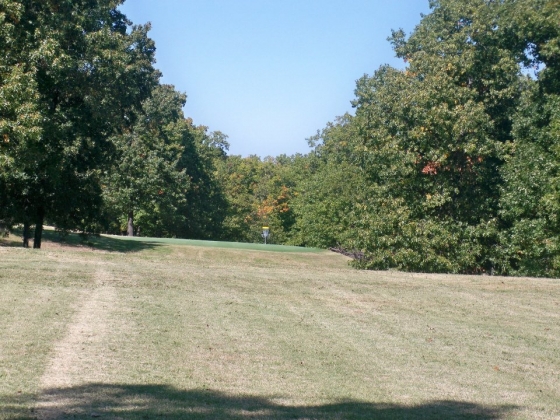 The end of Hole 11 is in sight!
Mike Porter #30408