From Start to Finish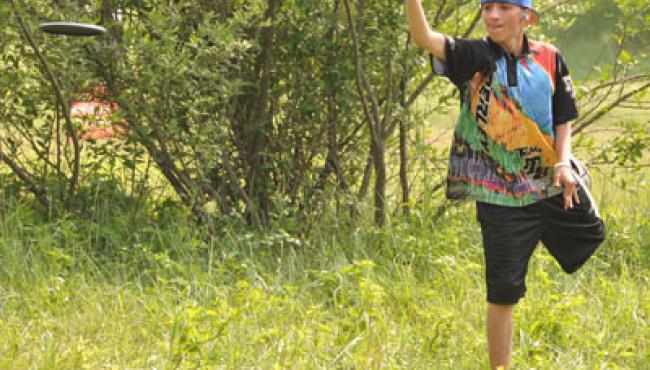 When the third and final round got underway at the 2013 United States Amateur Disc Golf Championship presented by Discraft in Milford, Michigan, there were several competitors within reach of the first place trophy and the title of National Champion.  The morning began with eight players within 5 strokes of the lead, and on a course as difficult as the Toboggan, that lead could shrink in a matter of one or two holes.  This tournament had come down to the wire so many times in the 11-year history of the event; many wondered if we would see another tight race to the finish.  Minnesota's Raymond Oberley Jr had started each round with at least a share of the lead, and it was clear Sunday that he was not ready to let it go. 
The lead card of Oberley, Smith, Barham, and Pfaff went off around 12:30 on this beautiful, sunny, Sunday afternoon.  The temperature was hot, but the golf was scorching.  Surprisingly, none of the players on the lead card seemed nervous.  They all appeared confident and excited to have such a large audience watching in person and at home.  Oberley started out on fire, with birdies on 2, 4, 6 and 7, launching him to a 4 stroke lead.  From there, he put it on cruise control, as he was never really pressured from that point on.  His poise was remarkable, as time and time again, he made solid puts and basically put on a forehand clinic, making his trek around the Toboggan a delight to watch.  With a few slip ups from the other members of the lead card, Steven Jacobs of Gurnee, IL was able to slip into second, but at that point, Oberley was just too far ahead.  After taking a three on the par four seventeenth, "Junior" was four shots clear of Jacobs with one steep, uphill hole remaining.  The 18th hole at the Toboggan course is great for creating large galleries.  It runs alongside of the toboggan track, providing a clear view of the entire eighteenth fairway from up above.  Everyone watched as Raymond calmly wired a sidearm up the middle of the toboggan run, laid up next to the pin, and tapped in his par to become the newest US Amateur Champion.  A wire-to-wire winner.   
This tournament is responsible for producing so many outstanding talents.  A few years ago, a young Ricky Wysocki came to the USADGC, taking second place, but more importantly, acquired the belief that he could compete on the Professional tour, and we all know how that worked out.  World distance record holder David Wiggins, Jr is a past champion of this event, and so is Adam Olsen.  Now, young Raymond Oberley Jr, at 17 years of age, can add his name to the list of champions.  If he doesn't compete in this summer's Amateur World Championships, he stated that he is moving up to play with the big boys.  Obviously, he has the game to go far.
The 2013 USADGC wouldn't be possible without the support of Discraft, who put on an amazing event.  The players left Kensington Metropark feeling as if they had been treated like professionals, being catered to at every possible moment.  From the pig roast to the coffee and toasted bagels to the Lizard Games that were so much fun, this tournament has a reputation for making the participants feel special, and I think this year's competitors would agree.  Congratulations to all the men (and lady) that participated this weekend; it truly was special to see the level of camaraderie and sportsmanship displayed by all. 
Check out a complete listing of scores and pictures of the action this weekend.