Flygirls at Flyboy
Submitted by Bill Belanger, PDGA # 41967

On the weekend of May 7th, 25 women made the trek to rural Georgia to compete in a two-day all-inclusive tournament at Flyboy Aviation. Generous hospitality and support were provided by Kelly Leggette (22282), his family, and the neighbors of the private airpark where the course is located. The amazing home cooked meals, free air shows preformed by Kelly and local neighbors, and the beautiful course conditions were just a few things provided by Kelly, Bill Thornton (20980), and Kelly's family (Wayne, Suellyn & Lillian) that helped make the weekend a huge success.

All divisions except the recreational division had the pleasure of playing 19 holes from the original 27 hole layout.  The course measured 8848' with a par 68. Recreational players played a new layout which measured  4813' with par 54. There was a love/hate relationship for the ladies playing the grueling original course, but at the end of the day they were all thankful for the opportunity and were ready to play it again.

At the end of round one Courtney McCoy (18835) was in the lead by 5 strokes over Sarah Hokom (34563). Disc golf hall of famer and five time world champion, Juliana Korver (7438) was tied with an up and coming Atlanta pro Diana Lane (37926) for third, only 2 strokes off of second. The 5 woman advanced field only had 4 strokes between 1st and 5th while the leader in the 7 player intermediate division  had a 10 stroke lead and a 20 stroke swing. Recreational was led by Faith Arthur, daughter of 2009 World pro masters champion Phil Arthur (7289).

After the first round and lunch the women paired up by scores to play a round of pro-am best shot doubles. The format required that 9 of each player's tee shots were used so the teams couldn't rely on the more experienced player's shot all the time. North Carolina's Sarah Hokom and Sherri Tyler (44331) took home the custom double's champion wood minis from Spitfire Minis with a 48 (-6) on the short course. Even though the doubles round made a very full and hectic day the women all enjoyed making new friends and getting tips from the more experienced players.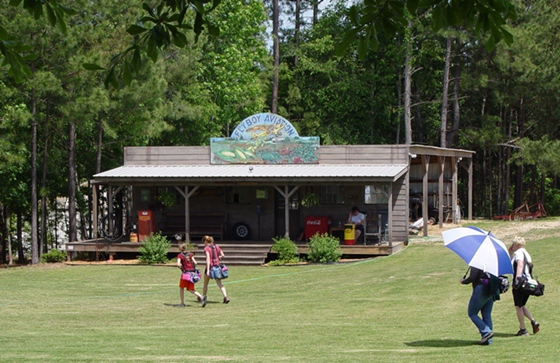 Saturday came to an end with a full BBQ dinner that included pulled pork, grilled chicken with chipotle raspberry glaze, roasted potatoes, broccoli, and strawberry shortcake for dessert.  This was just one of the  many delicious meals prepared for the ladies by Suellyn (Kelly's wife) and Lillian (Kelly's mother) The women then played Kan-Jam, tossed boomerangs (with Kelly and Phil) or just hung out and relaxed after the long day of walking nearly 4 miles and playing 37 holes of disc golf (covering over 12,000 feet).

Sunday morning brought Mother's Day and the final round of the tournament. No lead was safe with the short course being on the agenda and everyone knew a lights out round could make the difference. The wind picked up just to add another element of toughness to the predominately open course.

On day two, final round, Courtney McCoy shot an amazing 43 (-11) which established the course record and was a #2 best 1018 rated (unofficial) round. Sarah Hokom shot an impressive 45 (-9) with the highlight of her round being her 369' skip ace on hole 10. Courtney McCoy's amazing round crowned her the pro champion, Jo Taylor (7813) took pro masters, Debbie Scott (43896) won advanced after a playoff with Suzanne Smith (40179). Intermediate was another close victory won by only 1 stroke by Kari Dianich (43876). Recreational was taken by Faith Arthur an amazing player for her age. I suggest challenging her to a round now if you want a chance to beat her. In a few more years you will not have a chance.

Throughout the weekend the women were treated to unreal CTPs by Vibram Disc Golf, Off Axis Designs, the IDGC, Innova, Discraft, Mr. Disc Golf, Disc Stalker, Disc Caddie Golf, Jo Taylor and Johna Chapman Stutler who provided prints of some amazing watercolors of the course. The women all got a shot at "the mother's day mother lode" which was a Fade tournament bag with 11 discs, a mini, a rulebook, sunscreen, a first aid kit, and a choice of a CE disc. Each woman got a throw from a special tee towards a basket surrounded by trees. Several got close but Debbie Scott got a great kick and landed a discs length from the pin.

The weekend finished off with an air show and lunch followed by awards. Afterwards a lot of the participants hung around talking to their new friends or old buddies. There was no mass exodus like you normally see after a tournament. Maybe everyone was too tired and full of chili and cornbread to breakdown their camp or maybe it was because a place like Flyboy Aviation is not easy to just walk away from.